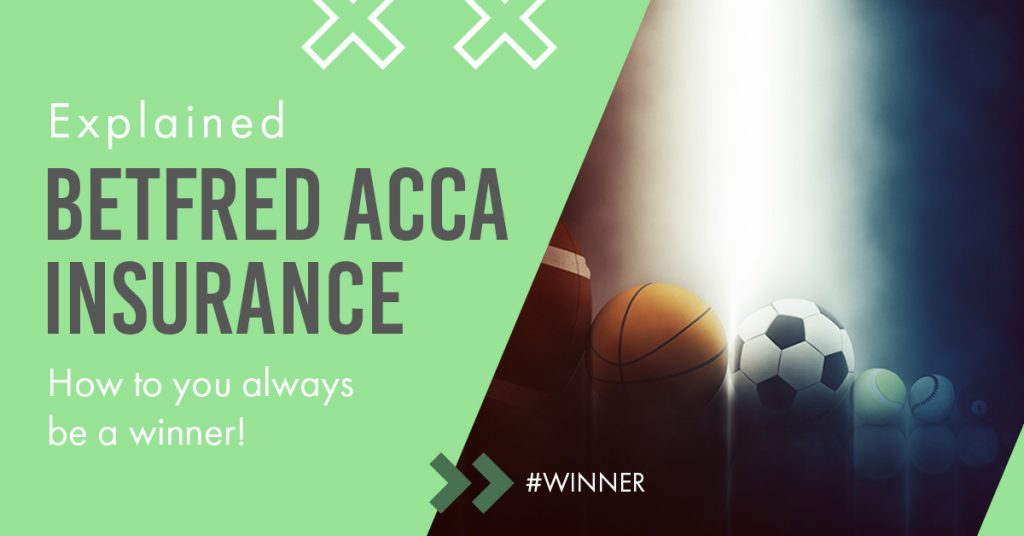 Accumulator bets are a go-to choice for many punters when it comes to sports betting. The potential returns they offer can be absolutely massive, and that's what gets all bettors excited. But let's face it; the disappointment can hit hard if one of your selections doesn't deliver. 
That's where Betfred Acca Insurance comes in, and let me tell you, it's a promotion you don't want to miss! Our team of experts have been using Betfred Acca Insurance for a while now, and it's been a game-changer.
Now is the time for you to take advantage of this promotion. We will explain why, what are the ins and outs, how it works, and how you can make the most of this feature to protect your accumulator bets.
What is Betfred Acca Insurance?
It's a special offer by Betfred, designed to protect your accumulator bets from those heart-wrenching losses. Those types of bets are also known as "accas". 
As a bookmaker that specialises in football betting, Betfred currently offers Acca Insurance for all football accumulators consisting of five or more win/draw bets. This exciting offer ensures that even if one of your selected games doesn't go as planned, you won't suffer any losses.
With Betfred's Acca Insurance offer, your stake will be returned back as a free bet if only one team on your 5+ team accumulator fails.
Although the free bets are capped at a max value of £10, you can use them across all football leagues, enhancing your betting experience.
How Does Betfred Acca Insurance Work?
The way it works is simple: if just one of your selections lets you down, you get a refund as a free bet. That means you don't lose your entire stake, even if things don't go as planned.
To take qualify for acca insurance, you need to put an accumulator bet with a minimum of 5 legs.
If all your selections win, congrats. Smile and enjoy your winnings. But in the unfortunate event that one leg loses (i.e., you get 4/5 selections correct), you can rely on the acca insurance.
This insurance policy helps reduce your loss by refunding a part or the entirety of your stake, providing you with another opportunity to try your luck.
You'll be paid in the form of a free bet, which is limited to a maximum value of £10. If you use the free bet and win, your winnings will be added to your Betfred account, but the value of the free bet stake will be subtracted.
How to Use Betfred Acca Insurance?
To make the most of Betfred Acca Insurance, you must follow a few simple steps.
Step 1: Create an account on the Betfred website if you don't already have one. 
You need to be a Betfred customer to take advantage of the Betfred Acca Insurance offer. Creating account at Betfred is a quick and easy process, and it gives you access to all their amazing promotions and features. 
Step 2: Select the football matches you want to include in your accumulator bet. 
You need to make sure to choose at least five selections with odds of 1/3 (1.33) or higher for each selection.
Step 3: Activate Acca Insurance. 
Before confirming your bet, check the box that says "Acca Insurance" on your bet slip. This ensures that your bet is eligible for the Acca Insurance promotion.
Step 4: Place your bet.
Once you're satisfied with your selections and have activated Acca Insurance, place your bet as you normally would. Sit back, relax, and wait for the matches to unfold.
The Benefits of Betfred Football Acca Insurance
One of the things we all love about Betfred Football Acca Insurance is that it offers protection against losses.
Losing your entire stake on an accumulator bet can be disheartening, but with Acca Insurance, that risk is significantly reduced. If one selection lets you down, Betfred refunds your stake as a free bet.
The best part is that you can use this free bet to place another wager and potentially recover your losses. It's like having a safety net for your accas!
Betfred covers a wide range of football matches, from top-tier leagues to lower divisions and international competitions. This gives you the flexibility to create your acca bets using matches that you're most familiar with or have the most confidence in.
It's all about finding that perfect combination of teams that will make your bet a winner.
Benefits of Betfred Football Acca Insurance:
Protection against losses
Free bet refund
Wide selection of matches
Easy to use
Tips for Maximizing Your Betfred Acca Insurance
Now, here's a tip based on our own experience: conducting thorough research is key.
Before placing your accumulator bet, invest time in researching the teams, their form, and recent performances. Consider factors like injuries, suspensions, and head-to-head records.
By making informed decisions, you significantly increase your chances of success.
Another strategy we've found effective is diversifying your selections. What that means is that instead of focusing solely on a single league or a handful of teams, you try to include a mix of matches from different competitions. This spreads the risk and improves your overall chances of achieving a positive outcome.
While it's tempting to include high odds selections to maximize potential winnings, it's important to balance it out. Including a few lower odds selections with higher chances of success adds reliability to your accumulator bet.
Responsible bankroll management is crucial. Always set a budget for your accumulator bets and stick to it. Chasing losses or betting beyond your means is a recipe for disaster.
By managing your bankroll wisely, you ensure that you can enjoy the thrill of accumulator betting without risking your money.
Tips for Success:
Do your research
Diversify your selections
Consider lower odds
Manage your bankroll
Betfred Accumulator Insurance Terms & Conditions
As mentioned earlier, the Betfred accumulator insurance applies only to selected leagues and competitions, excluding minor tournaments worldwide.
There are additional key terms and conditions to consider when using the Betfred football acca insurance for your upcoming bets:
Five or more selections are required to qualify for the Betfred football acca insurance, which aligns with similar offers from other major bookmakers.
Аccumulator must have minimum odds of 1/3 per leg as set by Betfred. It's important to note that selecting favourites with lower odds may not be eligible for the Acca insurance deal.
The maximum stake eligible for the Betfred football acca insurance is £10.
Similar to other UK bookmakers, the refunded stake will be provided as a free bet. Please be aware that as of the time of writing, Betfair is one of the few betting companies that offers cash refunds for acca insurance.
If a Betfred UK customer chooses to cash out their accumulator, the insurance bonus will not apply.
Betfred will issue the free bets within 24 hours of the settled wager. It's crucial to use these free bets on time as they are valid for 7 days, as they will expire after that period.
Bets placed using free bets on Betfred do not qualify for the acca insurance offer.
Deposit and place first bet on Sports. First bet must be on Sports. £30 in Free Bets and £10 in Free Spins (50x20p) credited within 10 hours of bet settlement. Free Bet stakes are not included in any returns.
Conclusion
Betfred Football Acca Insurance has been a valuable feature for many punters, providing an extra layer of protection and peace of mind. By following the steps we gave you, you'll be able to enhance your chances of winning with accumulator bets. So go ahead, give it a try, and enjoy the excitement of accumulator betting with Betfred!
FAQ's
Can I use Betfred Football Acca Insurance for other sports?
No, Betfred Football Acca Insurance is specifically designed for football matches. However, Betfred may offer similar promotions for other sports, so it's worth checking their website or contacting their customer support for more information.
Are there any restrictions on the free bet refund I receive?
The free bet refund you receive through Betfred Football Acca Insurance is subject to certain terms and conditions. These may include expiry dates, minimum odds requirements, and specific markets where the free bet can be used. Make sure to review the terms and conditions associated with the promotion to understand its limitations.
How long does it take to receive the free bet refund?
If your accumulator bet qualifies for Betfred Football Acca Insurance, the free bet refund is usually credited to your account within 24 hours of the settlement of the final selection. Acca Insurance gives you a maximum of £10 refund on losing footy accumulators.
Is Betfred Football Acca Insurance available for in-play bets?
No, Football Acca Insurance offer is only available for pre-match accumulator bets. In-play bets or bets placed after the matches have started are not eligible for this promotion. Make sure to place your accumulator bets before the matches kick off to take advantage of Acca Insurance.