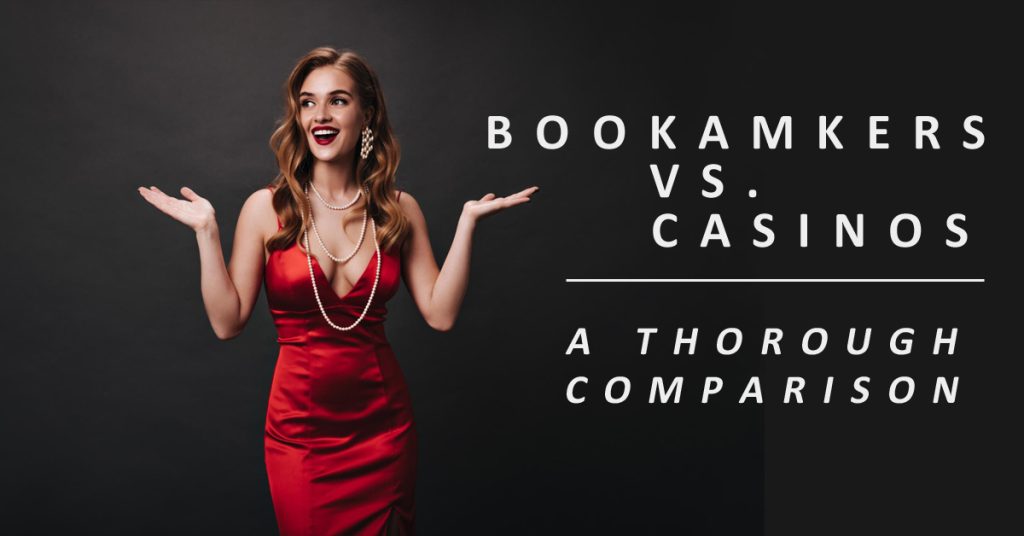 If you haven't heard the news, the online gambling industry is one of the most lucrative economic forces around the world. Well, at least anywhere where it's legal. Nevertheless, sports betting and casino gambling are more similar than many people think. Of course, there are big differences in the type of betting, the bonuses and promotions, and some other aspects such as payments.
The gist of it is the same. If you're wondering what's better, we'll go through all the aspects in the paragraphs below so you can see what suits you better.
Why Choose Online Casinos?
Online casinos are fun – there's no other way around it. We don't want to promote gambling to our readers, but the fact remains that casino sites are simply fun and rewarding. One of the main reasons why players prefer casino games online are the bonuses and promotions. They beat land-based casinos by a mile, starting with the welcome offers. You also get boosts on many of your deposits, as well as free spins, loyalty rewards, and more. In short, the top rated casino bonus sites at casinos.com offer so many generous bonuses that it's tough to pass up on that kind of extra cash.
Of course, all the bright bonus lights shouldn't encourage you to play without a plan. That's very dangerous. Responsible gambling is part of every online casino's guide, reminding all the players of the dangers of online gambling. It should be fun above all, so you have to stick to certain rules if you want to avoid trouble. Most importantly, you should keep your bankroll in check. This means playing with pre-determined bets and not chasing your losses.
When choosing online casinos, it's also important to choose licensed sites. Unlicensed casinos are usually scams that can steal your identity besides your money. Pay attention to all the important aspects, not just the games. Good game variety is great, but you also need good bonuses and promotions, trusted betting payment methods, and 24/7 customer support.
As for games, you have a lot to choose from. Online slots are the definitive favourite, but you shouldn't disregard the table and card games too. Try a jackpot or two to see how they work, and make sure to check out the live casino games. They are the crowning achievement of the online gambling industry, and almost a pitch-perfect replica to land-based gambling.
The great thing about online casinos—and what makes them better than sportsbooks in the opinion of many—is that you can try games for free. If you don't want to pay for it, you can have fun with slots without spending a cent. You can practice how to play blackjack, roulette, baccarat, or poker for free. That's something not even land-based casinos offer. This will give you the edge as you prepare better for the real money challenges ahead. It also puts you in a great spot when playing live dealer games which are only available for real money. Also, by playing for free, you can test out different strategies that can prove very useful in the long run.
Why Choose Online Betting Sites?
Many betting platforms these days feature casinos and sportsbooks too. Then there are specialized betting sites where you can only bet on sports. Their appeal is undeniable. Compared to betting shops, it's easier than ever to put money on the sports and teams you know and love. Plus, online betting sites have more markets to bet on than ever. Those include both fixed odds and live betting markets.
The odds are better than ever. You can put your money on Premier League matches or pick the PL winner at the end of the season at pretty high odds at trusted bookies. All from the comfort of your home or on the go. The best bookies in the UK online cover the PL season in full in addition to the Champions League, the major European leagues, and international football in general.
There's never been more market variety than nowadays. Moneylines and 1×2 are great, but a bit obsolete. Why stick to those markets when you can find more exciting action in totals, handicaps, and live betting football markets? Football is among the most popular sports at any UK online sportsbooks, with thousands of markets on offer. Then there are those enticing free bets and bonuses that almost feel like giving out free money. Of course, not bonus is free, so you should read the terms and conditions before you claim any.
The thing that makes sports betting better for many is the feeling that you're in control. Many people have made a living out of sports betting. Of course, you shouldn't rest on those laurels. However, with proper research, sports fans can make a solid run at sports betting sites. It's certainly more probably to win your sports betting slip than let destiny rule your roulette and slots sessions.
Betting sites are getting increasingly better every year. Live betting is what drives the industry forward, with live streams available on the world's biggest sports matches. Football is the most popular sport, yet you'll find extra markets on basketball, tennis, horse racing, greyhound racing, and even Esports. The latter is a surprisingly great option to bet on, an emerging market with great odds in tow. Many call it the new sport, and although that might be a bit far reaching, it might also be the truth.
What to Choose?
The choice here is clear. If you're looking to have fun with free games and some real money action, online casinos are the better choice. Those looking to bet on their favourite teams should choose online sports betting sites. As we've mentioned earlier, the best betting platforms have both. But, you might get better odds at a pure bookie, so it's worth shopping for odds before choosing.
It's the same with online casinos. With online gambling sites, you need to see if the grass is truly greener on the other side. By greener, we mean comparing online casinos to see if they have better games, bonuses, and offers.
The cool thing about online gambling is how accessible it is. It means that you're free to browse it all and find things you can enjoy every day like never before.