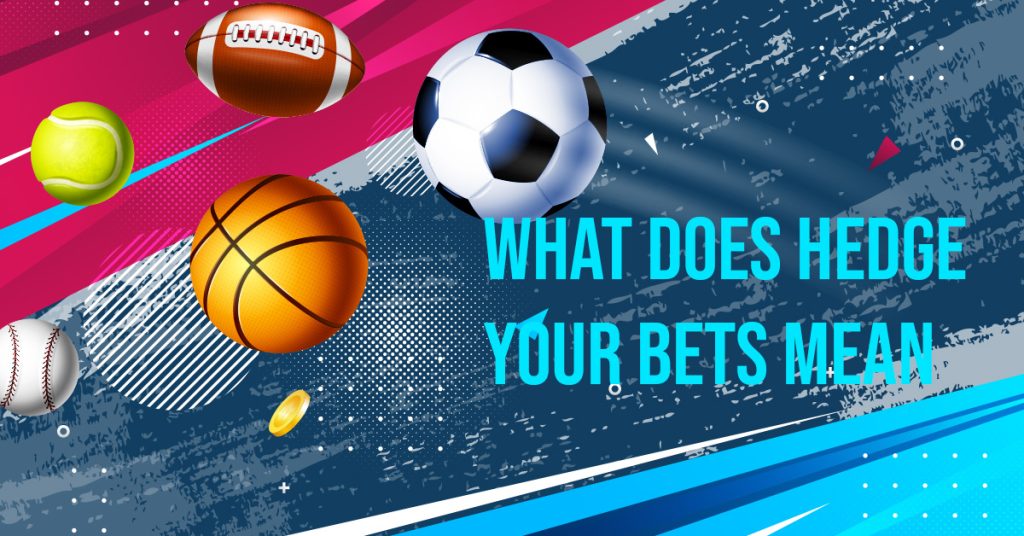 What Does Hedge Your Bets Mean? Everything To Know About Hedging In Sports Bets
Tired of losing bets and seeing your hard-earned money disappear?
Good news is here for you! We have a solution to help turn your luck around.
There's a strategy you can implement today that could be your ticket to reducing risk and ensuring profits.
Ever heard of hedging? If not, worry not! We're here to guide you in understanding this method, enabling you to mitigate risks and enhance the rewards you seek.
Mister Betting experts created this guide for you, delving into the world of hedge betting, its pros and cons, and sharing strategies to transform you into a skilled hedger.
What is Hedge Betting?
Hedge betting is a popular risk management technique in sports betting and other forms of gambling.
This is a betting strategy that involves placing bets on multiple outcomes to protect your initial bet. In other words, it's like an insurance policy for your bets.
This approach can be used to either lock in profits, limit losses or create a risk-free betting scenario. The goal of hedge betting is to minimize the risk of loss and to guarantee a certain amount of profit, regardless of the outcome of the event. Keep in mind that if you decide to make another bet as a hedge, you'll have to pay vig to the sportsbooks once more, which will lower the maximum profit you can potentially earn.
How Does Hedge Betting Work?
In sports betting, hedging means placing a bet on the opposite outcome of your original bet.
A simple example of a hedge is, let's say you're watching Manchester City against Arsenal, and you're sure that City will win the game, so you bet £100 on them at odds of 3.00. This means that if City wins the game, your profit will be £200 (your original £ 100 wager plus a profit of £100).
But at halftime, the situation changes, Arsenal play better, there's also a key player who gets injured, and you are no longer confident that Man City will win.
You can place a new bet on Arsenal to go on to win the game, which is called a hedge bet, to minimize the risk of losing your initial be
So you decide to hedge your bet by placing a second bet of £50 on Arsenal to win the game at odds of 4.00. This means that if the Gunners win the game, you'll receive a payout of £200 (your original wager of £50 plus £150 potential win).
Now, let's consider the possible outcomes of the game:
If Man City wins the game, you'll receive a payout of £200 from your first bet, but you'll lose your second bet of £50. Your total profit = £150.
If Arsenal wins, you'll lose your first bet of £100, but you'll receive a payout of £200 from your second bet. Your total profit = £50.
If the game ends with a draw, you'll lose both of your bets and won't receive a payout.
The Basics of Hedge Betting
When to Use Hedge Betting
Hedge betting is particularly useful tool in scenarios where you've placed a bet, and the circumstances have changed, making your initial bet more risky or less likely to win. There are several scenarios where you might consider hedging your bet in sports betting:
Locking in Profits
Hedge betting can be used when your initial bet is in a winning position, and you want to secure a profit regardless of the final outcome.
By placing a hedge bet, you can ensure a positive return, even if your original bet loses.
Minimizing Losses
If your initial bet is in a losing position, hedge betting can help minimize potential losses. By placing a bet on the opposing outcome, you can reduce the impact of a losing bet.
Creating Risk-Free Bets
Hedge betting can be used to create a risk-free betting scenario by placing bets on all possible outcomes. This approach is most effective when the odds for each outcome are favourable.
Calculating Hedge Bets
To calculate a hedge bet, follow these steps:
Determine the potential profit of your initial bet.
Calculate the stake needed to place a hedge bet that would secure a guaranteed profit.
Place your hedge bet with the calculated stake.
There are many hedge bet calculator options out there to help you with the calculations of your winnings.
Hedge Sports Betting Strategies: Using Betting Exchanges
There are some strategies to use when it comes to hedge betting.
Betting exchanges, such as Betfair, allow you to place lay bets against other bettors.
This makes it easier to hedge your bets, as you can bet against an outcome rather than having to find an opposing bet.
In-Play Betting
In-play betting allows you to place bets on events after they've started.
This provides more opportunities for hedge betting, as you can react to changing circumstances and adjust your bets accordingly.
Betting Against the Spread
When hedging against the spread, you're betting on the underdog to cover the point spread. This is particularly useful when the underdog's chances of winning have increased or when the point spread has moved in their favour.
Hedging Futures Bets
Futures bets are wagers placed on events that will happen in the future, such as a team winning the Super Bowl. Hedging futures bets involves placing additional bets on other teams, reducing the risk of your initial bet not coming through.
Utilizing Betting Bonuses
Many betting sites offer bonuses, such as free bets or deposit matches. These can be used to place hedge bets without risking your own money, increasing your potential for profit.
Advantages and Disadvantages of Hedge Betting
Hedging a bet requires careful consideration of the betting odds and the appropriate hedge bet amount to minimize your risk and potential losses. So, we carefully gathered for you everything you should consider before hedging a bet.
Advantages Of Hedging in Sports Betting
Risk Management: Hedge betting is an effective way to manage risk and protect your initial bet.
Flexible Strategy: It can be adapted to any betting scenario, including locking in profits, minimizing losses, or creating risk-free bets.
Reduced Anxiety: Hedge betting can help reduce the stress associated with gambling, as you have a safety net in place.
Disadvantages Of Hedging in Sports Betting
Reduced Profits: By hedging your bets, you may reduce your overall profit potential.
Complex Calculations: Determining the optimal hedge bet can be complicated, especially for beginners.
Possible Misuse: Inexperienced bettors may use hedge betting improperly, leading to increased losses.
Conclusion
Hedge betting is a versatile strategy that protects the bettor from losing but also can be used to manage risk and lock in profits no matter the outcome.
Hedging a bet is a way to guarantee a profit no matter the different outcomes, even if it's not a complete win. But still, it's important to remember that when placing a second bet as a hedge, you will need to pay vig to the sportsbook once again, which ultimately limits the maximum potential profit you can achieve.
By understanding the basics of hedge betting and employing the strategies we provided, you can improve your overall betting experience and increase your chances of success, so it's worth considering.
Hedge Betting FAQs
Is hedge betting legal?
Yes, hedge betting is a legal betting strategy. It's a risk management technique used by bettors worldwide to protect their investments and minimize losses.
Can I use hedge betting for all sports?
Hedge betting can be applied to any sport where multiple outcomes are available for betting. This includes popular sports like football, basketball, tennis, and horse racing, among others.
Does hedge betting guarantee profits?
While hedge betting can help manage risk and increase the chances of a positive outcome, it does not guarantee profits. It's essential to understand that hedging bets may reduce overall profit potential in some cases.
Do all betting sites support hedge betting?
Most betting sites will allow you to place hedge bets, as it's a widely accepted betting strategy. However, some sites may have restrictions on certain types of bets, so it's essential to review the terms and conditions before placing a hedge bet.
Is hedge betting suitable for beginners?
Hedge betting can be a useful strategy for bettors of all experience levels, including beginners. However, it's essential for beginners to understand the basics of hedge betting and practice calculating hedge bets before implementing the strategy in real betting scenarios.