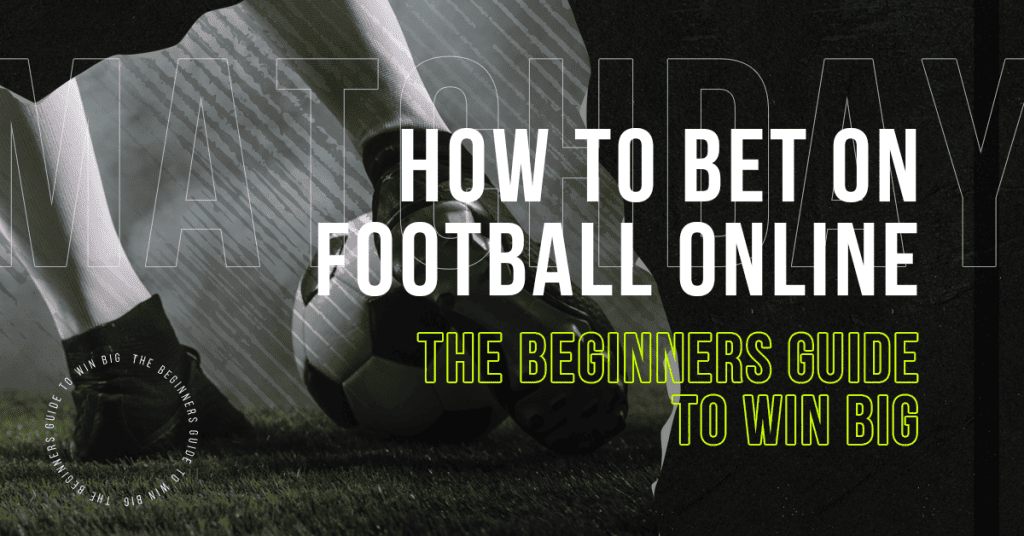 How to Bet on Football Online: The Beginners Guide to Win Big in 2023
Even if you watch football daily, keeping track of teams, players, and leagues, you may still have more to learn about football betting.
Fortunately, if you know a lot about football, you can use your knowledge in sports betting. All the statistics and games you have memorized will be your greatest asset in football betting.
Football is the king of sports betting, and there are many reasons that set it apart from the rest. Football is played globally throughout the year and offers a vast number of matches. Additionally, domestic leagues present many gaming options, as an added bonus, such as national cups, international tournaments like the Champions League and Europa League, and a growing trend of pre-season competitions. The game also features regular major competitions for national teams, including the World Cup, Copa America, Africa Cup of Nations, and European Championships.
We will guide you on how to place bets on football by selecting a sportsbook to understand the wagers. By the end of this page, you will have a strong foundation in football betting!
How to bet on football?
Every week, thousands of football matches happen around the world, presenting numerous betting opportunities for bettors. With different odds on every aspect of the football games, bookmakers offer prices on the outcome of matches with specific events within the game, such as the number of goals scored, corners won, red and yellow cards shown, and individual goalscorers.
Many bookmakers offer special bonuses and competitive odds yearly for every type of bet. Once the event's result is confirmed and you win your bet, you'll get the original stake and winnings from the odds.
Many betting options exist, including accumulators that allow punters to combine different selections into one big odds price. This feature is available for the majority of football markets.
Different types of football bets
There are many interesting markets available for any football match you can bet on. Despite creating your account and depositing funds into your bankroll, let's stop for a moment and discuss the various types of football bets.
When you bet on football for real money, there are many choices for placing bets. While some may be straightforward, such as predicting the winner, others may require a more in-depth approach.
Several kinds of football bets types include:
Football Match betting
The simplest way of betting on football is picking the result of the game, either a home victory, a draw, or an away win. It is important to keep in mind that this only applies to the match result after 90 minutes, so if you placed a bet on the home team to win and they only succeed after extra time and penalties, you will not be paid out as the match outcome will be classified as a draw.
Football Double Chance
Another widely-used type of betting is Double Chance, where you bet on two different outcomes in a single match. This type of betting allows you to bet and a win at the same time. It's particularly popular among those who prefer to minimize risks.
While the odds are understandably lower than for match betting, your chances of winning the bet are significantly improved. For instance, in the hypothetical scenario of Manchester United hosting Chelsea in a Premier League fixture and you place a Double Chance bet on United (1X), you'll emerge victorious if United wins or draw. Alternatively, you can also bet on one of the two teams is going to win through Double Chance betting. In this case, you'll lose the bet if the match ends in a tie. It's as clear-cut as that.
Handicap betting
Handicap betting, also known as 3-Way Handicap, is a popular form of betting. Typically, it involves goal differences between two teams, which provides a perceived advantage or disadvantage to the chosen team before the game begins. 
To illustrate, let us consider a scenario with Arsenal playing against Leicester in the Premier League. Suppose you bet on Arsenal with a -1-goal handicap. In this case, Arsenal has to win the match by a minimum of two goals for your bet to be successful.
Whole-goal handicap
Liverpool -1, Newcastle United +2
The figures next to each team are applied to their score in the match.
If you bet on Liverpool, you win if they win by at least a two-goal margin. You lose if they draw or lose. And you get your stake back if they win by a one-goal margin, which is canceled out by the -1, making the handicap result in a draw.
On the other hand, if you placed a bet on Newcastle United, you will win if they win, draw or lose by a single goal.
Unfortunately, if they lose by a margin of three goals or more, you will lose your bet. Similar to a Manchester United bet, if Newcastle United loses by two goals, your stake will be returned as the +2 adjustment will nullify the result, leading to a draw. 
Half-goal handicap
Liverpool -1.5, Newcastle United +1.5
To win your bet on Liverpool, they need to win by at least two goals. However, if they only win by one goal or the match ends in a draw or defeat, you will lose the bet.
On the other hand, if you bet on Newcastle United, you will win if they lose by one goal, draw, or win the match. However, if they lose by two or more goals, you will lose the bet. By placing a half-goal handicap bet, there is no chance of a draw outcome.
European handicap bet
The main difference between European and Asian handicap betting lies in the availability of the draw as a betting option and the absence of a half-goal handicap market.
Liverpool -1, Draw -1, Newcastle United +2
For instance, if you bet on Liverpool, you win if they win by a two-goal margin or more.  On the other hand, if you bet on the draw, you'll win if Liverpool wins by just one goal.
Similarly, if you bet on Newcastle United, you win if they win, draw or lose by only one goal.
Asian handicap bet
This bet entails having your chosen team confront a "handicap" to overcome, and what makes this type of bet unique is that it removes the chance of a tie in betting terms. One of the most popular bet types when it comes to football betting is to bet on Total Goals. This is where you bet on the total number of goals scored in a game.
The bookies assign a plus or minus numerical value to each squad to signify their handicap. This can either be a complete-goal handicap (e.g., +1 or -2) or a half-goal handicap (+0.5 or -1.5).
Betting on a football tournament
Placing bets on the winner of football tournaments is a favored option for many bettors, and this bet type is commonly viewed as a long-term investment. However, football betting offers more than just predicting the tournament champions, such as staking on a team's final position in a league, their performance during a tournament, or the better performing of two teams. There are numerous potential outcomes to choose from.
Individual player betting
You have the ability to bet on individual players and make bets on the achievements as well.
Recently, betting enthusiasts have had the opportunity to place wagers on specific player tackles and team tackles. These captivating betting options present big opportunities for savvy bettors seeking great bargains on top football markets.
However, it's essential to exercise caution when staking large amounts on these bets due to the unpredictable nature of football. Many bookmakers offer boosted odds to attract more players, but you should be aware of the potential risks involved. 
Half-time/full-time
You can bet on the result of the first half, and/or the second half. You can place your bet on either the home team, the away team, or the possibility of a draw during either or both halves of the game. 
Attracting the interest of football enthusiasts, this type of bet is often preferred by those who believe in the consistent weak or strong start or finish of certain teams. Furthermore, having knowledge about the initial line-ups and key players missing due to injury or rest can prove advantageous in such types of bets.
Accumulators
Accumulator bets are one of the most popular forms of football betting. The reason behind the popularity of accumulator bets is the chance to win a large amount of money with a relatively small investment, as the winnings from each bet are reinvested in the next. However, it also involves the risk of losing everything if all the bets are not successful. For example, bookmakers like William Hill provide accumulator insurance, where if one of the five or more selected bets goes wrong, you will receive a free bets refund of your original stake. 
Football betting specials
At any given moment, you can bet on football specials, like betting on the next Premier League manager to be sacked or the possibility of summer transfers. Engaging in this form of betting adds an exciting twist to your traditional betting habits since it allows you to explore new markets. 
In the case of football transfer betting, you wager on the likelihood of a specific player moving to a particular club by the end of the transfer window. Although the favored outcome may be for the player to remain with their current team, it becomes more likely that they will leave if their current club is listed at 10/1 odds or lower.
In-play betting
In-play betting, as the name implies, entails placing a bet on the outcome of an event while it is still ongoing – for instance, backing the next team to score in a match you are watching on TV. Bookmakers propose various markets, including the next individual to score a goal, which team will gain the next corner or throw-in, or who is likely to be presented with a yellow card next.
Additionally, there are some exciting trading markets to monitor on in-play wagering websites, like 'corner races,' and on bet365, some extraordinary specials, like shots and player shots, are accessible within the prop markets. Unibet offers you some of the best odds in UK betting. In addition, we give you access to live football streaming through Unibet TV's live stream. You can watch and bet on, among other things, La Liga, Bundesliga, and Serie A matches.
How to sign-up at a football betting site?
If you're new to the gambling world and have never bet on football, you may wonder what are the first steps of signing up for an online sportsbook.
1. Choose a football betting site
2. Create your betting account by providing information like your legal name and date of birth, your email address and home address, and username and password. 
3. Choose a deposit method
Most football betting sites make sure to accept some of the more common payment methods, such as credit cards, e-wallets like Skrill or Neteller, and Cryptocurrency (Bitcoin, Litecoin, Ethereum).
4. Deposit money into your account
Conclusion
Football is an unpredictable game, and thus there is no certainty when it comes to betting on popular markets. Even if you do much research and have as much knowledge about a particular game, there still remains the possibility of an unexpected outcome of a match, which adds to the sport's attractiveness.
This is why it is better to use your expertise to determine the game and bet that you want to target while betting on football. If you are new to football betting, it is best to stick with smaller bets like match betting, as well as those that pose less risk, such as double chance.
The most effective way to win money and avoid the disappointment of losing is to identify bets with good value. Now, you can add to your excitement by placing a bet on football, but please gamble responsibly.