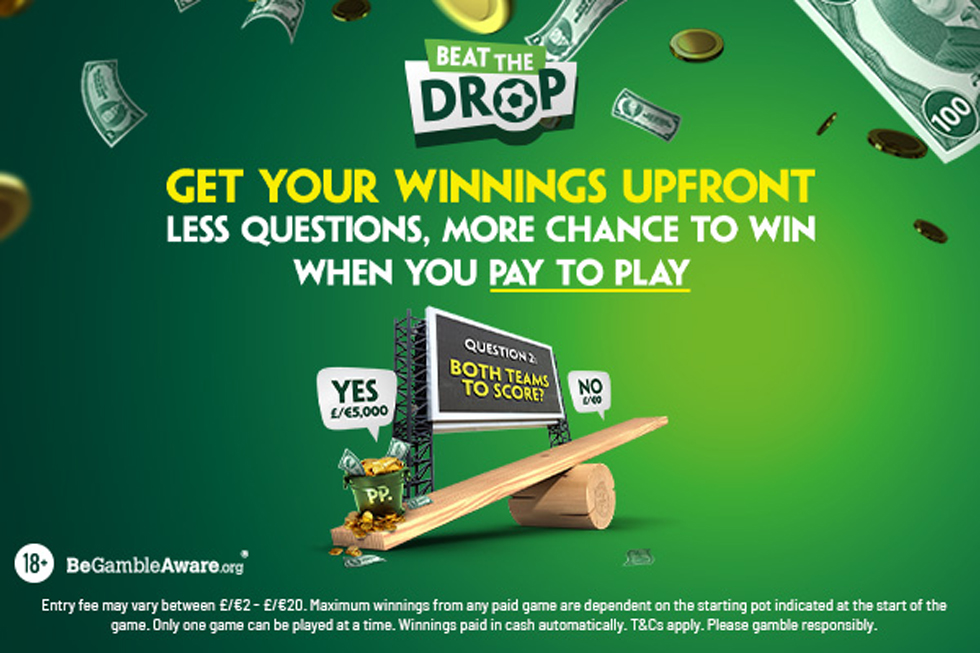 Have you ever responded correctly to a TV program's inquiries to win exciting cash rewards? Hopefully, you have experienced this, and it helps win cash prizes for a few lucky players. Paddy Power operates similarly, but everyone who beats the drop can win money by playing this online gambling game.
What is Paddy Power Beat the Drop?
Beat the Drop is one free to play or pay-to-play game available with both Paddy Power and Betfair gaming platforms. The game is based on the TV show "Million pound drop", – where customers start with a pot of up to £1,000,000 and answer questions on upcoming events such as "Will Liverpool win tonight?"
Beat the Drop offers all customers the possibility to win a cool £5,000 by answering simple predictions about upcoming sporting events. The promotion is free to claim, giving you a pot of a cool £5,000 to use on 15 questions. You must split your pot between the two answers provided for each of the latter. You can split this however you like; if you feel particularly confident, you can even go all in!
The game combines skill with chance, making it very appealing to players. While luck still plays a significant role in the game's outcome, some tips can help improve your chances of winning. You'll take home the prize if you answer 15 questions correctly. Beat the Drop is an excellent way for sports enthusiasts to win big and have fun while predicting the outcomes of upcoming sports events.
Paddy Power Beat the Drop game is available for existing and new customers with registered Paddy Power accounts.
The "Beat the Drop" game gives a pot of £5,000 up front, used to answer 15 betting questions. At the end of all questions, the remaining money in the pot belongs to the player. Generally, a pot signifies the potential returns from a sportsbook bet. The game offers the opportunity to win this pot and is available to new and existing Paddy Power customers of their online sports betting. Players can play this game once per day and can win £5,000.
How to Join Paddy Power?
Register today and claim the latest sign-up offer, where you bet £20 and get it back if it loses. Register using code 'YSKWEX' and place a £20 bet on absolutely anything you like (at least evens (2.0) odds). If it loses, Paddypower will refund your stake back as cash!
PaddyPower online registration is simple. The platform has made it easy for new players to register from wherever they might be. To finish the PaddyPower registration process, you need to provide the following:
Firstly, visit the official website.
Click on the "Join" button.
Add your details, such as your gender, first and last name, date of birth, country of residence, and postcode.
Then, enter your phone number.
Afterward, you must set up your account details, including your email address.
Please create a password you can easily remember, as you will need it when you go through the login procedure.
Next, please choose a security question and answer it.
Then, you can limit the deposit amount to a specific time.
Enter the promo code in the designated field if available.
Upon registration, the promo code may be required to activate the bonus you want to select (if available). But if you add it after creating your account, you may need help to start the bonus, as this is one of the primary rules that apply to it.
How Does Beat the Drop Work?
Paddy Power Beat the Drop gives every player a set amount of money in their "pot". Players should keep it through selected number of questions until you complete your game. All the questions are phrased so you can answer either 'yes' or 'no'. If you're confident enough, you can bet your entire stake on one answer and none on the other.
Conversely, if you doubt the response, you can split the pot 50/50 between the two options. Different combinations are also available, and you can use the slider positioned at the bottom of the question area to select the one you want. If your qualifying bet loses, Paddy Power will refund your stake in cash (up to £10)
How to Play Beat the Drop?
Experience the thrill of winning with Beat the Drop, where you can earn up to £5,000 with one free game entry every day. Answer 15 questions based on popular betting events like the Premier League and World Cup using a pot of £5,000 to increase your chances to win the game. Additionally, take advantage of pre-play and in-play market opportunities for even more betting options. The top prize for this exclusive online concept is £5,000.
Step 1
Log in or sign up for Paddy Power. Navigate to Beat the Drop via the tab on the left-hand side of the homepage or the Promotions section.
Step 2
Start a game.
To start playing Beat the Drop, select a question related to a specific match or event for placing your bets. You can go all in or split the pot based on your preference. If you feel confident, take the risk and go all in because even if you lose, you can restart a new game for free the following day.
Beat the Drop allows you to divide the pot as you wish, and you can also modify your decision before the Betting market closes.
Step 3
Navigate through each round.
After successfully answering the initial question and winning the bet, it's important to note that there are multiple rounds before receiving any returns. You must complete the game within 14 days of finishing the previous round, but there's the flexibility of selecting the subsequent round within that timeframe. Please visit and select the next round within 14 days to avoid the game expiring.
Each round has an equal chance of success and failure, with a 50/50 probability for each answer chosen. Following that, a split can be initiated if necessary.
Step 4
Try again when your game ends.
As previously mentioned, this opportunity remains accessible on the following day, even if you suffer a loss. Whether you are a new or existing member, you may participate in a new complimentary game the next day. If you finish all funds within your pot, whether on the initial day or later, you may commence a new game beginning tomorrow. You shall again be given a £5,000 pot to compete for a lucrative cash reward.
Paddy Power Beat the Drop Strategy
The success of Paddy Power's beat the drop strategy depends on your picks. If you're confident with your selection, consider going all-in. However, if you are hesitant or uncertain, divide the pot to secure some winnings. You can also take advantage of their tips and use their sportsbook to hedge your bets.
Going 'All in'
When you choose to go "All in," it signifies that you are placing 100% of your chips (your potential winning) into every round, without exception. This approach is beneficial because it gives you the chance to win the maximum amount of cash possible, the entire pot. The other side of the coin though is that this strategy carries with it the most risk and has the highest probability of resulting in no winnings at all.
Splitting the pot
If you split your pot, you'll select lower risk and a lower winning strategy. However, this approach comes with a trade-off wherein you will forfeit some of your potential earnings every time you reach a new question, but at the same time, you are assured of keeping a portion of the prize.
Hedging Using the Sportsbook
This strategy is similar to splitting the pot but can be used more effectively due to the odds involved. Whenever you divide the pot, the likelihood is always 50/50. However, during the latter part of the game, players can wager on a football team that is expected to win and gamble the entirety of the pot on it. To increase the likelihood of either winning or progressing in the current Beat the Drop game, players could also choose to bet on the opposing team with a +0.5 Asian Handicap, which would yield more favourable odds.
Paddy Power Beat the Drop Tips
Research the most likely outcome
Always research the most likely outcome – First and foremost, it's essential to do your research and gather as much information as possible about the question. This will help you to make a more informed decision and increase the likelihood of selecting the correct answer. Even if you feel confident of the answer to the question, it's always best to go with the most likely outcome statistically.
Look at the odds for that particular bet on the Paddy Power website. If the odds for 'Over 2.5 Goals' are under evens, then it's a good bet, and you should choose 'YES' for your answer. If they're over evens, you should select 'NO' for your response as it has more chance of not coming in.
Don't risk your entire pot on one question
It's important not to risk your entire pot on one question. Spread your bets out to avoid losing everything on a single incorrect answer.
Opt-in to reminders
Opting into reminders can also be helpful, as it will ensure that you don't miss any questions and can make more informed choices.
FAQ's
How often can you play?
You can enter for free every day, but this could change anytime. Although you can start a new game each day and play only one game at a time, you must complete one game before starting a new one.
Which sports are available on Paddy Power Beat the Drop?
You can find a wide range of sports, but most questions relate to horse racing and football.
How much can I win on Beat the Drop?
If you play beat the drop for free, you can win a £5,000 prize pool, so that is the maximum you can get any win for any game.
What is Beat the Drop's last question?
The last question is always unpredictable, with the game covering many sports and events.
Can you withdraw any winnings as cash should you end the 15 questions with a positive balance?
Yes, any winnings are paid into your Paddy Power account as cash, not free bets. If you'd like to withdraw it, then you can, or you can keep it in your account for other punting purposes.