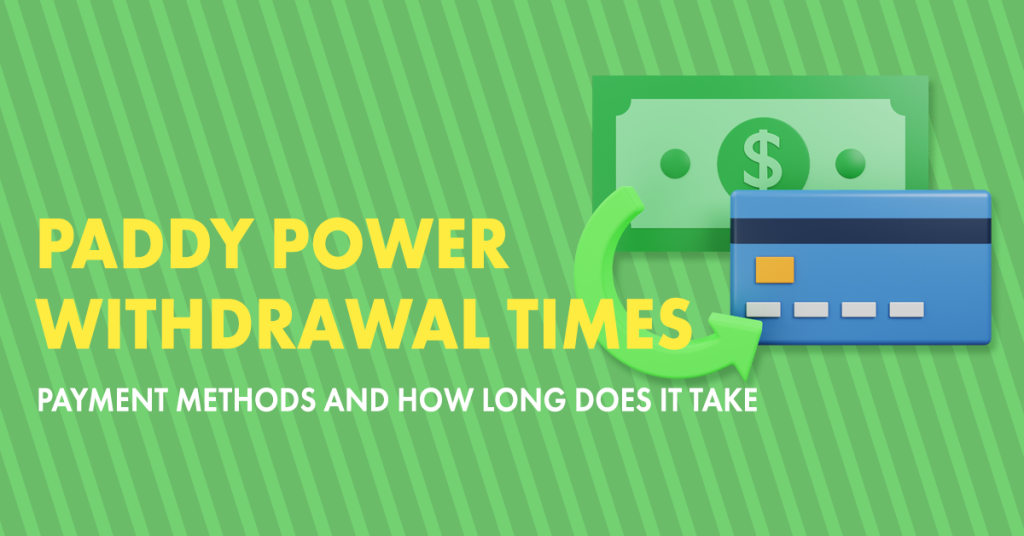 If you're into online betting, you must have heard of Paddy Power. Paddy Power is one of the leading bookmakers in the gambling industry. That's why they made sure that you have the best possible experience with the platform. 
Winning is great, but what's even better is getting your money. But when it comes to getting your winnings, the withdrawal process can be a bit confusing. We've all been there. Don't worry, though—we're here to break it down for you.
You've come to the right place if you want to learn about Paddy Power withdrawal times. We'll guide you through everything you need to know so you can cash out your wins without any hassle.
Paddy Power Withdrawal Methods
Paddy Power wants to make sure taking out your winnings is easy. They offer different ways to do it, and we'll walk you through the details.
With Paddy Power, you can pick the old-fashioned ways or the new digital methods.
Paddy Power Debit and Credit Cards Withdrawals
Using your card to take out funds from your Paddy Power account is a common way. Paddy Power accepts popular cards like Visa and Mastercard.
It usually takes about 2 to 5 workdays for the money to come to you. But sometimes, it might take a bit longer if your bank takes more time. Some Visa debit cards are eligible for instant withdrawals. Then your funds will be available in a matter of hours.
Our tip is to make sure your card is connected to your Paddy Power account. This way, you won't wait too long for your money.
Paddy Power PayPal Withdraw
PayPal is a quick and liked way to get your money. When you ask for your money, it will be in your PayPal account in 24 hours. You can take out at least £1.
You need a PayPal account that's verified and linked to your Paddy Power account.
Paddy Power NETELLER and Skrill Withdrawals
We all live in a digital era where everything is on our phones. It shouldn't be a surprise for anyone that e-wallets are becoming more and more popular. That's why bookies like Paddy Power started offering this as a withdrawal option.
NETELLER is an e-wallet that people who bet like using. It's easy to use. Lots of Paddy Power users go for this. NETELLER lets you take out between £1 and £5,000. Like with other e-wallets, your money will show up in one day.
Skrill is another e-wallet that's good for taking out money quickly. You can get your money in one day.
Just like NETELLER, the smallest you can take out is £1, and the biggest is £5,000.
Paddy Power Bank Transfer Withdrawals
If you like doing things the old way, bank transfers work too.
But it takes a bit longer, like 1 to 5 workdays, depending on your bank.
If you're sending money to a different country, it might take even more time and could cost more.
Paddy Power Apple Pay Withdrawals
Apple Pay is for people with iPhones who want their money fast. Paddy Power is okay with this way too.
With Apple Pay, you can put at least £5 in your account every day.
Before you ask for your money, make sure your Apple Pay is linked to a debit card, not a credit card.
Paddy Power Cash Card Withdrawals
If you want to take out cash, the Paddy Power Cash Card helps. It takes about 2 to 3 workdays to get your money.
You can also buy things with the Cash Card, where Mastercard is accepted.
To get a Paddy Power Cash Card, you need to prove who you are and how old you are.
How to Withdraw Money from Paddy Power
Getting your hands on your Paddy Power winnings is a breeze. Paddy Power understands the importance of making your betting experience smooth, which is why they've streamlined the process to be super easy.
To make a withdrawal from your Paddy Power account, follow these simple steps:
Log into your Paddy Power account.
Head over to the "My Account" section.
Click on the option that says "Withdraw Funds."
Select your withdrawal method.
Enter the amount you'd like to withdraw and then hit the "Withdraw" button.
Now, kick back and enjoy your well-deserved winnings!
Once Paddy Power has processed your withdrawal, it means your funds have been successfully transferred using your chosen method.
Sometimes, as you're cashing out, Paddy Power might give you a heads-up that they need some extra documents to double-check your identity. This is more likely if you're cashing out a hefty sum or if it's your first time doing so. These steps are in place to ensure everyone's betting experience is safe and secure, keeping any funny business at bay.
Paddy Power Withdrawal Time: How Long Does It Take To Withdraw From Paddy Power
Credit Card or Debit Card Withdrawal
One of the ways you can get your money is by using your debit or credit card. It usually takes Paddy Power around 2 to 5 business days to process this type of withdrawal. But remember, the actual time might be a little different depending on your card provider and where you are.
E-Wallets: Quick and Easy
If you're a fan of e-wallets like PayPal, Skrill, or Neteller, you're in luck. With these, you can expect to see your money in your account within a few hours to 48 hours.
Bank Transfer
If you prefer going the bank transfer route, just know that it might take a bit longer. Usually, bank transfers take anywhere from 1 to 5 business days to show up in your account.
Here's a breakdown of the estimated processing times for each option:
Debit/Credit Cards: 2-5 business days.
PayPal: 24 hours.
E-wallets: up to 48 hours
Bank Transfer: 1-5 business days.
Cash Card: 2-3 business days.
Paddy Power Withdrawal Limits: How Much Can You Take Out?
Different ways to get your money from Paddy Power have different rules about how much you can take out. Let's break it down:
Visa and Mastercard Debit Card
You can take out as little as 1p, and the most in one go is £10,000. It usually takes 1 to 3 working days to get the money in your bank account.
Visa Fast Funds
Some Visa cards, including those linked to Apple Pay, might get their money in less than 2 hours through Visa Fast Funds. But not all Visa cards can do this, so check. The maximum withdrawal might be lower than £10,000.
PayPal
You can take out at least £1, and a maximum withdrawal amount of £5,000 in a single transaction. You'll usually see the money in your PayPal account within 4 to 24 hours after you ask for it.
Skrill
Like PayPal, you can take out a minimum withdrawal of £1 and as much as £5,000. Your money should arrive in your Skrill account within 4 to 24 hours.
Neteller
For Neteller, the range is also between £1 and £5,000. The wait time is about 4 to 24 hours.
Apple Pay
In the UK, the minimum withdrawal amount using Apple Pay is 1p. The most might be a bit less than £10,000. But remember, this method might be linked to a Visa Debit or Mastercard.
Cash
Paddy Power Play Card and CashCard+ are powered by Mastercard. You can take out up to £2,000 every day with the Play Card. CashCard+ can't be taken out as cash. Only used for buying stuff.
Bank Transfer
This takes a bit longer, about 1 to 5 days. You can take out at least £10 and up to £10,000.
Remember, these rules might change, so it's a good idea to check the latest terms and conditions on the Paddy Power website.
Things That Affect How Fast You Get Your Money
There are some things that can make the process faster or slower:
Making Sure You Are You
Before Paddy Power gives you your money, they might need to check that everything's legit. They might ask you to provide an ID or some sort of identification document. This could make the process take a bit longer, but it's all about keeping things safe.
Which Withdrawal Option You Choose
With so many Paddy Power withdrawal options at your disposal, it might be hard to choose exactly which one will work best for you. Remember, different ways of getting your money have different speeds. E-wallets tend to be quicker than bank transfers. So, if you want your money quicker, this might be the way to go. But if you're more of a traditionalist, then bank transfers are just for you.
How Much You're Taking Out
If you're cashing out a big chunk of money, Paddy Power might need to do some extra checks. This could make the whole thing take a tad longer.
Tips to Withdraw Your Money
If you want taking out your winnings to be easy, there are a few things you can do. These tips will help you have a smoother time using Paddy Power:
Confirm Your Account: Make sure everything about your Paddy Power account is verified, like your name and address. This will help make the payout process faster and avoid any hold-ups. No one wants delays because of a typo!
Stick to One Way: If you can, use the same way to deposit and withdrawals. It's not only simpler but also safer for your transactions.
Know How Long It Takes: It's important to know how much time it takes to get your money. Keep an eye on your Paddy Power account to see when your money is on the way or if it's already in your hands.
Talk to Support: If you have any problems or questions about getting your money, don't be shy to contact Paddy Power support team. They're there to help you and make sure everything goes well. Having the right information and help will make getting your winnings from Paddy Power a breeze.
Go for E-Wallets: If you're all about getting your money fast, e-wallets are the way to go. They're known for being super speedy.
Bonus Tip: Plan Ahead
If you're on a timeline and need your money by a certain date, it's a good idea to plan ahead. Give yourself some extra time in case things take longer than expected.
Wrapping It Up
So, there you have it. Now you know the ins and outs of Paddy Power withdrawal times. By picking the right way to get your money and keeping those little factors in mind, you'll be a withdrawal pro in no time!
FAQ
Why I Can't Withdraw Money From Paddy Power?
If you can't take out your money from Paddy Power, it might be because your account isn't verified. Check if you've given them your ID and where you live. If the issue doesn't go away, get in touch with Paddy Power for more help.
Is There a Limit to How Much I Can Take Out?
Yes, there is. Paddy Power has a limit on how much you can withdraw. The limit might be different depending on your account and how you're cashing out.
Can I Use Revolut for Paddy Power?
Yes, Revolut cards are accepted for payment options on Paddy Power betting sites. But remember, withdrawing might take up to 5 days after the withdrawal request is made.
What's the Least and Most I Can Withdraw in a Day?
You can take out at least £1 (or €1) a day. The most you can withdraw from Paddy Power in a day is £2,000.
How Can I Check Where My Withdrawal Is?
To see where your money is, sign in to your Paddy Power account. Go to My Account, then click on Transaction History. Pick the withdrawal transaction to know its status.
Are There Unavailable Withdrawal Methods?
Yes, you can't use Google Pay and Paysafecard to take out money from Paddy Power. Despite Paddy Power offering Paysafecard as a deposit method, you cannot use it to withdraw your winnings.