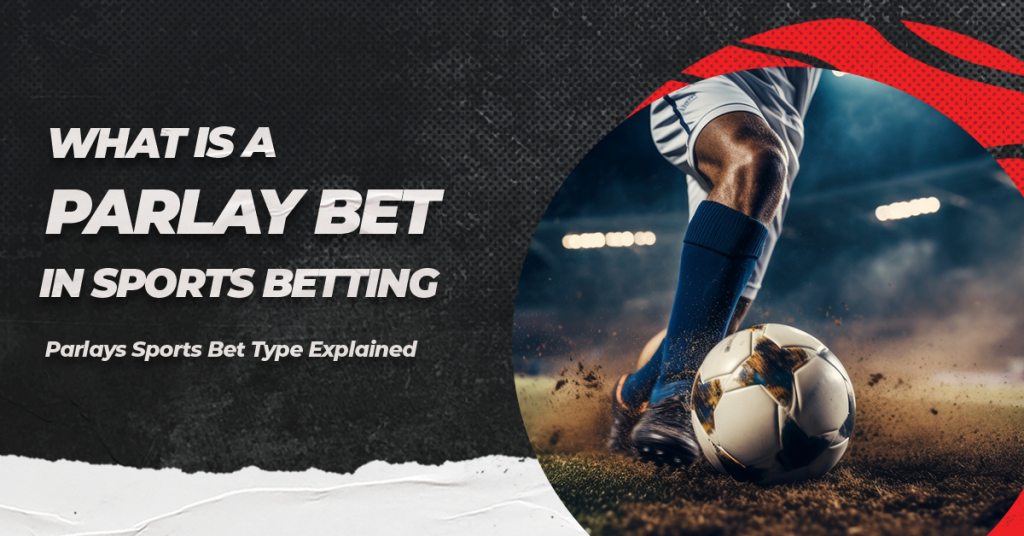 Have you ever wondered what a parlay bet is? If so, you've come to the right place.
In sports betting, parlays have a unique meaning. Parlays are a common way to raise a bet's potential payout sum, and it's essentially a bet that combines multiple bets into one. These bets may be referred to as "accumulators" or "multis," depending on the sportsbook or the country.
Mr Betting's complete betting guide to parlay betting will teach you how to maximise your earning potential when you bet using parlay bets. Keep reading to find out more!
What Exactly Is A "Parlay" Bet?
A parlay bet can never consist of only one bet on a bet slip, therefore an individual wager cannot be part of a winning parlay bet. When two or more bets are combined for a higher reward, it's called a parlay. Each and every bet in the parlay has to come out on top. Greater risk and higher payouts are associated with parlay betting, however. The entire parlay bet loses if even one of the single bets in it doesn't win, therefore a parlay is only won if the multiple bets win.
How Does A Parlay Bet Work?
How To Calculate Parlay Odds
The parlay calculator for odds is to divide the entire return (win plus bet) by the bet amount. This yields a decimal multiplier, or European odds, for each bet in the parlay. To obtain the parlay odds, multiply those multipliers by one another.
For instance, a moneyline bet parlay with three teams entails wagers of -120, -130, and +115. The multipliers for the individual bets should be 1.83, 1.77, and 2.15 if you're betting £100 on the parlay. When you multiply those odds by 6,96, and you bet £100 on the parlay, the total return comes out to £696 (6.96 x £100), which is a £596 profit.
Bet Types: Best Parlay Picks
Push On A Parlay
The stake is withdrawn from the parlay and regraded on the remaining bets if one of the bets in the parlay is determined to be a push or tie. Two right bets and one graded push result in a two-team parlay, with rewards modified to match the risk of the two correct bets. This process is used in three-team parlays.
Three-team Parlays
Let's use an NFL team for the first example of this type of parlay. The Chicago Bears -2.5, Green Bay Packers +4, and Arizona Cardinals -10 are the three spread bets in the parlay.
The Cardinals must win by a minimum of 11 points, the Bears by a minimum of three points, and the Green Bay Packers either win completely or lose by fewer than four points in order for this 3-team parlay to win. The entire parlay will be lost even if only one of these three bets fails and the other two win, so all teams' winning is crucial.
Correlated Parlay Bets
Imagine being able to parlay two bets, but the odds of winning the other bet rose if you won the first one. It appears that you can. We refer to these parlays as "correlated parlays."
Parlaying the first half over with the game's total over would be the most apparent example. It's clear that the total has emerged as the favourite to win if the first-half total is met. Sportsbooks have firewalls in place to stop you from betting on certain parlays because it is so obvious.
In sports betting, "same-game parlays" (SGPs) have gained popularity recently. But take note: before you book them, you must compare the rewards of these to the individual bets parlayed together. Regardless, some associated parlays are permitted and will pay off in full.
Round Robin Parlays
A number of parlays can be set over multiple games using round-robin parlays. In order to construct parlays of varying amounts involving those games, bettors can select several bets. Each parlay variant needs a separate stake.
Two, three, and four-team parlays, for instance, are all possible in a four-team round-robin parlay. You must make individual bets on each of the 11 parlay possibilities, but any winning combination of bets that fits those parlays will pay out.
What Is The Likelihood Of Winning A Parlay Wager?
The likelihood of winning a parlay decreases with the number of bets placed; parlay betting is a high-risk, high-reward gamble. Based on the amount of wagers involved, the following are the odds of winning your parlay using the typical -110 vig for point spread and total bets:
Two-team parlay – 27.47%
Three-team parlay – 14.37%
Four-team parlay – 7.52%
Five-team parlay – 3.94%
Six-team parlay – 2.06%
Seven-team parlay – 1.08%
Eight-team parlay – 0.56%
Nine-team parlay – 0.30%
10-team parlay – 0.15%
Parlay Payouts
As more events are added to the parlay and as the odds for those bets change, payouts will also change accordingly. Because the risk is lower with an underdog parlay, a moneyline parlay with large rewards will not pay out as much.
The number of bets and the particular odds for each bet determine how much you will be paid for a parlay in the event of a win. These are the parlay payouts for a £100 bet using the typical -110 vig for point spread and totals:
Two-team parlay – £264.46
Three-team parlay – £595.79
Four-team parlay – £1,228.33
Five-team parlay – £2,435.90
Six-team parlay – £4,741.27
Seven-team parlay – £9,142.43
Eight-team parlay – £17,544.64
Nine-team parlay – £33,585.23
10-team parlay – £64,208.16
Parlay Cards
To calculate parlay payouts, many sportsbooks—particularly retail books located inside casinos—use a standard set of odds. On NBA and NFL Sundays, football parlay cards are highly popular among casual gamblers who want to take a small risk in the hopes of winning big.
Parlay Card Payouts
For point spread and Over/Under parlays, parlay cards give a fixed payoff sum in place of the parlay. An example is:
Three-team parlay – 5.5/1
Four-team parlay – 11/1
Five-team parlay – 22/1
Six-team parlay – 44/1
Seven-team parlay – 88/1
Eight-team parlay 175/1
Nine-team parlay – 350/1
10-team parlay – 700/1
11-team parlay – 1,300/1
12-team parlay – 2,500/1
Should New Bettors Avoid Parlays?
When it comes to long-term predicted value, parlays are a bad option for sports betting, especially for new players. This is because every bet in a parlay, or almost every bet, needs to have a positive expected value (EV) in order for the parlay to have an EV. When bettors don't have significant experience using parlay bets on betting sites or don't know how to properly place a parlay bet, they should avoid this option at all costs.
As it's a risky type of bet, as it's not a small bet, and since it combines a few bets into one to make a parlay bet, it's too risky for novice bettors to risk losing their money. Although hitting the jackpot with multiple winning bets which are paid out big-time is great, betting using parlays on different sports should be left to the pros.
If A Game Is Cancelled, What Happens To The Parlay?
Newer sports bettors frequently have questions regarding online sports betting parlay grading since parlay bets consist of numerous legs. Granted, a single loss ends the parlay, but occasionally wagers end up winning or losing.
The other issue to be mindful of is related to postponed or cancelled games, which is a greater worry. Again, the stake usually just disappears from the parlay and returns to a lesser parlay.
In a moneyline wager, the same terms apply for an uncommon tie. Tie comes off of the parlay unless you're betting a three-way market, which is common in soccer. To find out exactly how your sportsbook will handle different scenarios related to different bets, look into their regulations.
Parlay Bets Overview
So, what have you learned so far? Let's go over it briefly. Two or more wagers combined build a parlay bet. Parlays offer the possibility to combine many wagers into a single one. There are also a number of types of parlay bets, and you should know how each one differs. Although betting on parlays provides higher rewards and more betting opportunities than standard bets, they are far more difficult to win. Like any sports betting, parlay bets are meant to be "enjoyed merely for amusement, not as a moneymaking potential."
Now that you know about parlay bets and when to use and when to not use them, MrBetting.co.uk wishes you good luck and safe betting using this genius, but risky method of gambling.
FAQ
Is it wise to parlay?
If you compare parlays to one single bet, parlays are generally better for potential wins, but if the entire parlay loses, you will lose all your money compared to if you place a single-game bet.
Can prop bets be parlayed?
Indeed, parlaying prop bets is allowed at several sportsbooks.
Should I parlay or just place a straight bet?
Long-term winning can be helped by placing smart straight bets while placing a well-thought-out parlay wager may produce a large short-term return but is less likely to yield a profit over time.
How soon after a parlay should you cash out?
When you think you've made a profit on an in-play parlay, even if you might not be feeling great about the last leg, you can cash out if your sportsbook permits it.