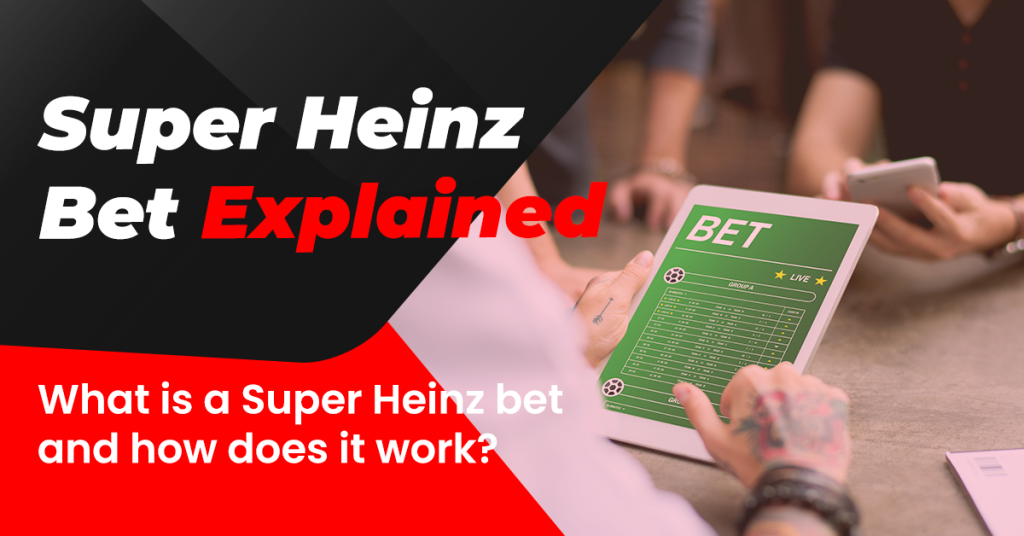 Have you ever heard whispers of the Super Heinz bet at the tracks and wondered what secret winning formula seasoned punters were keeping under wraps? It's time to pull back the curtain on one of horse racing's most intriguing wagering options.
What is a Super Heinz Bet?
The Super Heinz bet is not just a simple wager. A Super Heinz Bet consists of 120 bets. Intrigued? You should be. Just like the regular Heinz bet is named after the 57 bets slogan because it has 57 different bets, the Super Heinz bet is a type of bet that is the bigger version of the same idea. They've kept the famous name but added 'Super' to show that it's even bigger, with more bets than the original.
This betting type combines seven different selections from different events to maximise the bettor's chances of achieving a return.
Picture this: you have seven horses, each with its chance of victory. The Super Heinz Bet consists of:
21 doubles
35 trebles
35 four-fold accumulators
21 five-fold accumulators
7 six-fold accumulators
1 seven-fold accumulator
That's a formidable lineup. But let's not just admire the complexity; let's understand it.
How Does a Super Heinz Bet Work?
At its core, a Super Heinz is about coverage. You're not putting all your eggs in one basket by spreading your bets across various combinations. Instead, you're distributing them across several, increasing your payout chances. If you're looking to put down a Super Heinz bet, doing it through an online betting site is the way to go. It's super convenient because the site automatically sets up all those multiple bets for you and figures out the math in a snap.
Imagine each bet as a strand in a safety net. The more strands you have, the less likely you will fall through. A Super Heinz is a type of bet that consists of 120 selections. Even if some strands break — meaning some horses don't win — others will hold, potentially giving you a return. In a Super Heinz bet, you're not dealing with any single bets. You need at least two selections must come through to see any return from the bet.
Why Choose a Super Heinz Bet?
The Super Heinz bet is particularly popular among those who take a strategic, analytical approach to betting. It's not for the faint of heart or the light of wallet but for those with a deep understanding of the races and a desire to engage with them on a more complex level.
Think of a Super Heinz as a savvy betting strategy when you've got seven picks in play. Unlike a straight seven-bet accumulator, this one can start giving you returns even if just a pair of your choices come through. But let's keep it real – you'll probably need more than a few victories to see some real profit. Keep an eye out whenever you're lining up seven bets, as this option is typically listed among the various combo bets you can make.
Selection Strategy: Picking Your Horses
Selecting your seven horses is akin to assembling a team in horse racing betting. Each member must bring something to the table. Some may offer reliability; others may be the dark horses (pun intended) that promise high rewards. Before placing a bet, the most important thing is to pick your horses right so you have a higher chance of winning.
Disadvantages of Super Heinz Bet
The thing with a Super Heinz bet is that it's a bit rigid regarding how much you can wager. You're locked into the same bet amount across all 120 bets, no wiggle room.
Plus, the cost can add up pretty quickly with that many bets. It's usually pricier than throwing all seven picks into a single accumulator bet.
How To Calculate Super Heinz Bet Winnings?
A common question arises: "How much can I win?" The total cost for a £1 Super Heinz bet on these selections is £120. Considering the overall cost, it's vital to wager only what you're comfortable with.
If you want to calculate your potential Super Heinz bet winnings quickly, nothing beats using a Super Heinz Bet calculator. But if you prefer to do it manually, here's the lowdown:
Let's say you're dealing with fractional odds. You'll want to convert these to decimal form. Just divide the top number by dividing it by the bottom number, then tack on one. So, for example, 3/1 would become 4.0, while 7/2 would change to 4.5.
Next, take each set of combined bets — doubles, triples, four-leg accumulators, or all the way up to a seven-leg accumulator. Multiply the decimal odds for the picks in each set, and then multiply that number by your stake for each individual bet.
That'll give you a good estimate of what you could win if your selections win!
What is a Each-Way Super Heinz Bet?
An each way bet is like the regular kind, but with a twist: all 120 bets are 'each-way'. You place twice the bets when you go with an each-way Super Heinz. So, instead of the standard Super Heinz 120 bets, your bets would be 240. That's 120 bets hoping your selections to win and another 120 betting they'll at least place, which usually means finishing near the top.
The great part about going each way is that you don't just cash in when your seven selections win; you also get a payout if they place, which usually means coming in the top few spots. Typically, betting sites will give you about a fifth of the winning odds for any of your horses that place.
So, when picking your horses, a smart move is to choose the ones where the payout for placing is higher than what you bet. That way, even if they don't win, you could still get back more than what you put in for each of those bets in your Super Heinz.
Tips and Tricks To Maximize Your Returns
In-Depth Research: Knowing the Field
Knowledge is power, especially in betting. The more you know about the horses, their form, and the conditions, the better your chances of making informed selections for your Super Heinz bet.
Staying Updated: The Importance of Being Informed
Racing is dynamic; odds and horse conditions can change. Staying updated on these changes is crucial to ensure your bet remains as strong as it was when you placed it.
Manage Your Bankroll
Managing your bankroll and keeping your betting money in check is a must if you want to win more. It's like budgeting for a road trip – you wouldn't spend all your cash on snacks at the first gas station, right?
So, when you're betting, decide how much money you're okay with using and stick to that plan. This way, you can keep having fun without the stress of overspending.
Hunt for the Best Odds
It's a bit like shopping for the best deals. Don't just go for the first odds you see; shop around a bit.
Sometimes, a horse that's not the crowd favourite might have the odds of giving you more bang for your buck. It's all about finding that sweet spot where the risk meets the right reward.
Considering the Possibility of Loss
While a Super Heinz bet increases your chances of a return, it does not eliminate the risk of loss. It's essential to bet responsibly and within your means. So, before placing any bets, evaluate the risk involved and its worth.
Conclusion
Whether a Super Heinz bet suits you depends on your betting style and budget. It's complex, it's thrilling, and it offers the potential for significant returns. But it requires a level of commitment that's not for everyone.
If you've got a penchant for analysis and an appetite for excitement, this might be the best to transform your horse racing experience.
FAQ
What is the minimum number of winning selections needed for a return?
Typically, you need at least two winning selections for a return, but this can vary based on the odds.
Can I place a Super Heinz bet on sports other than horse racing?
Yes, except for betting on horse racing, a Super Heinz bet can be placed on various sports if there are seven selections. Pretty much whenever you've got seven selections on your betting slip, no matter the sport, you'll spot the option for a Super Heinz bet.
How can I calculate the total cost of my Super Heinz bet?
Multiply your stake per bet by 120 to get the total cost.
Is it possible to place an each way Super Heinz bet?
Yes, you can place an each-way Super Heinz bet, effectively doubling the number of bets to 240.
What should I consider when selecting my horses for a Super Heinz bet?
Look at the form, track conditions, and odds to make informed selections for your bet.
Is the Super Heinz a full cover bet?
No, the Super Heinz bet doesn't cover all the bases alone. If you want total coverage, you'd have to throw in seven single bets for each of your picks, on top of what the Super Heinz already has in play.