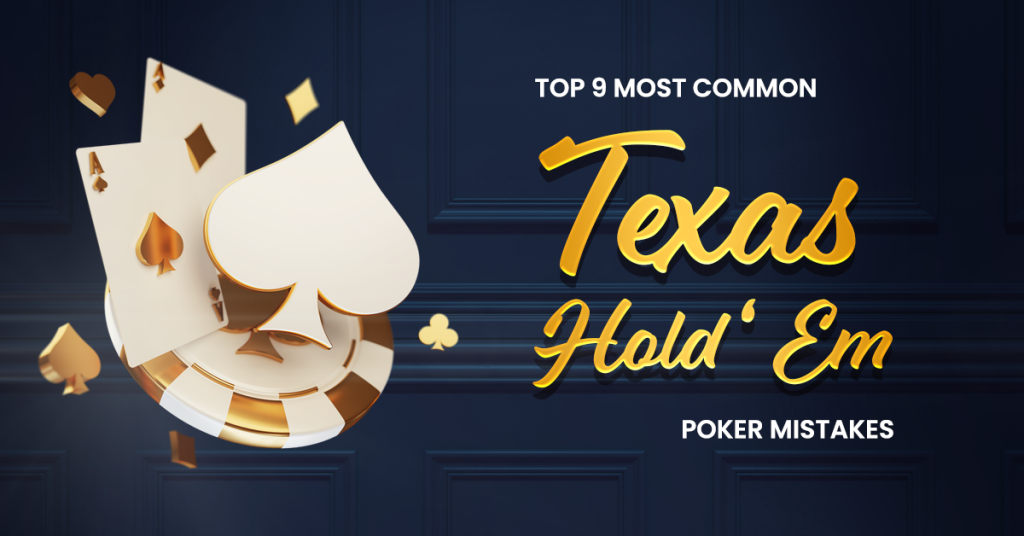 Texas Hold 'em has its own set of intricacies and pitfalls. Many players overlook subtle aspects of the game that can drastically affect outcomes. Familiarising yourself with these common errors specific to Texas Hold 'em can put you a step ahead of the competition.
Overvaluing Hands Pre-Flop
Many players have a tendency to overestimate the strength of their starting hands. Hands like Ace-Queen offsuit, King-Jack suited, or pocket Jacks might seem strong, but they can be beaten easily if not played carefully. Playing too many hands pre-flop is not a winning strategy and can often result in losing chips unnecessarily. Overcommitting with a mediocre hand can set you up for failure right from the get-go.
So, how can you avoid this mistake? Be more selective with your starting hands. Stick to premium hands like high pocket pairs or suited connectors when in early positions, and only widen your range when you're in a later position and have more information about the other players' actions.
Failure to Recognise Table Dynamics
Understanding your opponents is key. Failing to pick up on the playing styles, habits, and tendencies of other players can severely handicap your game. For instance, if you don't recognise that a player is overly aggressive, you might fold a strong hand incorrectly.
Recognising table dynamics can significantly improve your game. Observation is key; pay attention even when you're not in a hand. Take mental or physical notes on the other players and adapt your strategy accordingly. If you're new to the game or looking to sharpen your skills, it might be beneficial to play poker online, where you can find a variety of table dynamics and improve your ability to read the table.
Misusing Position
Your position at the table should heavily influence your playing style. The best positions on a Texas Hold 'em table are typically the "button" and the seats to the right of the button, also known as late positions. Playing from a late position provides the advantage of seeing how many other players act before you make your decision. Despite this, many players misuse their position by either playing too tight in late positions or too loose in early positions.
To correct this mistake, be more cautious when you're in an early position since you lack information about the other players' hands and actions. When you're in a late position, use the additional information to play a wider range of hands and to place more strategic bets.
Failing to Adjust to Stack Size
As the game progresses, you'll notice stack sizes starting to vary. Both your stack size and those of your opponents should influence your strategy. Nevertheless, some players do not adjust their approach based on stack size, which can be a significant mistake.
For example, with a short stack, it might be better to adopt a tighter and more aggressive strategy to protect your chips. On the other hand, if you have a large stack, you have the flexibility to be more aggressive and to apply pressure on smaller stacks.
Pay close attention to stack sizes and adjust your play accordingly. This will make it difficult for opponents to predict your actions and will give you a better chance of accumulating more chips.
Ignoring Pot Odds
Pot odds represent the ratio between the size of the pot and the cost of a contemplated call. Ignoring pot odds can be a costly mistake, especially for beginners who tend to make decisions based on gut feelings rather than mathematical logic. If the pot odds are greater than the odds of completing your drawing hand, a call is justified. If not, it's better to fold.
For example, if there is $100 in the pot and it costs $20 to call, then you are getting 5-to-1 pot odds ($100: $20). If the odds of completing your drawing hand are better than 5-to-1, then making the call would be a correct play.
Neglecting Table Image
Your table image, or the perception other players have of your playing style, can be a powerful tool. Unfortunately, some players ignore how they are perceived at the table, failing to use their table image to their advantage. For example, if you've been playing tightly and suddenly make a big bet, other players might assume you have a strong hand and fold, allowing you to win the pot with a lesser hand.
To avoid this mistake, be aware of your table image and how it might influence other players. Use it to mislead your opponents by occasionally playing against type. For instance, if you've been playing conservatively, use that image to bluff successfully. Likewise, if you've been aggressive, use that image to get paid off when you have a strong hand.
Overlooking Timing Tells
In both live and online poker, how quickly or slowly a player acts can offer insights into the strength or weakness of their hand. This is known as a timing tell. Despite its usefulness, many players disregard timing tells altogether.
If an opponent quickly makes a bet, they might be trying to appear confident, potentially masking a weak hand. Conversely, taking a long time could indicate a difficult decision, suggesting a medium-strength hand. Keep an eye on timing tells to gather additional information that can help you make more educated decisions during the game.
Failing to Protect Your Hand
When you have a strong hand, especially on a board with potential drawing hands, it's important to bet enough to protect it. This means making a bet large enough to give poor odds to players looking to draw to a stronger hand. Many players make the mistake of betting too small in these situations, which allows other players to call profitably with drawing hands.
Avoid this error by assessing the board and understanding the drawing possibilities. Make your bets large enough to discourage opponents from chasing draws, thereby protecting your strong hands.
Emotional Tilt
Letting emotions dictate your play is a common mistake, often referred to as going "on tilt." Negative emotions like frustration, impatience, or anger can lead to poor decision-making, such as making overly aggressive bets or calls. Many players underestimate the impact of emotional states on their gameplay, often leading to significant losses.
To manage tilt, take a break if you find yourself becoming emotional. Step away from the table, take some deep breaths, and only return when you feel more composed. Implementing a solid bankroll management strategy can also help mitigate the emotional ups and downs of the game.
Conclusion
Missteps in Texas Hold 'em Poker are often indicative of flawed strategies. By identifying these recurring errors, players can drastically improve their overall performance in the long term.