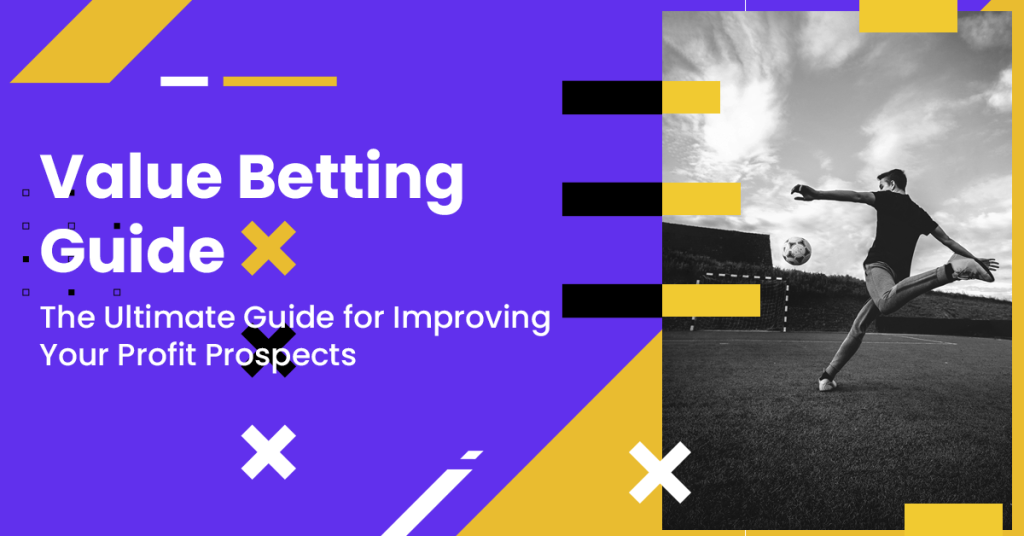 Understanding how Value betting works when wagering on sports is crucial.  This bet type involves calculating your wager instead of making a random bet. Value betting identifies an edge against a bookmaker or another user on the exchange. A wager that's undervalued compared to its actual worth, then it offers value. We provide a detailed value betting guide, the best methods for finding value in the sports betting markets, and why it's critical to achieve successful value betting.
What is Value betting?
When discussing value betting, it is necessary to determine the true odds of an event and compare it with the odds offered by the bookmaker to see if you can make a positive return on a wager. This betting technique requires understanding the expected value of a wager (EV bets) and the bookmaker's markup. First, EV bets represent the difference in prospect between the bettor and the bookmaker. Second, the bookmaker margin defines the difference between an event and the betting company's odds.
Is Value betting profitable?
If you are new to the gambling world, you should understand that betting will never provide a profit, but mastering value betting gives you better chances of making your betting pay.
The key to profiting through value betting is identifying and using value bets exclusively. While it comes with some level of risk, potential losses can be anticipated and considered in long-term plans and predictions. Ultimately, uncovering value helps shift the advantage in your favour instead of the bookmakers.
How to find Value bets in sports betting?
Before committing to a value bet, learning the betting terms and how they work is essential. Another vital part of placing a value bet is understanding how to calculate a value bet before applying this to your wagers.
First, you must know what the odds are. They represent the comparison between potential winnings and the stake. For instance, if a punter bets on 5/1 odds, you would get five times whatever your stake is. Therefore, if one bets £5,000, they could earn £25,000.
In addition to the odds, it is essential to understand the probability of a bet. This is also called the implied probability, representing the real chance of a bet paying off. All probability in betting is between 1% and 100%.
It is crucial to note that odds and value can change before an event. The closing line, or the final odds, can fluctuate based on various factors such as injuries, cancellations, and weather conditions.
Calculating Value betting odds and probabilities
The best way to find value betting opportunities is for many value bettors to follow these steps.
Firstly, determine the bookmaker's probability percentage for a bet by dividing 100 by 2.4.
Secondly, find the true probability by assessing different odds and computing an average.
Finally, minus the bookmaker's probability from the true probability and divide it by its probability.
For example, consider the hypothetical match between Man United and Liverpool, where a bookmaker might offer odds of 2.9 for United to win in a 1×2 bet. Divide 100 by 2.9 to calculate the bookmaker's probability of United winning, which is 34.4%.
However, comparing the average odds of other betting sites may reveal that the real value of a United victory is 2.1. This can be used to calculate the true value of a bet obtained by dividing 100 by 2.1, resulting in 47.6%.
Lastly, minus 47.6 from 34.4 gives 13.2. Divide this by the bookmaker's probability, which is 34.5 divided by 13.2, equaling 4.85. As a result, the expected value of the match between Man United and Liverpool is 2.6.
How to calculate the expected value (EV)?
By using the formula below, you can easily calculate the value of your wager:
Value = (Amount won per bet x probability of winning) – (Amount lost per bet x probability of losing)
Let's look back to our previous football example. Let's assume you place a bet of £10 with odds of 1.9. You estimate a conservative 60% chance that Team A will score above 12.5 corners.
To determine the value of this bet, you must first calculate the following:
Amount won per bet: £10 x 1.9 = 19 (bet multiplied by odds)
Probability of winning: 60% or 0.6 (your estimated probability)
The amount lost per bet: £10 (the amount that you placed)
Probability of losing: 40% or 0.4
Using the formula above, the Value of your bet is:
(£19 x 60%) – (£10 x 40%) = £7.4
This suggests you would earn an average of £7.4 for each £10 bet if you made the same wager numerous times. Of course, this is only valid if your analysis of the odds is accurate.
Value betting software
If you are looking for a value betting app or bot, several different software options help you identify bets. Here is a list of some of the best value betting software.
RebelBetting Review
RebelBetting offers punters one of the best downloadable software – a value betting app and a product for detecting arbs (arbitrage betting).
Value Betting is the RebelBetting product for detecting value in betting. The software shows you the day's value bets, estimating their value. You can click on the bet, and the software will direct you to the specific bookie. It has a bet tracker that can track your specific bets.
The tracker helps you get more data instead of creating endless Excel spreadsheets to track. You can track all your bets in a single place and graphs of your winnings. You also can see how much you have in real-time.
How it Works
The software looks for overpriced odds as a way to beat the bookmakers. It does this by comparing odds. The site has a proven yield of 2.5%, which is impressive and has placed millions of bets. Of course, the value in sports betting only stays around for a while since odds are constantly being updated, so you must log in regularly to check for the latest odds.
RebelBetting Sure Betting Review
The solution for arbitrage betting offered by RebelBetting is called Sure Betting. It involves compiling odds from numerous bookmakers and online sources and utilizing automated detection of arbitrage options. It allows gamblers to place multiple bets on all outcomes and still make a profit.
RebelBetting Pricing
RebelBetting's value betting software is the best choice for serious sports bettors with sufficient funds. The monthly cost is £23 for the initial three months, or a total of £69. For the full package – RebelBetting Pro (including both betting products), the cost is £43 per month for the first three months. Additionally, they offer a guarantee that you will gain profits. If you do not earn any profit during the first month, you will receive the next month free of charge.
Trademate Sports Review
Trademate Sports is useful in detecting value bets. The software is light and easy to use. When a value bet is detected, a notification pops up automatically on your browser.
The best thing about Trademate is that you get a one-month free trial. You can use the software to detect free bets and use it to your advantage! We recommend this to both beginner and professional punters.
BFBotmanager Review
If you're new to online betting, note that using a bot to place your wagers is frowned upon by many bookies, and you can even get banned. However, some bookmakers, like Betfair sportsbook, don't have any issues with it. Trading Bots like BFBotmanager enable you to automate bets on Betfair, Betdaq, and Matchbook betting exchanges. You can set the bot to automatically place bets recommended by tipsters and only place bets if specific odds are met.
Value Betting vs Matched Betting
While value betting involves calculating the true probability of a match outcome, matched betting serves as an alternative. This strategy involves using free bets or promotions to cover bets, ensuring that at least one bet will win.
To execute matched betting, a bettor can join two bookmakers and benefit from the free bet welcome offers. Subsequently, they can use the free bets or matched deposits to place opposing bets on the same match.
For instance, if Inter and Juventus compete, customers can use one free bet on Inter and the other on Juventus, or even a third, to cover the draw. The punter can earn winnings without wasting personal money on the bet, regardless of the result.
Value betting strategies
You need significant pre-match knowledge to implement a profitable betting strategy. This involves understanding many statistics and keeping track of team performance to determine the value.
Firstly, refer to team and player data such as form, previous scorelines, and more complex numbers to support your calculations. Look at the team shots, defensive capability, expected goals, possession, and key players. Then compare this with the opposite team. If one team is stronger than the other, this can help you spot the true odds quicker.
Additionally, it would be helpful to evaluate the market odds for upcoming events before working out a value bet. Utilize a comparison checker to determine the variance in odds published by bookmakers. The bookmaker's odds for a match are frequently substantially different, allowing you to discern which provider offers the best value without the need to make calculations.
FAQ
What is a value bet?
A value bet is a wager that has a greater chance of winning than the odds provided by a bookmaker imply. It occurs when a bettor identifies a discrepancy between the probability of an outcome and the betting odds offered.
What is a value bet in football?
In football betting, gamblers work out the true football value bets of a wager by finding out how valuable a wager is for one team in a sports match. For example, you could find the true value in sports of a Spain victory if they are about to play France in an upcoming match.
What is a value bet in horse racing?
Bettors can find a value bet in horse racing by using odds and form to find runners overpriced by betting sites.
How can I identify value bets?
The best way to identify bets is to compare the odds across different bookmakers and look for discrepancies. You can also research sports events, teams, and players to understand the likelihood of a particular outcome better.