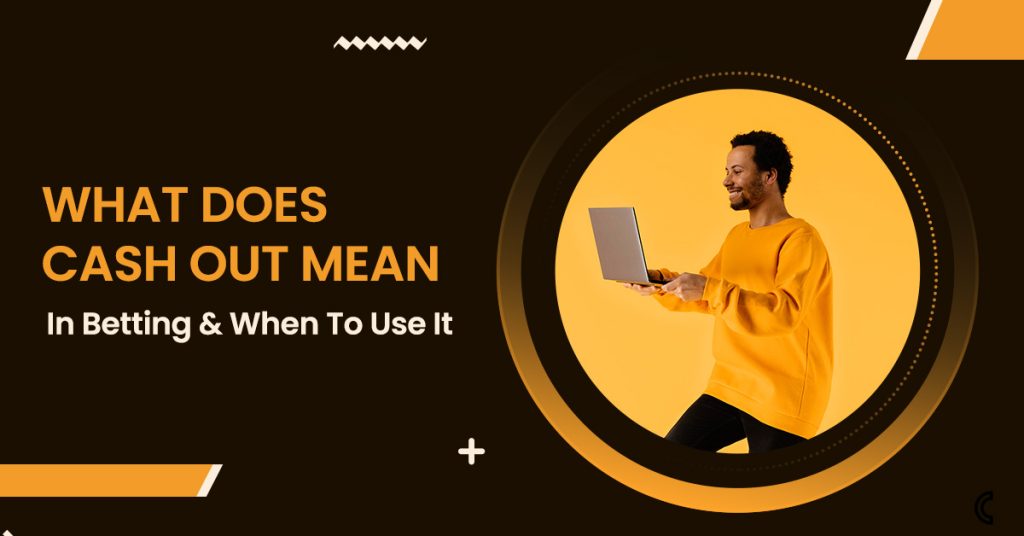 Have you ever been in that nerve-wracking situation where you're watching a game, and your team is leading, but there's still time on the clock, and anything could happen?
What do you do in this situation? You turn to your betting safety net – the cash out feature. Cash out is like an early exit ticket in the betting world. It's a feature that every bettor who wants to maximize their betting experience must learn how to use.
What Does Cash Out Mean In Sports Betting?
Think of cash-out as your "exit door" in betting. If you see the game turning sour and think you might lose, you can use cash-out to get some of your money back before the game ends. Cool, right?
Cashing out lets you settle your wager before the event ends. Bookmakers present you with potential earnings on your stake, which could be either more or less than your initial predicted profits. It all depends on the ongoing status of the sports event.
For instance, if you've supported Arsenal to triumph over Tottenham, and they lead 1-0 with only 5 minutes left, you might cash out to avoid the chance of Spurs levelling the score.
Your stake was set at 4/1, meaning that your £15 wager would bring a potential winnings of £60 if the score doesn't change.
But, the bookie might suggest a solid £45 profit, which is less but assured. Now, you have two choices: take the cash out and accept the current sum on the table, or decline the offer and await the match's final whistle.
The first option is the safer option for you. Yes, the sum will be less than what you'd earn if Arsenal maintains their lead until the final whistle, but it's a secured bet. But if Tottenham scores and wins or ties the game, you'll lose your bet and get nothing.
How Does Cash Out Work?
There's no need to be a betting pro to understand how cash out works. How it works is that a sportsbook keeps track of events and updates the odds based on what's happening. Of course, this change affects the amount of money they offer you as a cash out. Since Cash Outs are usually offered during an event and before it finishes, you can think of them as a feature of live betting in-play betting games.
We already gave you an example of a cash-out option, but there might be a time when the bookie pauses the sports betting cash out. For example, the cash out option might be paused if someone scores in a football match. This is because the bookies adjust the odds and recalculate how much you'd get if you decide to cash out.
There are even times when bookies can even stop the cash out option during an event. But some bookies even let you do a partial cash out, meaning you can take some money and still leave a bit of your bet in play.
It's a good idea to keep an eye on the cash out amount and the event so you don't miss a chance to cash out.
Why Do People Love Cash-Out?
More and more people are implementing this feature in their betting games. And we completely understand them. Why cashing out is becoming more popular? Well, because:
It's Safer: If the game's going sideways, you can get out!
You're in Control: No need to wait until the game ends. Decide when you want out.
Quick Rewards: Grab your wins faster if you think the game's about to change.
Write a Pros and Cons Of Cash Out
Like everything, cash-out has its pros and cons.
➕ Pros Of Cashing Out
Safety First: If you think you'll lose, get some cash back. It's a great way to cut losses.
Quick Wins: Grab your cash without waiting if you've won enough.
Added excitement: The decision of when to cash out adds another dimension to the betting experience.
Flexibility: You can adjust your strategy based on the ongoing event.
➖ Cons Of Cash Out
Reduced winnings: Cashing out early might result in fewer winnings than waiting until the end.
Emotional decisions: The offer to cash out can sometimes prompt hasty decisions based on emotions rather than logic.
When Should You Cash Out?
Sometimes, you might consider cashing out early in a football game so you still get some profit for your bet.
A good time to cash out is when you watch your favourite team play, and they are leading by only 1 goal, and a crucial player gets injured or receives a red card. This could change the game's dynamics, and the opposite team might equalize or win. To ensure you still get money from your bet, consider cashing out.
How To Make The Most Of Cash Out?
Cashing out during a bet depends a lot on the game and what you think might happen next. Here are some simple betting tips to think about:
Stay Calm: It's crucial not to make hasty decisions. When presented with a cash out offer, take a moment to think it through. Making snap judgments, especially when panicked, might lead to regrettable outcomes. This is something to consider because if you settle a bet early, you might have far less money.
Research & Monitor: Learn about the teams or players before and during the match. Let's say you're watching a game between Liverpool and Man City. Consider looking into whether Liverpool often scores at the end. Is City's defence weak in the last minutes? Which player is more likely to score in the last minutes of the game? Knowing these things can help you decide. Always read the full terms and conditions to avoid unexpected errors.
Trust Yourself: Everyone will have an opinion – your friend, the TV expert, another punter, everyone. It's okay to listen, but trust your thoughts if you've watched the game closely. It's annoying to follow someone's advice and find out they were wrong.
Betting Sites Who Offer Cash Out
If you're not sure who the cash out betting sites are, here's a list of the online sportsbooks that offer a cash out in betting:
You can find all betting sites offering this feature on our MrBetting.co.uk website. We ensure that we work with the best online bookmakers in the industry who offer their customers a place to bet and a whole new world of opportunities. 
Wrapping It Up
Cash-out's like your "betting exit door". Use it right, and it can be your best buddy in the betting world. But remember, always bet wisely!
FAQ
Why use cash-out?
With the cash out feature, you still get some money back if you think you'll lose your bet.
When can I cash out?
Sports bettors can cash out a bet whenever the bookmaker provides the option. However, it's important to note that a bookmaker isn't obligated to offer this feature.
How do bookmakers decide cash-out amounts?
Based on how the game's going and your chances of potential payout.
Can Free Bets be cashed out?
Usually, the answer is no. You often can't use the cash out feature if you're using free bets. And if it's allowed, you might lose those free bet funds. Always read the terms and conditions of free bets before using the cash out betting feature.