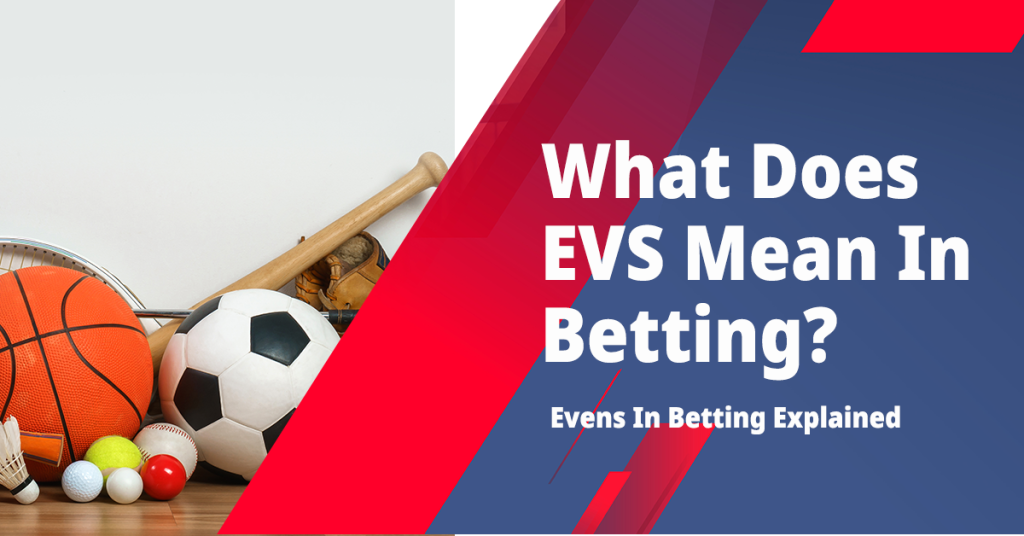 Are you new to the world of betting and feeling a bit lost with all the jargon and specialized terminology? You're not alone! It can be challenging to understand all the different terms, especially when they refer to specific bet types or odds offered by bookmakers.
Don't worry; we're here to help you navigate this exciting world of gambling. Today, we'll focus on one of the most common terms: EVS. You'll learn what 'Evans' means and get a better understanding of how this will improve your betting game. Let's find out what EVS mean in btting.
What Does EVS Mean In Betting?
In simple words, "Evens" or "EVS" means that if you win your bet, you get back double what you put in. So, if you make a £10 bet and win, you'll get £20 back.
Evs is mostly used in sports betting. It's just another way of saying evens, and the odds may also be shown as 1/1.
If you place a bet at Evens, you'll double your money if your wager is successful.
For example, imagine you're watching a football match between Everton and West Ham United. You go and place a £20 bet on Everton to beat West Ham United at evens. If Everton wins the game, you'll receive a £20 profit on top of your original £20 stake. It's as simple as that!
How Does it Work in Different Odds Formats?
The UK betting market often provides customers with a variety of odds formats to choose from. Let's take a closer look at how evens can be displayed in different formats:
Fractional odds – 4/5, evs or evens
Fractional betting odds are the most common format used by bookmakers in the UK.
While odds like 2/1, 5/1, and 10/1 are more familiar to most people, the odds for evens are rarely displayed as 1/1. Instead, bookies use the term evens or evs.
For instance, if you bet £10 on the Premier League football club Manchester United to win a match at evens, and they do win, you will receive a £10 profit on top of your original £10 stake.
Decimal odds – 2.0
Decimal odds are gaining popularity as they are easier to understand for many people.
When using decimal odds, the betting odds for evens are displayed as 2.00, which means that you will double your money if your bet wins.
For example, if you bet £20 on Tottenham to beat Arsenal at evens, and they do win, you will receive a total return of £40 (your £20 stake + £20 profit).
American odds – -100
American odds are not so popular in the UK and not so many sportsbooks use them. But there is still a chance to see American odd being used by some bookies.
In American odds, evens would be displayed as -100. This means that you would need to bet £100 to win £100 if your bet is successful.
What Does Odds on or Odds Against Mean?
You must have come across the terms "odds on" or "odds against" in the world of sports betting and wondered what they really mean
When you hear the term "evens", think of it as the middle ground in sports betting. Imagine it as the balancing point, helping you determine whether a bet leans towards being "odds on" or "odds against".
If a bet is "odds on", it's priced lower than evens. So, if you're cheering for a team or player and place an "odds on" bet, you'll win less than double your money if your choice comes out on top.
On the flip side, "odds against" suggests that the bet's price is higher than evens, implying it's seen as a less likely outcome. It's like rooting for the underdog!
With a little more practice, you'll master how to use them both in your favour.
What Does Ev Mean in Betting?
Now you know what EVS means, but you've come upon another unknown term – EV.
EV stands for expected value. While "evs" or "evens" is all about balancing odds, "EV" is a whole different ball game.
If you're aiming to not just enjoy the thrill of the game but also make some profit from your bets, then understanding EV is your ticket.
It's less about predicting the exact outcome and more about spotting where the real value lies in the odds offered by top betting sites. In essence, EV helps you see if a bet is worth your money or not.
In the grand arena of sports betting, it's not just about luck. It's also about knowledge, strategy, and understanding terms like these.
Why You Should Choose EVS?
Betting at Evens is like a coin toss. It means there's a 50/50 chance of winning. That's pretty straightforward, right?
But what makes EVS so special, and why should you give it a try?
Balanced Odds
The odds are perfectly even, which makes it transparent and relatable for both new punters and experts.
Safer Approach
Evens can be an excellent strategy for those who prefer a safer approach. Since the outcome is evenly matched, you're not taking on an excessive risk. It's ideal for those preferring minimal risks, especially newcomers cautious of unfavourable odds.
Thrilling Experience
With EVS, outcomes could go either way, making every match moment suspenseful and engaging. Sometimes it's not about winning money, but about the sheer excitement of the game and the adrenaline rush that comes with it.
Perfect for Beginners
Its straightforward nature makes it an excellent entry point for those new to betting.
Why Do Bookies Offer EVS?
When Evens odds are offered by the bookmaker, the bookmaker is saying both outcomes have an equal chance of winning. It's their way of keeping things fair.
Here are some of the reasons why UK safe betting sites often offer it to their customers:
Equal Probability: Offering Evens indicates that bookies believe there's a 50/50 chance for either outcome.
Fairness: By providing even odds, bookies maintain a level playing field, ensuring neither side is favoured.
Attract Bettors: Evens odds can be appealing to a wide range of bettors because of their simplicity and balanced nature.
Maintain Trust: It showcases transparency and trustworthiness, essential for retaining loyal customers.
Business Strategy: Balanced odds mean that the bookie isn't exposed to significant potential losses on one side.
The Difference Between Evens, High, and Low Odds
Evens (50/50 Chances)
Represents an equal probability of either outcome occurring. It's like heads or tails when tossing a coin.
Sits in the sweet spot, balancing risk with reward.
High Odds
Show a lesser chance of the event occurring.
Bigger potential rewards if you win, reflecting the higher risk.
It's like betting on the underdog; the victory is sweet, but it's harder to achieve.
Low Odds
Show a higher probability of the event happening.
Smaller rewards, as they are seen as safer bets with fewer risks.
Often chosen when the outcome seems predictable or there's a clear favourite.
Tips For a Better EVS Betting Strategy
Do Some Research
Just because it's Evens doesn't mean it's a sure thing. Always look into it before betting.
Don't Go Overboard
50/50 odds sound great, but remember, there's still a chance to lose. Only bet what you're okay with losing.
Stay Emotionally Detached
It's easy to get swept up in the excitement, but making decisions based on emotions can lead to poor choices. Approach each bet with a clear mind.
Diversify Your Bets
Don't put all your money on one Evens bet. Spread your bets across different outcomes or games to manage risks better.
Review Betting History
If a particular outcome has constantly defied the Evens odds in the past, take that into account. Historical trends can sometimes offer insights.
Keep Expectations Realistic
Evens doesn't equate to easy money. Understand that each bet is a gamble, and it's crucial to maintain realistic expectations.
Stay Updated
Regularly check news, updates, or any last-minute changes related to your bet. External factors can influence outcomes, even if the odds suggest a balanced chance
Conclusion
Evens, or EVS, is a simple concept in betting. It's a fair chance, like flipping a coin. Evens might seem tempting because of the equal odds, but no bet is ever a guaranteed win. It's essential to do a little homework and not make decisions just by gut feeling.
FAQ
What does EVS mean in betting?
Evens, often written as EVS, indicates that there's an equal or 50/50 chance of the event happening or not happening. 
How are EVS different from other odds?
It's the middle ground between high and low odds.
How much do I get with Evens?
With Evens you can double your stake. Bet £10, get £20 if you win.
Is Evens a sure win?
No, it's just a 50/50 chance.