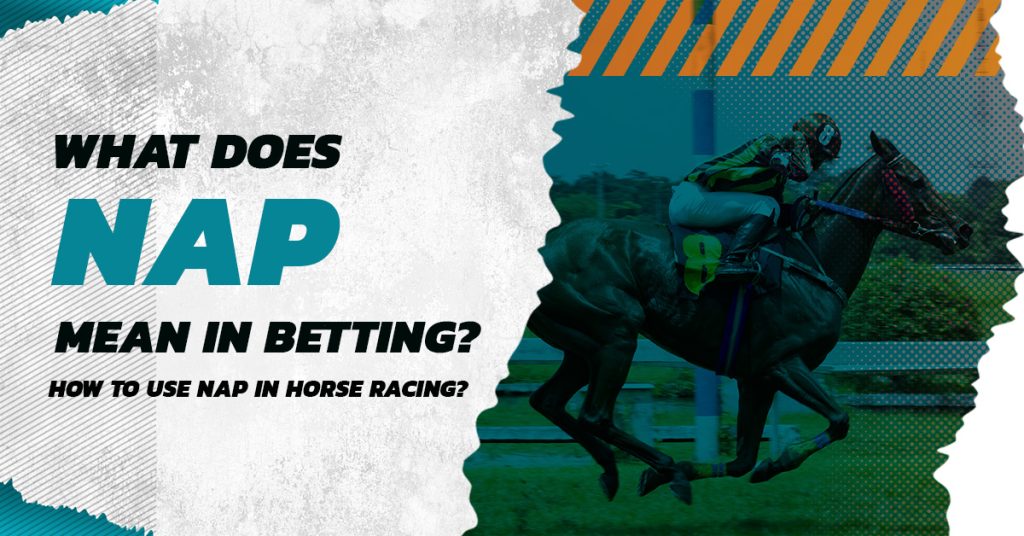 When you step into the world of betting, you'll often hear seasoned punters throwing around the term "NAP." The betting language is full of terms that sound like a whole different language, and for someone who has just started in this world, it might be very daunting to understand.
And no, NAP is not what you take after you've watched a long Premier League game on Sunday.
NAPs are mostly used in horse racing, and if you've been into horse racing, you must have heard a passionate tipster talking about NAP. But what exactly does it mean? You've come to the right place to learn about NAPs in horse racing. Let's dive right in!
What Does NAP Mean In Horse Racing?
NAP Bet is the horse different tipsters think has the best chance of winning on that day and the one they're most confident on.
In the world of horse racing, NAP of the day refers to the best bet of the day or, simply, a tipster's most confident prediction. It's that one bet you'd stake your reputation on!
If you're looking for valuable insider insights, this is a great way for you to get one. This can guide your betting decisions whether we're talking about the prestigious Cheltenham Festival, Epsom Derby, or Royal Ascot.
NAPs consider a lot of different things, like how the horse has done before, how they're doing now, who the trainer and the jockey are, and what the track is like. With all that info, NAPs are an excellent way to make smart bets. So, what you should do next time you're placing a bet on a horse racing competition is to take a look at their nap.
If you come across NB next to a tipster's selection, it means "Next Best," essentially their second most confident pick of the day.
Where Does The Term NAP Come From?
Like many betting terms, its roots are grounded in history. NAP originates from the French card game "Napoleon." Yes, as crazy as it sounds, NAP in betting made its way from a French card game.
You might ask how, and the answer to your logical question is that, in the game, when someone believes they have the best hand, it's called 'NAPoleon '. It's easy to see the resemblance with NAPs in horse racing.
Why is NAP Important in Betting?
NAP in horse racing means the tipster's best bet of the day. It's the horse they have the most confidence in to win or place. Following NAPs can improve your betting accuracy, but sports are unpredictable, so they are not guaranteed.
Here are some reasons why NAPs are becoming increasingly popular in horse racing betting and why you should consider them.
A Sign of Confidence
When a bettor declares a NAP, they sign high confidence in that bet. Think of it as the star player in a football team.
Setting a Benchmark
The NAP serves as a reference point for other bettors. If a recognized tipster announces their NAP, it can influence the betting community's choices.
How to Choose Your NAP
Research is Key
We can't stress this enough: thorough research will significantly boost your confidence in your bets. Factors like how the horse has done before, how they're doing now, who's training them, and what the track is like all play a crucial part in making the best possible decision.
Trust Your Instincts
Over time, you'll develop a sixth sense for spotting a good bet. Sometimes, your gut can be your best guide. So, trust your instincts a little more.
Consider the Odds
It's not always about the most likely outcome. Instead, look for the sweet spot where probability meets a good potential return. When placing a bet, it's important to keep in mind that sometimes the underdog can provide great value with a higher potential return. It's all about finding the balance between probability and potential payout. View our selection of betting sites with best odds.
Common Mistakes to Avoid With NAP
Over-reliance on Others
While listening to tipsters is helpful, don't blindly follow their NAPs. Do your homework! We know it's boring to research on your own.
That's why you can always find helpful guides at MrBetting.co.uk. If you don't have the time to research or want to have a little fun without too much thinking, we are always here to help.
Betting with Emotions
It's a classic pitfall. Being mindful of your emotions is a must if you want to have a pleasant experience while betting. It's a good idea to take breaks and step away from betting if you feel yourself becoming too emotionally invested or if you're on a losing streak. Always bet with a clear mind and avoid letting your emotions sway your decisions.
Useful NAP Strategies
Respect the Unpredictability of Sports
Even the most assured NAP can go wrong. That's the beauty and unpredictability of sports!
Set a budget
As mentioned earlier, having a budget is crucial for responsible gambling. Set a budget for your NAP betting activities and stick to it. Bet only what you can afford to lose.
Consider value bets
Instead of always betting on the favourite, consider looking for value bets. These are bets where the odds are higher than they should be, based on the horse or team's true chances of winning.
Keep a record
Keeping a record of your bets can help you track your progress and identify any patterns or trends. This can help you improve your NAP betting strategies over time.
Conclusion
To wrap things up, a NAP in betting is more than just a fancy term; it reflects a bettor's confidence and insight. While it's a useful tool, always ensure it complements a holistic betting strategy. Now, you are ready to place your next NAP.
---
FAQ
What does NAP mean in betting?
NAP originates from the card game Napoleon and indicates a bettor's top bet for the day.
Is a NAP a guaranteed win?
No, while it indicates high confidence, there's no such thing as a guaranteed win in betting.
Should I always follow a tipster's NAP?
It's advisable to research and not rely solely on a tipster's NAP.
How often can I choose a NAP?
Typically, a NAP is chosen daily, signalling a bettor's top pick for that day.