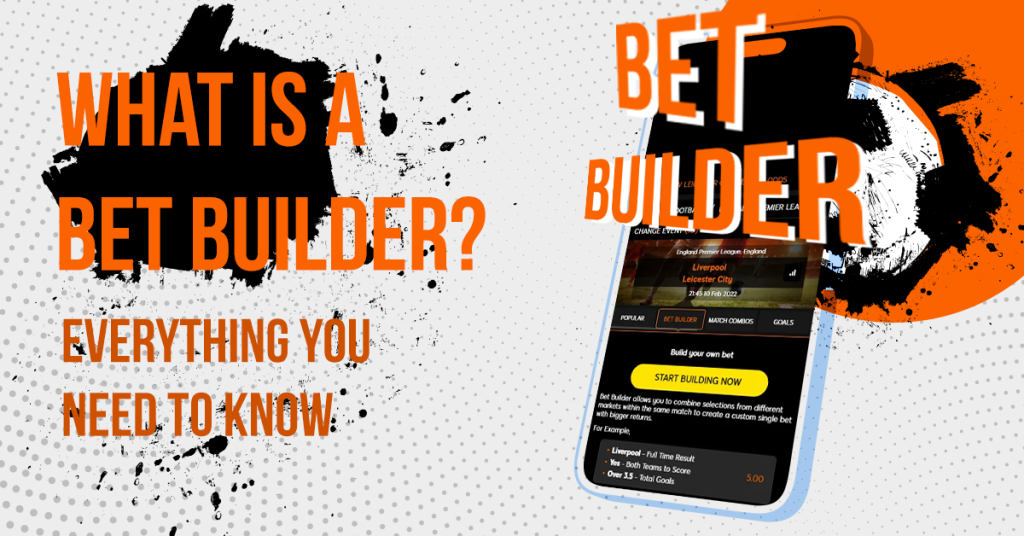 Have you ever found yourself at a buffer, wishing you could mix and match all the food to create the perfect plate? What if we tell you that in the online betting world, this is completely possible, but for bets? How you may ask. There's something called Bet Builder.
Bookmakers have always searched for ways to keep up with the time, and bet builder is their way to do it. What Bet Builder does is that it allows you to combine multiple selections to create your personalized bet. Yes, we know that it sounds a bit confusing, but with the help of our guide, you'll be a Bet Builder whiz.
At Mr.Betting, you can find renowned bookmakers like 888Sport offering Bet Builder features and unleash your creativity. So, let's see what the Bet Builder is all about and how you can have full control of the bets.
What is a bet builder?
Bet Builders is a fresh and fun approach to the world of online sports betting for all punters.
Bet Builder lets you create a custom-made bet by combining different selections. Think of it like crafting a playlist where each song matches your current mood. Instead of sticking to predefined bets, you have the freedom to get creative and make wagers tailored just for you.
Bet Builders have gained huge popularity in recent years, as they allow you to create personalised bets by selecting multiple options within the same event. What's even better is that the odds increase for extra selection.
Here are a few options for you when you place a bet builder in football betting:
Who wins the match
Both teams to score
Total goals scored in the match
Total cards in the match
Number of corners in the match
Who is the goalscorer
Shots on target by a player
Cards for a player
Let's take a football game between Liverpool and West Ham United. You're convinced that Liverpool will beat West Ham big time, so you can pick how they will win, guess how many cards West Ham will get or create a bet putting all these choices in one bet. The more choices you make, the bigger the possible win, just like when you make multiple bets at once.
How do bet builders work?
Bet builders allow you to pick different things to happen in one game and create your bet. For example, you can place your bet on who wins, who scores, how many goals there'll be, and even things like cards, shots, or corners. Most betting places let you make up to 10 picks in one bet builder.
The big difference between a bet builder and accumulator bets, which is another common bet, is that in a bet builder, you can pick things that are linked. Like, if you think Arsenal will win and a certain player, say Gabriel, will get a card during the match. This type of linked bet isn't allowed in accumulator bets, but with bet builders wagers, it is. Another difference is that you get even better odds when you add such choices.
That's why bet builders are great. Bet builders offer you tons of different combinations that aren't possible in regular bets.
How to Use a Bet Builder
Using bet builders is a breeze. Online bookies have made sure to make your experience as smooth as possible. Online bookmakers that offer Bet Builders usually feature a Bet Builder tab on their website or on their mobile app. To find the Bet Builder feature, head to the football section of the bookmaker's platform. There, you should see the Bet Builder option displayed.
Once you access the Bet Builder tab, you'll be presented with a list of upcoming football matches and the betting options for each. This makes it easy for you to select your desired match and customize your bet accordingly.
Best Bet Builder Sites
Our betting experts at MrBetting.co.uk have checked and analysed the best sites that offer the best bet builders. Fortunately for you, you can find all the bookies at MrBetting. What our experts looked at to determine the best sites were:
Can you use the bet builder for many sports, from popular ones like football to less common ones like baseball?
Can you use it for different types of bets, not just the basic ones?
Is it easy to use?
After looking at all this, we believe we've found the top bookmakers offering bet building for you:
BetVictor: Mix sports and tweak their suggested bets.
Unibet: Gives top odds for BetBuilder.
Betfair: Offers special "OddsOnThat" choices.
Paddy Power: Takes bet requests on Twitter and has a backup if one part of your bet loses.
William Hill: Lets you make special bets with "#YourOdds".
888Sport: Allows early cash-out on BetBuilder bets.
Betway: Great for bets on big US sports.
Boylesports: Keep it simple with up to 5 bet choices.
Why Bet Builders Are So Popular?
There's a charm in traditional bets, no doubt. But once you get the hang of building a bet, you'll see why they're stealing the spotlight.
Taking the Reins of Your Bets
Using a Bet Builder tool is like being handed the remote control to your betting world. Instead of sticking to a menu someone else has chosen, you're in the driver's seat. It's empowering, personal, and honestly, a ton of fun to see a bet come together the way you envision.
The Prospect of Bigger Rewards
There's a simple thrill in combining selections. These combo bets can potentially lead to heftier rewards. But, as with all things, there's a trade-off. Bigger rewards often come with bigger risks. So be prepared in case it happens that you lose.
Types of Bet Builders
Of course, there are different types of bet builders. These are ways you can use bet builders on different betting sites.
Request a Bet
Some betting sites let you ask for bets on social media with tags like #requestabet. This way can be limited, often only for one game at a time. If you have a unique bet idea, you can ask the betting site. Just give them time to get back to you.
Bet Slip Builders
Some sites let you add multiple bets to one slip and join them together. This might be confusing if you want to make regular bets and bet builder bets at the same time.
Build Your Bet
The best tools let you make your own bet for the game you want.
You see the price of your bet before adding it. You can also make other bets at the same time. If you want to bet on two games, you can make a bet for each and then join them on your slip.
In-play Bet Builder
Some bettors like to make bets during a live game. This is called in-play betting. Not many sites offer this for bet builders, but the big-name sites with good tech usually do. If you don't see this option for a live game, they probably don't offer it.
Tips and Tricks: Making the Most of Bet Builders
Nobody likes to lose, but it's unevitable in online betting. Of course there are few tricks you can use to make sure you come up a winner 90% of the time.
Before you dive headfirst into this exciting world, here are some tips to ensure a smoother betting experience.
Begin with Small Steps
It's easy to get overwhelmed, especially when you're just starting out. Think of it as learning to cook. You wouldn't start with a five-course meal, right? Similarly, start by pairing just two selections. As you become more confident, gradually add more to your bet recipe. It's the perfect way to start with bet builders, especially if you are new to the betting game.
Knowledge is Your Best Friend
Before heading out on a road trip, you'd likely check the map. Similarly, understanding the terrain of your bet is crucial. Read up on teams, players, and past game results. A well-informed bet is often a smarter bet.
We know that researching is boring and time-consuming, but it's the only way to make better bets each time. So, next time take some time to just research the teams. Taking you back to the Arsenal example; Mikel Arteta has developed a winning team, but more often than not, they make mistakes in defence. So, you might consider placing a bet that Arsenal will win, but a defender gets a yellow card.
Trusting Your Gut
Stats and figures are essential, no doubt. But so is that little voice inside you. Sometimes, a hunch or a gut feeling can be as valuable as the most detailed data. So, while you gather all the facts, don't forget to tune into your intuition.
Disadvantages of Bet Builders Bets
With all its perks, there are a few things about Bet Builders you should keep an eye on.
The Risk of Overdoing It
There's a saying: "Too many cooks spoil the broth." Similarly, in the world of Bet Builders, adding too many selections can complicate your bet. It's essential to strike a balance between ambition and realism.
Keeping Emotions at Bay
It's only natural to get passionate about a game or a team. But letting those emotions dictate your bets? That's a slippery slope. Always approach betting with a clear head and an objective mindset.
No Extra Time Time For You
Another drawback of bet builders is that extra time is not considered. Bet builders are based on the regular 90 minutes of a football match (plus stoppage time). So, when you're thinking about placing bets on cup matches, it's a bit more challenging. It might be better to bet on which team will move on to the next round.
So, there you have it. Bet Builders are more than just a betting trend; they're a revolution. They bring fun, creativity, and a personal touch to the often predictable world of betting.
Bet Builder FAQ
What is a Bet Builder?
A Bet Builder allows punters to create a custom-made bet by combining different selections within the same event, offering the freedom to craft bets tailored for the individual.
How does a Bet Builder differ from accumulator bets?
In a Bet Builder, you can pick selections that are linked within a single event, which isn't possible with accumulator bets. Additionally, Bet Builders tend to offer better odds with these combined choices.
How many selections can I typically include in a Bet Builder?
Most betting places let you include up to 10 picks in one Bet Builder.
Which are some of the top bookmakers offering bet builder?
Some top bookmakers include BetVictor, Unibet, Betfair, Paddy Power, William Hill, 888Sport, Betway, and Boylesports.