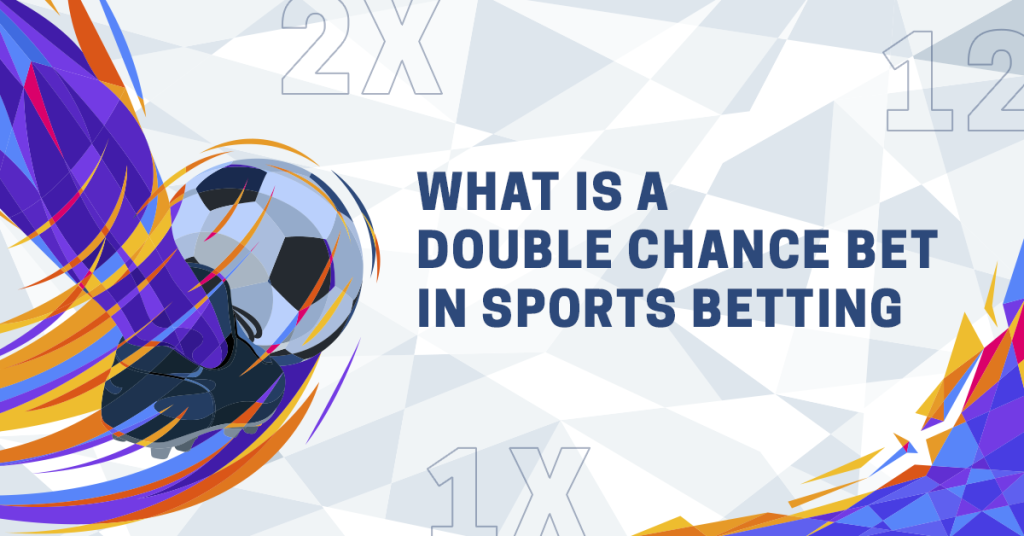 If you are new to the gambling world and have never heard of a Double Chance in betting, we are here to help. This article will guide you through everything you need to know about it and why it's one of the punters' most popular betting options. With this bet, you can bet on two possible outcomes of an event. In this guide, we will break down how that bet works in sports gambling.
What is a Double Chance Bet?
Double Chance is a unique term in sports betting and it does exactly what it says on the tin – gives you two possibilities of winning a bet. It allows you to bet on two outcomes of a particular event improving the probability of your bet coming to fruition.
This bet type is a safer move to minimize the risk involved in betting on the outcome of a match. If you find yourself in two minds, you always have the option of making a double chance stake, which allows you to abstain from choosing between a winner and a loser.
How does Double Chance Betting work?
You'll face three possible outcomes in a match when you bet on a traditional game. Meaning you can either bet the home one to win, the away squad to win the bet, or the game ends in a draw. If you stake on one of these options, it's an outright bet.
By choosing an outright bet, your likelihood of winning is around 33 per cent. However, you can enhance your odds by selecting a double chance, which encompasses two possible outcomes. For instance, you may bet on the home team winning or the game ending in a tie. In either scenario, you will receive a payout on your initial bet.
This type of bet is not only available for football betting. You can place a bet in some sporting events. Note that this market is only available for sports that could end in a tie.
What is Double Chance in football betting?
Placing a Double Chance wager is a highly favoured option among football (soccer) enthusiasts. This could be because draws are a probable outcome in the sport, with 25% of games ending in a tie after regulation time. Therefore, gamblers consider it a savvy move to cover this possibility. It allows you to set two separate win conditions for a bet with the drawback of reduced payouts for winning bets.
When you pick double chance betting in soccer, the bet covers the entirety of the game (90 minutes), including any added stoppage minutes in the end. However, if the game proceeds to extra time and penalties, this stake will not apply. Investing in a Double Chance market stake would involve backing double outcomes, which may prove beneficial when the teams are closely matched. See the example below:
If Arsenal is playing Liverpool and you can't decide on a winner, you can place a double chance on either team to win. You could also pick Arsenal and a draw or Liverpool and a draw.
Double chance 1x meaning
Placing a double chance 1x bet means betting on a win or draw for the home team. This market is suitable if you believe the home one has an advantage in winning, but the away one could still provide a challenge.
If you want to bet on the home one or not should be based on their performance in previous home matches.
For example, in a match between Liverpool and Arsenal, you can use the 1X double chance option, especially if you're confident that the team playing at home, Liverpool, will win the match. You'll still win your bet if the match ends in a draw.
Double chance X2 meaning
By selecting the X2 double chance to bet, you are essentially indicating you are sure that the visiting team to draw or win. This implies that the away team may be in excellent form and a strong favourite to win the match.
On the other hand, the home squad may have better defence and advantages due to playing on their turf. Even if the visiting team doesn't win the game, they may still secure a draw. Therefore, it is advisable to assess both teams to determine which is more potent or has higher odds of winning.
For example, in a game between Tottenham and Manchester City, and you place an X2 bet, it signifies your confidence that the away team will triumph. However, if they don't succeed, your wager can still result in a win if the match concludes in a tie.
Double Chance 12 Meaning
When you don't have a strong opinion about the final score but are sure there will be no draw, you can bet on double chance 12. This type of bet allows for either team, home or away, to win, indicating that the strengths of the two sides are likely quite similar. Typically, one team will win while the other is defeated regardless of the sport played. Therefore, before choosing this bet, it's important to consider each team's recent head-to-head match-ups and game statistics.
How to calculate Double Chance odds?
One of the advantages of betting on a Double Chance is that you won't have to calculate the odds by yourself. You'll notice that the odds are already presented at many betting sites for each option. Alternatively, if you prefer to determine your odds, you can utilize online tools. Enter the odds for the individual markets, which can help you secure the most favourable odds.
Pros and Cons of Double Chance Betting
Experienced punters and beginners are drawn to the double chance as it offers the probability to gamble on two potential results. In order to assist in determining whether double-chance betting is suitable for you, we will analyze the advantages and disadvantages of this type of betting market.
Pros
Improved odds
Betting on the outcome of a game can be straightforward, but it only covers one of the 3 possible outcomes. To increase your chances of success, consider placing double-chance bets that cover two out of the possible three outcomes.
Less risky
By eliminating one possible outcome, double-chance betting can reduce your potential losses. For example, if you bet on the home team to win, but they draw or lose the game, your bet will still be successful.
Ideal for beginners
If you're new to sports betting or online gambling, it's essential to stick to lower-risk bets initially. It offers a great introduction to the market by allowing you to limit the amount you could lose.
Backing underdogs
If you are hesitant about placing bets on underdogs, try double-chance betting instead. This type of wager allows you to win even if the underdog team you bet on doesn't come out on top.
Both outcomes win
Double chance betting has the advantage of providing payouts for either of the possible two outcomes, which is not the case with other betting markets. This sets it apart from the draw-no-bet option.
For example, if you place a wager on a team to win in the draw-no-bet market and the game ends in a tie, you would only receive your initial stake back. However, if you use double-chance betting, you can receive winnings regardless of whether the game ends in a win or a draw.
Cons
Lower odds
The only disadvantage of double chance is that the likelihood of winning is reduced compared to betting on the winner of the match. This is expected as the offered odds accurately represent the probability of winning. However, the reduced odds indicate a greater probability of successfully withdrawing funds.
Double Chance Betting Strategy
If you want to win, you should research the teams' most recent matches, paying special attention to how they fared against one another. It will help you decide which of the two possibilities has a better chance of happening. Here are some useful strategies and tips to consider when betting.

Analyze the game stats.
Before placing a double chance, analyze the teams' current form, previous performances, home and away records, head-to-head statistics, and injury news. This information will help you determine which teams will likely draw or win.
Add more games to your betting slip.
Adding more selections to your bet slip will automatically increase your odds for any double-chance bets you place. Usually, the odds are low for double-chance bets.
Bet on the underdogs
Double chance offers lower odds but higher chances of winning. Therefore, it is wise to bet on the underdogs who have a higher chance of drawing the game than winning. This approach needs proper research and calculations.
Bet against the favourites.
While betting on the underdogs is a good strategy, betting against the favourites is equally wise. This approach requires proper evaluation of odds, data, and form.
Get bonus offers
Adding more selections to your bet slip will automatically increase your odds for any double-chance bets you place. Usually, the odds are low for double-chance bets.
FAQ
What is a double chance?
This bet allows you to bet on two of the three possible outcomes in a game. It gives the punter an increased chance of winning compared to a single bet.
What are the possible outcomes of a double chance?
The possible outcomes in a double chance depend on the selection made by the bettor. The bettor can wager on the home team to win or draw, the away team to draw or win, or the home or the away to win.
How do I place a double chance?
To place a double chance bet, visit one of the many betting sites available and select the market. You can choose the bet type and the team to draw or win. Place your wager and wait to see if you win or lose your bet.
Is Double chance a good betting strategy?
It can be a good strategy if used correctly. It gives the bettor a greater possibility of winning than a single bet, especially if the team you are betting on is the favourite to win.