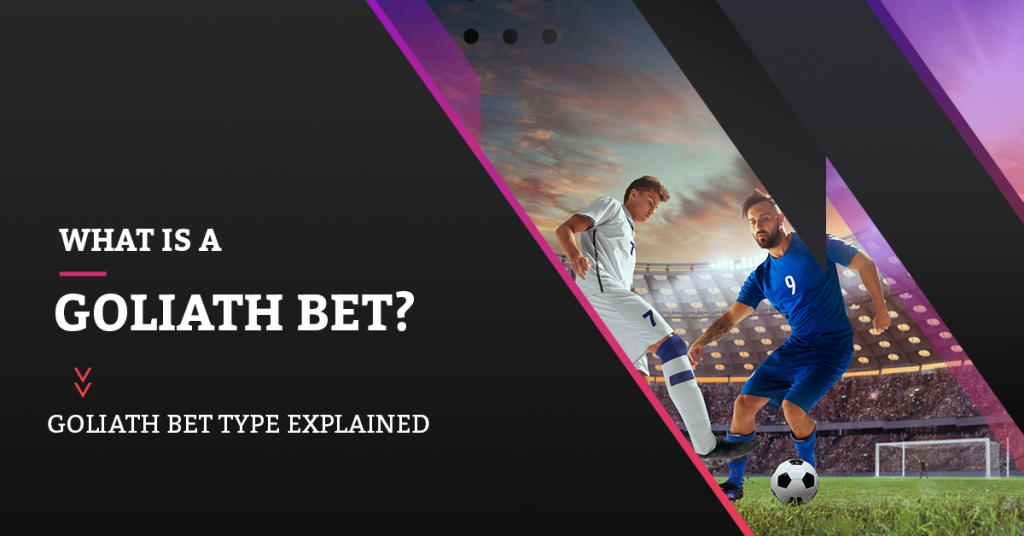 If you're serious about levelling up your game and winning more from your bets, then you must be looking for ways to do so. Ever heard about the Goliath bet? If not, let's just say that it's a great way to increase your chances of winning.
Now you must be wondering what it's all about. Well, just like the biblical giant it's named after, the Goliath bet is massive in the betting world. By the end of this article, you'll know what the Goliath bet is and how to use this system to win big.
Goliath Bet Explained: What is a Goliath Bet?
In simple terms, a Goliath bet consists of eight selections. But here's the twist: from these eight, you end up with a whopping 247 bets. Yep, that's right, 247! This includes 28 doubles, 56 trebles, 70 four-fold accumulators, and so on. It's like buying a combo meal with tons of options.
How Does A Goliath Bet Work?
Imagine you have 8 exciting events lined up; let's call them A to G. With a Goliath bet, you get to mix and match these events in various combinations. It's like creating your own betting masterpiece!
Here's the fun part. You can create:
28 double bets
56 treble bets
70 fourfold bets
6 fivefold bets
28 sixfold bets
8 sevenfold bets.
The grand finale is a magnificent eightfold bet, which combines all the events. That's a whopping 247 bets in total!
Now, keep in mind that these combinations can change based on the events you choose. No need to crunch numbers yourself; online bookies usually handle the calculations. All you have to do is enter your wager amount, make a Goliath bet, and you're good to go. Or, if you want to calculate them yourself, there are plenty of Goliath bets calculators you can use.
To make a Goliath bet, simply pick your eight choices from the bookmaker's betting options. If you're betting online, the Goliath bet will pop up on your betting slip as soon as you've made your selections. This is the way Goliath bets work.
Why Go for a Goliath?
If you're serious about your betting game, you should definitely give Goliath Bet a try. It's a great way to level up your game and increase your chances of winning big.
Here are some of the main reasons why you should go for the Goliath bet.
Spreading the Risk
The best part? You don't need all eight predictions to come true to win something. Even if just two of your picks win, you're looking at some returns. Think of it as entering a talent show and impressing even just one judge.
The Thrill of the Bet
With so many bets packed into one, there's no denying the excitement. Every win out of your eight selections means more winnings. It's like watching a fireworks display where each burst adds to the show.
Flexibility in Selection
You pick what you like. Goliath bets let you choose the events you enjoy. Whether it's sports games, horse race betting, or anything else, you get to mix and match your favourites with this kind of bet. This means you can bet on what you know and love.
Higher Potential Returns
While Goliath bets won't make you rich instantly, they can still bring in decent money, especially if more of your picks are winners. It's a way to aim for nice rewards without having to bet a ton of money upfront.
Perfect for Group Play
If you want to bet with friends, a Goliath bet is a cool option. You can all chip in to cover all the bets, making it a fun group activity. It's a chance to enjoy predicting outcomes and, hopefully, celebrating wins together.
Disadvantages of Goliath Bets
It wouldn't be fair if we only point out the advantages of Goliath bets and leave out the cons of it. And to be fair, this type of bet comes with some things you must consider first before putting it to work. Here's why Goliath bet isn't perfect.
Staking Can Be High
Given you're placing a large number of bets (a total of 247 bets), even a small amount per bet can add up. So, if you put £1 Goliath on each, your bet would cost £247. It's like shopping during a sale; the individual prices might be low, but your total can rise quickly.
It's a Long Shot
Let's be honest: predicting eight outcomes correctly is a challenge. So, while you can win with just two correct guesses, landing all eight is a bit of a long shot. It's a bit like trying to nail every song in a music playlist.
Potential for Losses
With so many bets involved, if most of your predictions don't pan out, you can end up losing a significant amount of money. It's important to be prepared for the possibility of not winning much.
Not Ideal for Beginners
Goliath bets are quite complex due to the sheer number of combinations. For beginners, this bet type can be overwhelming and may lead to confusion. It's like jumping into a challenging video game without knowing the controls – you might struggle to keep up.
Goliath Bet: Yay or Nay?
If you love the thrill, have a bit of cash to spare, and fancy your chances, the Goliath bet is your game. Just remember to play responsibly. After all, betting is as much about fun as it is about winning.
Tips For Placing Successful Goliath Bets
MrBetting presents you with some of the best tips to place successful Goliath bets.
Know Your Stuff
Before you start, do your homework. Understand the teams, players, or whatever you're betting on. Knowing the ins and outs increases your chances of making good picks.
Budget Wisely
Set a budget you can afford to lose. Goliath bets can get expensive, so don't go all in. Betting should be fun, not stressful.
Mix It Up
Diversify your selections. Don't rely on just one type of event or team. Spread your bets across different games or races. This way, if one doesn't go your way, others might.
Stay Informed
Keep up with the latest news and updates. Injuries, team changes, or track conditions can affect outcomes. Being in the know helps you make smarter choices.
Don't Chase Losses
If you're not winning, resist the urge to bet more to make up for it. Stick to your budget and strategy. Sometimes, luck takes time to swing your way.
FAQ
Which betting sites offer Goliath bet?
Most major bookmakers offer the Goliath bet option. So, choose your favourite bookie and place a Goliath bet.
Is the Goliath bet for everyone?
It's best for those who enjoy higher stakes and the thrill of multiple outcomes. It's not suitable for beginners.
How much should I stake on a Goliath bet?
It's up to you, but remember you're multiplying it by 247.
How many total bets are in a Goliath?
There are 247 bets in a Goliath.