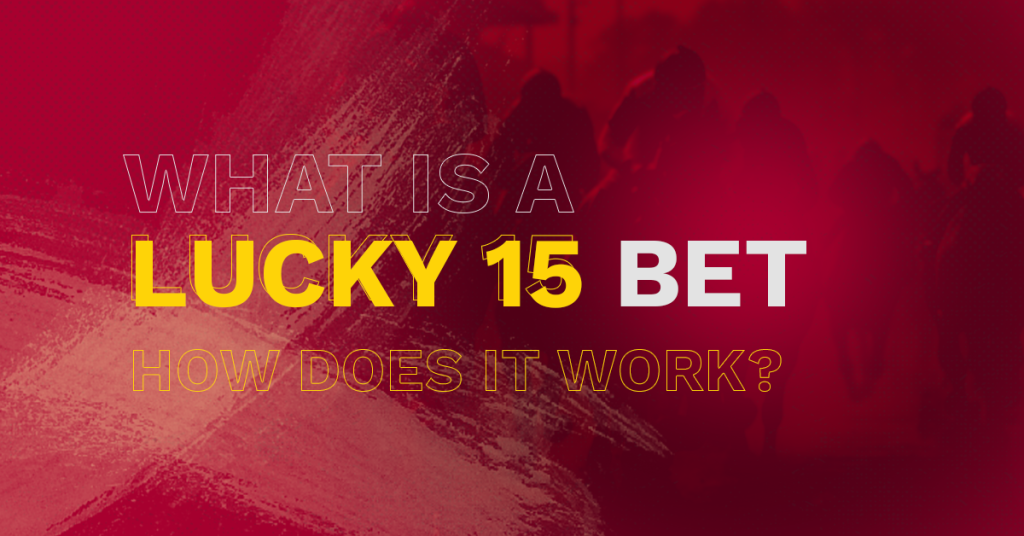 Lucky 15 is one of the most popular strategies for horse racing betting, greyhounds, and sports betting. This type of bet consists of 15 different bets of equal value on selections in four events. This betting guide will show you exactly how to place this wager, so keep reading.
Lucky 15 bet explained.
This bet type is a popular option amongst football and horse racing enthusiasts, as it can be placed on almost anything.
A Lucky 15 bet consists of 15 bets into a single larger wager. Initially, punters have to choose four picks. They may select four horses to win separate racing events, try to predict the winners of four Premier League games, or even make an early Lucky 15 on the victor for each of England's four top football divisions.
Bettors can include any four selections into a Lucky 15, allowing them to choose any odds, sports, and markets and mix and match between odds, markets, and sports. A limitation of a Lucky 15 stake is that each of the 15 stakes must be of the same value (the unit stake).
This means that even if they are more confident about one selection, punters cannot bet more on it than on the others. This means that even if only one of your selections wins, you will receive some payout, and if more than one selection wins, your winnings will increase.
To make a Lucky 15 bet, you will need to stake on each of the 15 individual wagers, resulting in a total cost of £15 for a £1 bet. The bets mean that you have covered every possible combination of standard wagers that can be made from four selections, starting from singles and ending up with a fourfold accumulator, or acca. In total, that means you will be placing the following bets:
Singles – four singles, one on each of your selections
Doubles – six doubles cover every possible double from the four legs
Trebles – your Lucky 15 will include all four possible trebles
Fourfold Acca – one of the 15 stakes will go on all legs to win as a solitary bet – an acca
Why should you place a Lucky 15 bet?
A Lucky 15 gives a great opportunity when you have four selections in four events you think will win. If you want protection on your bet, Lucky 15 is the right to go.
This betting option includes multiple combinations, such as six doubles, four trebles, and a fourfold accumulator, which maximizes your chances of winning a large payout. Additionally, including singles means that even if all four events do not win, you should still receive some return on your bet.
Lucky 15 bet calculator
Calculating your winnings from a Lucky 15 is easy. There are four main ways you can go about it; let's see below:
Check the Betting Slip
Every time you make a bet, the bookmaker will show the potential total returns on the slip. Note that this will happen if you get all four legs right, as otherwise, your returns would depend on which legs win and the odds of the selections.
Use a calculator
Many Lucky 15 calculators allow you to calculate the winnings by putting your odds and selections. These even allow for each-way bets (of which more shortly), void bets/non-runners, dead heats, and even bookies' offers. To calculate a Lucky 15, you must combine the odds from all 15 selections.
Calculate manually
Depending on how many of your four selections won. You may have just one bet to work out or have 15. If you are familiar with access basics, you should be able to check your returns manually easily enough.
Check your returns
Bookmakers rarely get basics such as returns from a bet wrong, and whilst it may well pay to check, you could assume that the bookie has got it right. If you are happy to do that, at most UK bookmakers, you can see your returns via My Account or My Bets (settled).
Using an online calculator makes calculations easy, as most interfaces are user-friendly. However, if you calculate manually, your initial step is to determine the fifteen winning bets from the outcomes of the four legs. Once you have sorted this out, you can calculate the total wager winnings by adding up the successes from each bet.
For single bets, the process is simple. However, it becomes more complicated when it comes to doubles, trebles, and potentially fourfold. The best way to calculate your earnings is by multiplying the decimal odds. Assuming that the first two horses in our hypothetical Lucky 15 race triumphed while the third and fourth did not, the situation becomes more intricate.
How does an each-way Lucky 15 work?
An each-way Lucky 15 refers to placing all bets as each-way bets, resulting in 30 bets. Compared to a regular Lucky 15, the stake for an each way Lucky 15 bet is doubled.
One advantage of this type of bet is that you can earn returns for every horse that places rather than just the winners.
In the industry, paying out at 1/5 of the win odds for the place element of an each-way bet is standard practice. For instance, a £5 each-way bet (totalling £10) on a 5/1 horse would pay out at evens (1/1) if the horse finishes in the first five, ultimately resulting in a £5 profit along with the £5 stake from the winning place bet.
It is, therefore, wise to choose selections where the each-way place payout exceeds your original stake.
What's the difference between Lucky 15 and a Yankee?
The main difference between a Lucky 15 and a Yankee bet is that a Lucky 15 includes four separate bets in addition to the six doubles, four trebles, and one fourfold bet featured in a Yankee. While a Lucky 15 offers complete coverage, a £1 Yankee is more affordable at only £11, whereas a £1 Lucky 15 costs £15.
If your number of selections has shorter odds, using a Yankee for your multiple bet would be best instead of a Lucky 15 because the potential returns on the single individual bets may be less significant.
Can you place a Lucky 15 at Royal Ascot?
During the Royal Ascot event (June 20-24), there are 35 races, with seven occurring daily. This provides ample chances to participate in a Lucky. You can place a Lucky 15 daily or two Lucky 15s covering the eight Group 1 races held during the week, including the highly coveted Gold Cup. You can find amazing Royal Ascot betting offers and free bets.
FAQ
What is a Lucky 15?
A Lucky 15 is a multiple bet comprising 15 different bets made up of four selections. The total stake for this bet would be 15 times the selected stake, which is why it is called a Lucky 15.
How many picks do you need for a Lucky 15?
A lucky 15 involves 15 bets across four different selections. Your bets are 4 singles, 6 doubles, 4 trebles, and 1 four-fold accumulator.