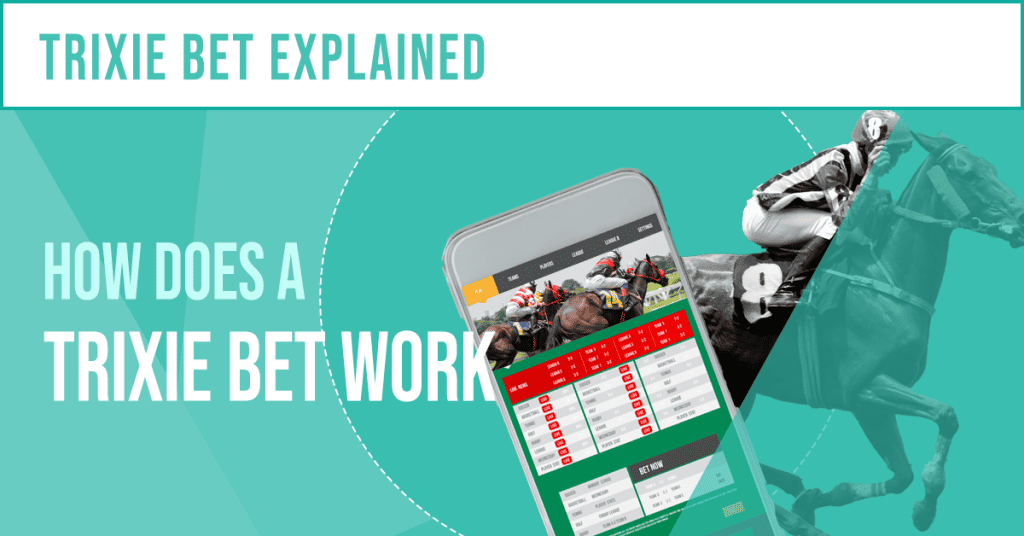 Trixie Bet Explained: How Does a Trixie Bet Work
A Trixie bet is a type of multiple or system bet where four bets on three different selections are combined into one. This is one of the most popular sports betting strategies.
This bet type is popular in Horse Racing betting and requires bettors to make at least two correct selections to make a profit. To place this type of bet, you would choose your selections and then combine them into four separate bets. For example, If all the selections win, you would win all four bets.
The advantage here is that you can still win money even if one of your selections doesn't win. However, the disadvantage is that it requires a higher stake to place than a single bet or a straight accumulator.
How does a Trixie bet work?
Trixie in betting is a combination of three selections in different events. It consists of four bets: three doubles and one treble. Double and treble bets are combination bets where each of your selections must come in. A double consists of two selections and a treble of three. In order to win your bet, both legs of a double bet must be successful, and all three legs of a treble.
To win, at least two of the three selections must be successful. If all three selections win, the winnings will be better due to the combined treble. If you put three selections into your bet slip, you get a few options for your betting, one of which is the Trixie bet. However, if only one selection wins, no return will be received on the bet. This is a popular type of accumulator bet in horse racing, football, and other sports betting.
If you're new to the gambling world, you should learn the two basic rules:
1. You cannot bet on multiple outcomes in the same event.
2. You cannot bet on events across multiple sports.

For example, it's impossible to bet on both the accurate score and the number of corners in a football match. Your overall Trixie wager will be four times the amount you select, taking into account the three Doubles and one Treble you put on.
Your stake will reflect all four selections in a Trixie, so you must factor in four times the value of your unit stake. Therefore, it is vital to assess the potential profit margins relative to your complete stake. Note, that placing bets must meet certain requirements and conditions to count towards the release of your bet credits.
Why you should place a Trixie bet?
A Trixie bet is a smart way to increase profits by placing multiple bets on three potential winners. This is especially useful when betting on the Grand National at Aintree, where you can find and choose many races. These bets are particularly beneficial for backing short odds selections that may not yield much of a return on single bets, as they allow you to focus on potentially profitable bets.
One of the main advantages of a Trixie bet is that it provides some insurance against losing your entire stake. If only one of your selections comes first, you will still get a return from the doubles, although it may not be as high as if all three had won.
Another advantage is the potential for higher returns than a single one. In a Trixie bet, you are effectively combining three bets into one, meaning you'll have multiplied odds, and your potential returns may be significantly higher than if you had placed each bet separately.
These bets are popular among sports bettors who want to spread their risk across multiple selections and increase their chances of winning. They are often used for horse racing, football, rugby, and other sports with three possible outcomes. A Trixie saves you the stake from the single three bets, potentially allowing you to place a bet higher unit stake across three doubles and a treble.
However, like any kind of betting, there are also some risks associated with a Trixie bet. If none of your selections win, you will lose your entire stake, and if only one or two come first, your returns may be lower than if you had placed only one bet on those selections.
How to make a Trixie bet in horse racing
Among punters, horse racing is one of the most popular sports to bet on, and Trixie betting is a particularly sought-after form of insurance that can help bettors make a profit even if one selection fails. The horse racing Trixie bet system is simple and usually effective, depending on how well you choose your horses and outcome predictions.
The betting is widely available for major events, including the Cheltenham Festival, the Grand National, and Glorious Goodwood. To find the best Grand National free bets, check out our dedicated page for a more detailed analysis.
Trixie bet example on horse racing
If you make a bet on horse racing selections at Unibet with odds of 6/4, 11/8, and 4/6, and all three horses win, you will receive a payout of £33.57 for your original £4 bet, resulting in a profit of £29.54.
With this bet is that you can still make a profit, even if not all your selections win.
For instance, if only the first two horses are victorious, your £1 Trixie bet would still yield a return of £7.19, resulting in a profit of £3.19 from your initial investment.
Trixie bet on football
Football enthusiasts also have the option to place bets with their money on a Trixie bet, which is a popular choice amongst punters. Due to matches occurring worldwide throughout the year, players can also place this bet on live football matches, which is a great advantage.
For instance, if one were to place a bet on Wolves to defeat Crystal Palace, Newcastle to defeat Brighton, and Manchester City to defeat Manchester United, the payout would be substantially higher than placing individual bets on each match. This is because the Trixie bet provides better returns if all selections win compared to payout as singles.
How to calculate a Trixie bet
Determining your Trixie bet payout can be challenging since it encompasses multiple odds and permutations. Our team at MrBetting.co.uk has taken care of the laborious task for you by offering a Trixie Bet Calculator.
How to place an each way Trixie bet?
If you place an each-way Trixie bet, all of your bets will be each-way. This leads to a total of eight bets and a higher stake compared to a standard Trixie. You can receive a payout if two of your three horses place instead of winning. Since there are many significant odds available for the Grand National, it might be beneficial to consider placing a Trixie bet with horses at higher odds.
Typically, bookmakers pay out around 1/5 of the win odds for the place portion of bets in horse racing. Therefore, if you placed a £1 bet (totaling £2) on a 5/1 horse, your payout would be even money if your horse was placed. This means you would receive your £1 profit plus the returned £1 stake for the winning place bet.
Based on this information, it would be wise to select horses for your each-way Trixie having a place payout greater than your initial stake.
What's the difference between a Trixie and a Patent bet
A Trixie bet and a Patent bet are very similar, as you will make three selections. A Patent bet is also a multiple bet that consists of three selections, but it includes seven bets (three singles, three double bets, and one treble bet).
Therefore, the main difference between them is the number of bets involved.
A Patent bet includes seven bets rather than three as you will also be placing single bets on all selections. Additionally, because of the extra bets, the cost of placing a Patent bet is typically higher than that of a Trixie bet.
Best betting sites for placing a Trixie
FAQ's
How to make a Trixie bet?
Placing a Trixie is straightforward. For example, if you bet on horse racing, you need to select three horses and choose the bet type in your betting slip. Then, enter your stake and your bet will be placed.
How to calculate a Trixie bet?
You can use a Trixie calculator. This calculator will help you calculate your potential returns based on your stake and the odds of your selections. To calculate an each-way bet, you will need to select the each-way bet type, and the calculator will do the rest.
How much does a Trixie bet cost?
The cost depends on the stake amount placed on each of the four bets. For example, if you want to place a £1 bet, the total cost would be £4 (£1 for each of the four bets).
What's the difference between a Trixie and a Treble bet?
The main difference between them is the number of selections involved. While the first one consists of three selections, whereas a Treble Bet only consists of one. In a Treble Bet, the same stake is placed on one bet that includes all the selections, whereas in a Trixie four different bets are placed.