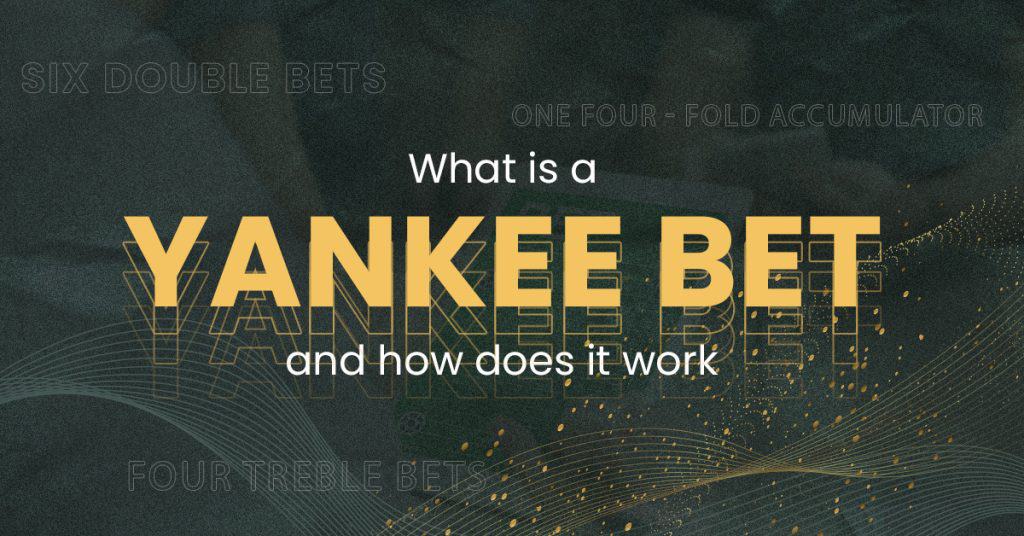 A Yankee bet is a type of bet that consists of 11 bets (equally valued) and is placed on four separate events: six doubles, four treble bets, and a four-fold accumulator. To ensure a payout, at least two selections must be correct. If more than two come in, the trebles and fourfold will boost the payout. As a result, Yankee bets have a significant potential for high returns, particularly on important events like the Aintree Grand National. Learn more below.
As you see, a Yankee bet allows you to earn a return on your investment, even if your selections aren't successful. You can place a 'win only' Yankee bet or an each-way Yankee.
It is advisable to consider the prices of your selections before placing your bets. For example, if your four choices have low odds, sticking with a win-only Yankee bet is best. In contrast, when you have identified some longer-priced options, an each way Yankee bet may be more profitable, as even if two of your four selections are successful, you can still earn a significant profit.
Betters must consider that a Yankee bet is more expensive than a regular bet. This is because 11 separate bets are being placed, causing the total amount of the stake to be multiplied by 11 to cover each bet. So, for instance, if the bettor decides to put down £2, the bet would cost £22 to cover all the various combinations of bets.
Yankee bet explained
Let's see how a Yankee bet work. If you are new to online sports betting all this might seem a little confusing.
A Yankee bet is a kind of bet that combines 11 bets utilizing four distinct picks. The bets consist of six double wagers, four treble wagers, and one four-fold accumulator bet.
To make a Yankee bet, you should pick your 4 surefire winners (fingers crossed!), then, you can add them to your betting slip and they will look like this:
Fourfold – Selections 1-2-3-4 MUST be successful.
Trebles – Any combination of 1-2-3, 1-3-4, 1-2-4, or 2-3-4 will result in a payout.
Doubles – Any combination of 1-2, 1-3, 1-4, 2-3, 2-4, or 3-4 will also see some of your stakes returned.
Doubles 1+2, 1+3, 1+4, 2+3, 2+4, 3+4 | 6 bets
Trebles 1+2+3, 1+2+4, 1+3+4, 2+3+4 | 4 bets
Four-fold 1+2+3+4 | 1 bet
Total 11
Why you should place a Yankee bet?
If you support four events and believe each will be successful, using a Yankee bet is the easiest way to place the multiples to ensure a more significant win if two, three, or all four of your picks are successful.
Placing a Yankee bet is a smart strategy when you have several selections with lower individual odds, as it offers higher returns when multiple bets are combined. By focusing on the profitability of multiples rather than single bets, a Yankee bet increases your chances for bigger, more significant returns by capitalizing on all four strong picks. 
How to place an each-way Yankee bet
Any Yankee's goal is to select four winners, but how the bet is structured can lead to significant consolation prizes. For those interested in horse racing, the each way Yankee bet is a good choice. For instance, if one places a £1 Yankee bet on four 12/1 horses, they must invest £22 for 22 bets.
If none of the selected horses wins their races, but all four are placed, the yield would be a profit of £586 (with each-way terms of 1/4 the odds). It is essential to assess whether a Yankee bet aligns with your staking plan and selection strategy, but if it does, it can be a rewarding option, as the more selections that are correct, the greater the reward.
Yankee and Lucky 15: What's the difference?
A Yankee and Lucky 15 bet share several similarities, as they have four selections. Despite this, a Yankee is more economical as it only has eleven possible results. Yet, it has the downside of providing a payout when only one selection wins, making it less favourable on a bad day. Therefore, a Yankee bet is perfect if you feel confident that at least two of your picks are secure.
What's the difference between a Yankee and a Super Yankee Bet?
The Yankee bet consists of four selections, while the Super Yankee, or Canadian bet, involves five options and comprises 26 bets which can realise different returns depending on how many of the five wins.
Yankee bet calculator
If you have been successful in your Yankee bet, it is crucial to determine your earnings. To calculate a Yankee bet you can use a mobile-friendly Yankee calculator (you can find it for free), which will assist you in this process.
To calculate your winnings from a Yankee bet, use our complimentary bet calculator by entering your four selections, preferred odds format, betting odds, and total stake. 
How to use a Yankee bet calculator

1. Enter the stake amount – the amount of money that you want to bet.
2. Enter the odds of each selection – 4 different selections need to be chosen to place a Yankee bet and the odds for each selection need to be entered.
3. Click on 'Calculate' and the calculator will display the total return amount and the potential profit.
Example:
Let's say the 4 selections are:
– Selection 1 with odds of 2.50
– Selection 2 with odds of 3.00
– Selection 3 with odds of 4.00
– Selection 4 with odds of 5.00
And let's assume the stake is £10.
To use the calculator, enter the odds and stake amount as follows:
– Selection 1: 2.50
– Selection 2: 3.00
– Selection 3: 4.00
– Selection 4: 5.00
– Stake: £10
The calculator will show the total return amount as £976.50 and the potential profit as £966.50. 
Yankee bet on other sports
Yankee bets are available in various sports but often appear in greyhounds, football, and horse racing.
These bet types are not limited to horse racing but can be utilized for betting on any desired sport. This type of bet is simple to understand and allows you to work out your winnings for great returns with minimal investment.
By selecting winning options that are not necessarily the top favourites but have lucrative odds, placing them in a Yankee can yield significant profits. This becomes especially advantageous when all four selections are successful, leading to potentially massive earnings.