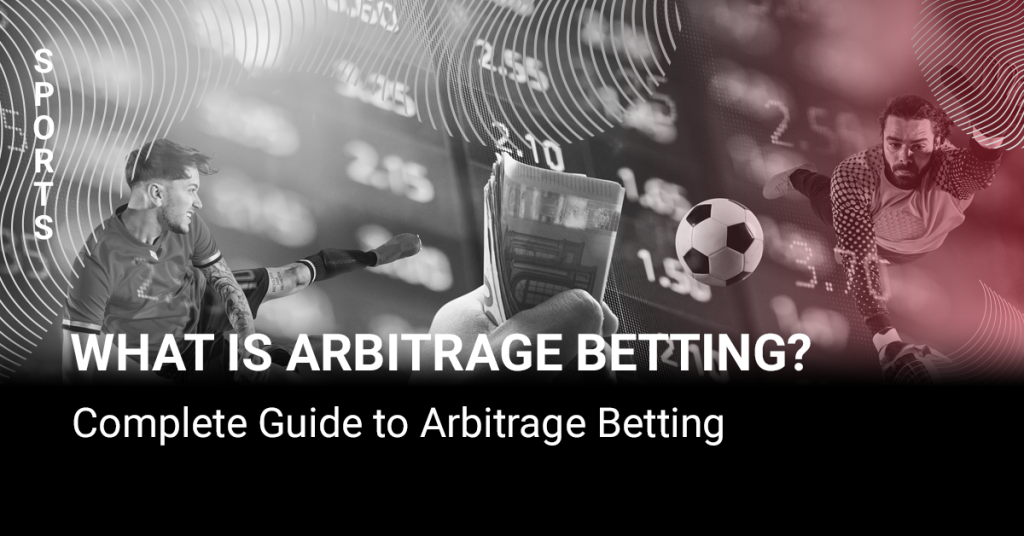 The gambling industry is one of the fastest-growing markets globally, with billions testing their luck. It's expected to grow to a whopping $114.4 billion by 2028.
It's clear that many are jumping on this trend, and they're trying every strategy possible to make more money. One cool tactic people use is called "arbitrage betting" or simply "arbing".
It's a neat way where you bet on all the possible results of a game, ensuring you get some profit no matter the outcome. An opportunity where you're guaranteed a profit, regardless of the outcome. Sounds too good to be true, right? Yet, this is precisely what arbitrage betting promises.
What is Arbitrage Betting?
Arbitrage is a strategy used not just in the financial world but also in gambling. It's like the stock market cooler cousin.
In simple terms, arbitrage is about taking advantage of price differences in two separate markets to make some extra cash. Imagine buying a product for $10 from one market and selling it for $15 in another. The $5 profit, irrespective of other factors, is your arbitrage.
When it comes to sports, arbitrage involves placing multiple bets on different outcomes of a sporting event, ensuring a profit regardless of the possible outcome.
How Does Arbitrage Work in Sports Betting?
Arbs involves placing multiple bets on different outcomes of an event, which will grant you a profit regardless of the outcome. It's as if you're betting on all horses in a race!
Here's an example of arbitrage in sports betting:
So, let's take a hypothetical game. At Bookie A, the odds for a team to win are 1.5, and at Bookie B, the odds for that team not to win are 6.0. If you're aiming to win $100, you'd place $66.66 with Bookie A and $16.66 with Bookie B. Combining both bets, you'd spend $83.32. Now, the fun part is, regardless of the game's outcome, you'd end up winning $100!
This savvy strategy is used by people known as "Arbers", who dash around seeking the best odds across different bookies. Their quick math ensures a profit, with some placing larger bets for even bigger returns.
But a word of caution: bookmakers aren't too thrilled about this. They might limit or even close accounts that they suspect are engaging in arbitrage betting. Some arbours get around these restrictions by having friends place bets for them, though that might skirt some rules. And if they use promotional bets for this strategy, it's known as "matched betting".
A Few Things to Remember:
Not all bookmakers like arbing in betting! They might restrict or shut down accounts.
Some clever arbers have friends place bets for them, but this can be against the rules.
Using bonus bets this way? That's a tactic called "matched betting."
It's a nifty strategy but always be cautious and enjoy the process!
3 Types of Arbitrage Betting
There are three main ways punters use arbitrage in their betting game to make the most out of it.
Hedging
Think of hedging like wearing a raincoat on a cloudy day. You're planning for sunshine, but just in case it pours, you're prepared. Let's say you're watching a tennis match; you might bet on one player with one bookmaker. And with another, you put a safety bet on the opponent. Either way, you're staying dry and making a profit.
Dutching
Imagine you're at the farmers market with a basket of apples. Instead of giving all your apples to one vendor, you spread them out among several. That's Dutching for you. By betting on several outcomes across different bookies in events like horse races or football matches, no matter the result, you're walking away with a win.
Newsy Arb
Here's a fun scenario: just before a major football game, word gets out that the leading player has the flu. The majority of bookies immediately adjust their odds. But, one bookie missed the memo. That's your chance! Bet against the team with the sniffly player before that last bookie catches on, and you're looking at a nice profit.
Sports Arbitrage Betting Example
Consider a tennis match between Player A and Player B. Two bookmakers, Bookie X and Bookie Y, offer different odds for each player's victory.
Bookie X Odds Offered: Player A – 2.1, Player B – 1.9
Bookie Y Betting Odds: Player A – 1.8, Player B – 2.2
With these odds, a golden arbing opportunity beckons.
By strategically distributing your wager, you can guarantee a profit. Here's a quick breakdown:
Place a Bet of $100 on Player A with Bookie X.
Bet $105 on Player B with Bookie Y.
Regardless of who wins, you're in for a win, no matter small profit or a big one!
Why Doesn't Everyone Do Arbitrage?
While arbing sounds like a dream come true, there are a few hurdles that you should be aware of before starting implementing it in your game:
Not All Bookies Like It
One of the main challenges with arbing is that bookmakers don't like arbitrage bettors. If they detect that you are using their platform primarily for arbing, they might limit or, even worse, close your account. This can be especially discouraging as it limits the opportunities for you to profit from arbitrage in the long run.
Limited Opportunities
Arbitrage betting opportunities arise from discrepancies in odds across different bookmakers. These discrepancies are short-lived, as bookmakers adjust their odds in response to betting market conditions and betting activity. So, you need to act quickly and often; you have only a narrow window to place your bets. This makes arbing somewhat stressful and not as easy as it might seem.
Need for a Large Bankroll
To see significant returns from arbitrage betting, you need a large bankroll. This is because the profit margins for each arb are generally small, often only a few per cent. To make a meaningful profit, you must be willing to stake large amounts, which is not advisable for beginners.
Operational Challenges
Arbing requires bettors to be active on many betting websites, often placing bets simultaneously. This demands a good deal of organization, speed, and accuracy. It can be hard to manage multiple accounts, balance them, and keep track of all the placed bets.
Risk of Errors
While arbing promises risk-free returns in theory, in practice, there's always the potential for human error. One misread odd, or placing the wrong bet amount, or one bookmaker cancelling a bet can turn a guaranteed profit into a loss.
Given these challenges, while arbitrage betting can be profitable, it's not a fit for everyone.
Tips to Get Started with Arbitrage Betting
We pointed out why arbitrage might not be the perfect fit for you, but if you're still keen on trying it, here are some tips to improve your arbitrage strategy.
A Keen Eye for Detail
Like treasure hunting, arbing requires you to constantly scout for those golden opportunities. It's all about scanning different platforms and identifying those golden opportunities where the numbers work in your favour.
Swift Decision Making
Arbing windows can close rapidly. So, once you spot an opportunity, act swiftly and use arbitrage betting! Delays, even of a few minutes, can see a potential profit vanish into thin air.
Efficient Bankroll Management
We can't stress enough how important it is to know how to manage your bankroll. Ensure you manage your funds well. Overextending can lead to significant losses, negating the very purpose of arbing.
Using Arbitrage Calculators
In the digital age, tools can be a significant advantage. Arbitrage calculators can be your best friend, helping you swiftly determine profitable opportunities. By inputting the odds from different bookmakers, these calculators will immediately determine if there's an arbitrage opportunity and how you should distribute your stakes for maximum profit.
Conclusion
In the unpredictable world of betting, arbitrage offers a beacon of hope for guaranteed profits. While not without its challenges, with the right tools and mindset, it can be a lucrative venture. Be prepared that not every sportsbook like bettors using arbitrage, and they even penalize them.
FAQ
What is arbitrage betting?
Arbitrage betting involves betting on all outcomes of an event across different bookmakers to guarantee a profit.
Is arbitrage betting legal?
Yes, it's legal, though bookmakers may have terms and conditions against it.
Can bookmakers ban you for arguing?
Yes, some betting companies don't approve arbs so consistent arbours might find their accounts restricted or closed.
How are arbitrage opportunities created?
They arise from discrepancies in odds between different bookmakers.