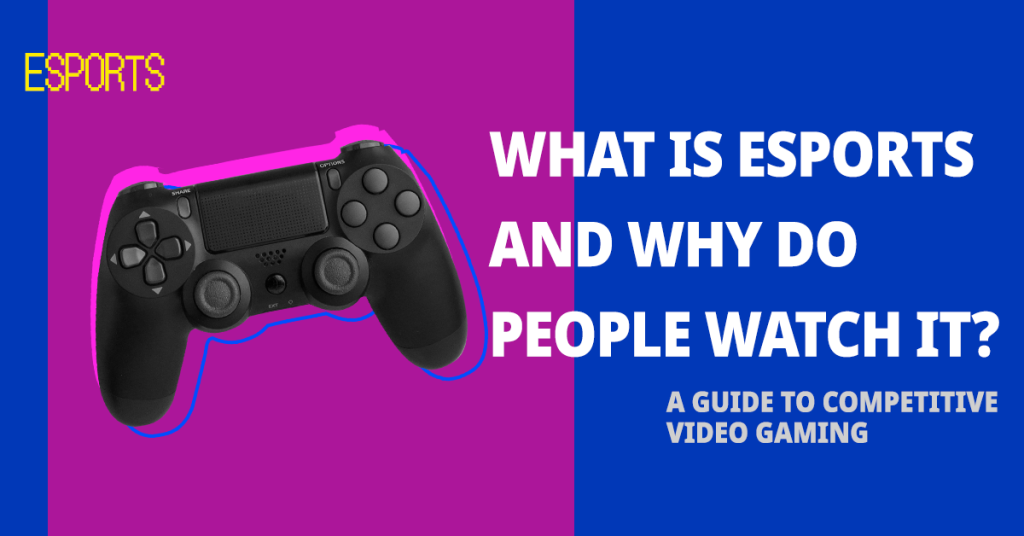 Esports has taken the world of online sports betting by storm. More and more people are starting to place bets on this sport. When hearing esports, if you're picturing just a bunch of kids playing video games and mindlessly clicking away on their consoles, well, you're in for a surprise! Esports is far more than that.
This world has captured the hearts of gamers everywhere, and its stars have risen to fame over the years. Pro esports players, often referred to as athletes, are the face of popular games like Dota 2, League of Legends, Counter-Strike: Global Offensive, and so many more.
So, if you want to know what the fuss is all about, join MrBetting.co.uk on this journey of discovering everything about the esports industry.
What is Esports? Brief History of Esports
Esports stands for electronic sports, which translates to competitions using video games. This catchy term traces its roots back to 2000 in South Korea. It was introduced by a key figure in the country's Ministry of Culture, Sports, and Tourism during the start of the Korean e-Sports Association, or KeSPA. South Korea is often seen as the pioneering nation for competitive gaming. With lightning-fast internet speeds and early government backing, the gaming scene flourished there in the early 2000s.
It's not just a group of friends playing. Esports is professionally organized gaming where competitors go head-to-head, much like you'd see in professional sports such as football, NFL or NBA.
Starting in the 1972s, video gaming changed from just fun to a real sport. The earliest competition that took place was in October 1972 at Stanford University. Back then, the first eSports champion won a magazine subscription. Today, winners can get millions of dollars. After all, at the heart of it, gamers play to win.
Today, professional gaming, or eSports, is about to become worth $1 billion. Millions of people watch its big games, and it might even become an Olympic sport soon.
Why do People Watch Esports?
Esports isn't merely kids playing games. The professionals involved often undergo rigorous training, develop strategies, and even have coaches to guide them. Their dedication and discipline rival that of traditional athletes.
What makes it so popular amongst gamers and people alike is that it's easy to join. For regular sports, you might need to get people together in one place. But for gaming, you just need the internet, and you can play with anyone worldwide, right from your home.
And don't think that there's no thrill in watching esports players play against each other. Don't forget that they are competing for millions of dollars, so they are all in for the win.
Who Watches Esports Anyway?
Everyone and even their grandma. We are not exaggerating here. People from all age groups and backgrounds enjoy esports. The universal appeal of video games transcends traditional barriers of age, nationality, or gender.
Much like any other sport, esports has legions of die-hard fans. They wear their favourite team's jerseys, debate tactics on online forums, and follow their favourite players' careers with keen interest.
Where Can You Watch Esports?
Esports is primarily streamed online. Platforms like Twitch and YouTube Gaming dominate, but there's also Facebook Gaming and emerging platforms like Trovo.
Back in 2017, Twitch boasted 15 million daily visitors. If that is not mesmerizing enough, they clocked in an astounding 355 billion minutes of watch time.
Today's gaming culture isn't just about playing games. It's equally about watching others play. More and more gamers spend equal time playing games and watching streams.
Popular Esports Games
There's an esports genre for everyone. From first-person shooters and real-time strategy games to sports simulations and even fantasy card games. The variety ensures a broad appeal.
While 'League of Legends', 'Dota 2', and 'Counter-Strike' might be some of the behemoths in the industry, there are countless others like 'Overwatch', 'Rocket League', and 'Fortnite' that draw massive audiences as well.
Here is a list of the most popular esports games and their stats:
DOTA 2
Fortnite
League of Legends (LoL)
Counter-Strike: Global Offensive (CS:GO)
Overwatch
Arena of Valor
PlayerUnknown's Battlegrounds (PUBG)
Biggest Esports Tournaments
Esports competitions and tournaments are grand spectacles. Events such as 'The International' (for Dota 2) are known to have prize pools exceeding $30 million. These aren't just games; they're massive productions with elaborate stages, live commentators, and broadcast to millions worldwide.
Here are the biggest tournaments you can watch in 2023 and their prize pool:
The Land of Heroes — $45 million
The International 12 — $25 million to $30 million
PUBG Mobile Global Championship — $4.5 million
The FNCS Global Championship 2023 — $4 million
LoL Worlds — $2.25 million to $3 million
Who Are the Best Esports Players in History?
The massive following of these games elevates the status of pro esports players. Even though there's a sea of teams filled with diverse players, each bringing their own flair to the game, the ones mentioned here are particularly celebrated and admired by fans everywhere.
Lee Sang-hyeok (Faker)
Lee Sang-hyeok has earned the title "The Unkillable Demon King" due to his impressive championship victories in 2013, 2015, and 2016. He's a key player for team T1, which clinched the runner-up position in the 2022 League of Legends World Championship.
He became the first player to hit 2500 kills in the League of Legends Champions Korea (LCK).
Kyle Giersdorf (Bugha)
Fortnite is a powerhouse in the esports world, and Kyle Gierdorf is a standout star. Even as a younger player, Kyle has built a huge YouTube fanbase, boasting over 4 million subscribers.
He even made it to Forbes' 30 under 30 list in the Games category.
Johan Sundstein (N0tail)
Johan Sundstein stands out as a notable Dota 2 player. Sundstein is often recognized as one of the wealthiest figures in esports. He's not just a player; he's also the co-founder of the esteemed esports team, OG.
Peter Rasmussen (Dupreeh)
Peter stands out as a top-tier player in Counter-Strike: Global Offensive and currently plays for Team Vitality. His journey with Astralis from 2015 to 2021 was notable. During this period, Peter and his team made history by securing four CS:GO titles, with three consecutive wins.
Seth Abner (Scump)
Seth Abner may have stepped away from competitive Call of Duty esports, but he's still a huge figure in the esports scene. This is clear from the impressive 2.7 million subscribers on his YouTube channel. Currently, he's teamed up with OpTic Gaming.
While he's now more into streaming, it's hard to overlook the remarkable 31 tournament wins under his belt from his playing days.
Brands and Big Bucks
The financial potential of esports has caught the attention of major corporations. From Coca-Cola and Intel to Mercedes-Benz, brands are pouring millions into sponsorships, ensuring that esports continues its upward trajectory.
Join the Community
The esports community is vast and welcoming. Many online forums, social media groups, and local clubs ensure that whether you're a newbie or a seasoned gamer, there's always a place for you.
So, if you're still considering whether to give esports a try; it's your sign to do it.
Conclusion
Esports is more than a pastime; it's a global phenomenon and a professional industry. As technology advances and the world becomes more connected, its growth seems unstoppable. So whether you choose to pick up a controller, a keyboard, or simply watch and cheer, there's no better time to dive into esports.
FAQ
Are esports players really considered athletes?
Yes, and for a good reason. Their training regime, reflexes, strategic thinking, and mental fortitude are on par with traditional athletes.
Can I start my own esports team?
Yes. Find dedicated players, start practising, and who knows? Maybe we'll see you at the next 'International'.
How do esports players make money?
Apart from tournament winnings, players earn through sponsorships, advertisements, merchandise, and streaming revenue.
Are esports safe for younger audiences?
Esports, like all entertainment, varies in content. Parents should ensure the games and associated content are suitable for their child's age.