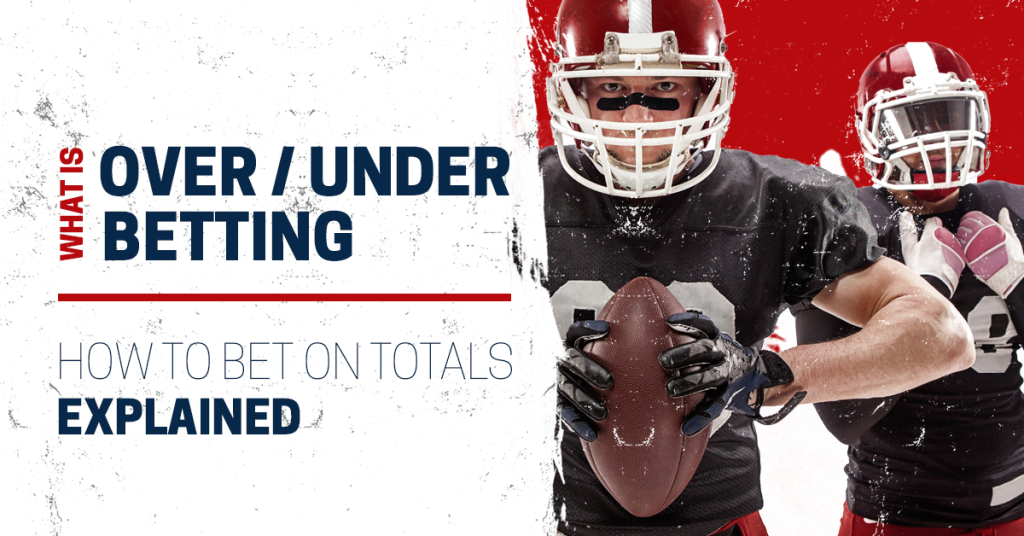 Excitement, risks and a little bit of guesswork – that's what comes to mind when thinking about sports betting. There are three primary bets on a game between two teams: moneyline, spread, and total, the most common form of over/under betting.
One type of bet stands out: the over/under bet.. What makes over/under betting (O/U) a popular way to bet is that it's simple. The total bet involves predicting the combined score of a game.
So, what's this all about? Let's dive in.
Over/Under Betting Explained
Over/under betting is a type of sports betting where you bet on the total number of points scored between the two teams in a game. The bookmaker sets this number and you have to guess if it's going to be higher or lower.
For example, if the bookmaker says the total score will be 50 in an NFL game, and you think the teams will score more than 50, you bet on the "over." If you think they'll score less than 50, you bet the "under." We told you it was easy to understand what over/under betting is.
What Is Totals Bet?
Remember, over/under can include props, season wins, and a whole lot more. When you bet on the total score between two teams, it's referred to as a bet total.
So if you believe that the final outcome of a game will be greater than the score set by the bookmaker, you would be "Over." But if you think the final score will equal less than what was set by the sportsbooks, you would bet "Under."
For example, let's say the final score between the Los Angeles Lakers and the Brooklyn Nets is set to 210. You've done your homework and realized that the two teams have a stellar defence this season. But their offence is lacking.
A final score of 210 or more would make sense if the two teams had better offence. But when you factor in their strong defence, it's unlikely that the final score will go that high. So a wager on "Under" is logical that would win.
What Is A Prop Bet?
Prop bets serve as an alternative type of totals bets. With player props, bettors have to predict whether a player will go higher or lower on a specific number in a particular statistical category.
These betting lines can be diverse, with some betting sites offering more than a dozen options to choose from. You can even engage in exotic prop bets, such as wagering on the duration of the national anthem at the Super Bowl. The betting market is diverse and lets you bet on thing you want to bet.
How Does Over/Under Betting Work?
Think of it like a guessing game at a fair. You have to guess whether the total number will be over or under a certain amount. But instead of guessing jelly beans in a jar, you're betting on whether the combined score will add up to more or less than the projected total number set by bookmakers.
Let's take a game between Dolphins-Patriots, and the score is 42. That's a pretty high score for the National Football League (NFL). You might think that the strong defence of these teams will prevent so many points from being scored. So, you'd place a bet that the final score will be lower.
In this case:
Your bet would win if the Dolphins win 20-15 (35 points).
You lose your bet if the Patriots win the game 40-12 (52 points).
The total points score of the two teams is the most commonly used statistic, but there are others you can use:
Basketball: Assists, blocks, turnovers, steals, etc.
American football: Rushing yards/attempts, down conversions, interceptions, completions, field goal percentage, etc.
Baseball: Home runs, RBIs, etc.
You might be wondering where you can find over/under betting opportunities. Well, almost all betting sites offer a total, moneyline, and point spread bet on every game. You can find some of the best betting sites on MrBetting.co.uk.
What is the payout on an Over/Under bet?
When placing your bet, the most important thing you might want to know is how much you can win.
Usually, both the Over and Under bets have a rate called "vig" set at -110. It means that if you want to win £100, you need to bet £110. In simpler terms, for every £1 you bet to win, you get 91 cents in return.
Sometimes, bookmakers change the vig to attract more bets on one side. For example, if lots of people bet on the Over 45 (-110) and very few on the Under 45 (-110), the vig may change to Over 45 (-115)/Under 45 (-105).
This adjustment makes the Under bet more appealing, offering a better payout of 95 cents for every $1 bet, compared to 87 cents for every $1 bet on the Over. It encourages people to bet on the Under, balancing the money wagered on both sides and ensuring the bookmaker makes a profit no matter the outcome.
Why Choose Over/Under Betting?
Why do some people like over/under betting? Well, it's a bit like picking your favorite pizza topping. You have to know your choices and understand what you like. Here's why some people pick over/under betting:
It's simple: Over/under betting is as easy as choosing heads or tails on a coin flip. You just have to guess – will the total score be over or under the bookmaker's total number of points.
It's versatile: You can make an over/under bet on any sport, whether that's football, cricket or sports like basketball.
Lower Vig: Over/unders offer some of the lowest-vig markets provided by sportsbooks. This means that bookies keep a smaller part of the accepted bets, which increases the potential payout to bettors.
Unique Betting Opportunities: If you want to spice up your betting game, then you should give over/under betting a try. By focusing on the total points or goals scored in a game rather than the outcome itself, you can add excitement to your betting experience.
How to Win at Over/Under Betting?
While over/under betting is easy to understand, winning often needs more knowledge. You have to understand the teams, their game plans, and how they play under different conditions. It's like baking a cake; you need the right ingredients and the right recipe.
Tips to Win at Over/Under Betting
Know Your Teams
Knowing the teams is like knowing your friends' likes and dislikes. It helps you guess how they will act in different situations. For example, if a team is known for a strong defence, games with this team might have a lower total score and vice versa.
Look at the Weather
Believe it or not, the weather can change the outcome of a game. Rain could lead to fewer points in outdoor sports, while perfect weather could lead to a high-scoring game.
Consider the Pace of Play
Some teams like to play fast and run up and down the court or field. This as you might have thought leads to more scoring opportunities and higher-scoring games. Other teams prefer a slower approach, and the end result usually is a lower-scoring games.
Look at Past Matchups
Take a look at how the teams have performed against each other in the past. Some teams consistently have high-scoring games when they face each other, while others tend to have low-scoring matchups. This can give you an idea of what to expect when these teams meet again.
Mistakes to Avoid in Over/Under Betting
Everyone makes mistakes when they're learning, and over/under betting is no different. Here are some common mistakes to watch out for:
Not looking at team matchups: The way teams play against each other can change the total score of the game. If you ignore this, you're betting blind.
Following the crowd: Just because most people are betting "over," doesn't mean you should too. Always do your own research.
Ignoring weather conditions: Weather can have a significant impact on the outcome of a game and the total score. Take into account the rain, wind, or extreme temperatures as they can lead to inaccurate predictions.
Overcomplicating analysis: While thorough research is crucial, overcomplicating your analysis with too many factors or statistics can lead to analysis paralysis. Keep your approach balanced and focus on key indicators that have a direct impact on the total score.
Things like offensive and defensive efficiency, shooting percentages, or pace of play. are your best friend in over/under betting.
Conclusion
Over/under bets are a fun and simple part of sports betting. With some research, a good strategy, and a little luck, you could be a winner. So, are you ready to try over/under betting?
FAQ
What is over/under in sports betting?
In sports betting, over/under is a type of bet where you guess whether the total points scored by both teams will be over or under a number set by the bookmaker.
Why should I try over/under betting?
Over/under betting is simple, less risky, and versatile. It's a popular choice for many bettors.
What should I consider when making over/under bets?
Understanding the teams, their game plans, and the weather conditions can help you win at over/under betting.
Can I make over/under bets on any sport?
Yes, you can make over/under bets on any sport.