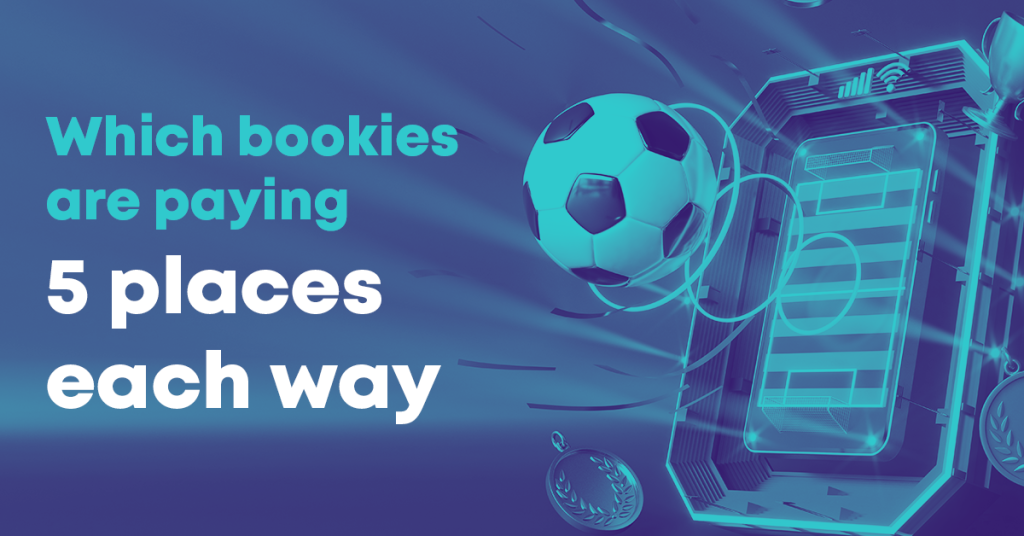 If you enjoy sports betting, you should know where you can win the most. One question we often hear is: "Which bookies are paying 5 places?
While most bookmakers traditionally pay out on the first four places, there are a select few that go above and beyond by offering 5 places each way (Learn more about Each Way Betting).
Today, Mister Betting diving into this question, giving you the best bookies that offer a 5-place payout. Buckle up as we embark on an enlightening journey into the realm of 5-place payout bookies.
What are 5-Place Payouts?
First, it's important to establish what 5-place payouts mean. In horse racing events or golf tournaments, traditionally, bookies pay out on the first 3 or 4 places. What an extra place means is that you're guaranteed that you can still win something even if your horse doesn't finish in the place payout positions. The extra places for seven placed runners are usually only offered for the biggest sporting events in the UK, like the Cheltenham Festival, Royal Ascot or Aintree Grand National.
That way, there is no "winner takes all" scenario.
However, in a bid to provide a competitive edge, some bookies pay out on the first 5-places or 6 places. This means more opportunities for punters to see returns from their bets.
Why 5-Place Payouts?
But why would a bookie decide to pay five places or six places? Simple, it's a marketing strategy designed to attract more punters. By offering a broader range of potential winners, bookies generate greater interest and higher betting volumes. That's a win-win for both parties, isn't it?
Of course, that's not the only reason. Paying out on 5-places instead of the usual 3 or 4 can make the bookie more appealing to the customers. That way, the bookie stands out compared to other sportsbooks in a competitive market.
Another reason why bookmakers pay 5-places is risk reduction. What we mean by that is that by spreading their potential losses across more winners, the bookie can manage their risk better.
Also, some events have more participants, so paying out on more places accommodates the larger field and keeps bettors engaged.
And last but not least, when paying for places, the bookie manages to meet customers' demands. If customers want more places to win, the bookie might adjust their rules to give them what they want and keep them happy.
Which Bookies Are Paying 5 Places Each Way
In the current landscape, there are several bookies that offer 5-place payouts. These include Bet365, Paddy Power, and William Hill, among others. These industry giants set the pace for others to follow, offering exciting opportunities for seasoned and novice bettors alike.
You can find all those bookmakers at MrBetting.co.uk. At MrBetting, you have all the best bookmakers and casinos at your disposal. You can use them to take the most valuable decisions and increase your winnings.
Here are our top five picks for bookies that are paying 5 places.
With Coral you can boost your winning possibilities. Coral provides additional place in chosen races, which means even if your horse isn't amongst the front-runners, you could still land a win with EW wagers.
With William Hill you will take your betting journey to the next level. William Hill is known to pay on extra place positions (like 4th, 5th, 6th). William Hill stands as a top choice for those of you eager to leverage extra places offers. Don't let the opportunity slip by to earn where you'd ordinarily come up short!
Betfair is also a top choice for those looking to maximize their winning potential.
Betfair presents an opportunity for extra places on chosen horse races. This provides punters an enhanced shot at victory when making each-way wagers. For instance, you can secure a payout even if your horse comes in fourth
Sky Bet is also among the bookies that offer payout of 5 places. Sky Bet presents extra places on specific horse races, amplifying your opportunities to hit the jackpot.
Capitalize on this promo to boost your likelihood of receiving a payout. Some races even dish out winnings for 1st through 7th positions.
888 Sport is among the leaders in the betting industry, and they also offer a pay out on extra places. With 888 Sport you'll get the most out of the 5-places payouts.
888Sport serves as an excellent choice for those hunting for promotional deals like extra place races for each-way wagers. When you lay an each-way bet, you frequently stand a chance to cash in, even if your horse ends up in the 4th or 5th spot.
Other Betting Sites Paying 5-places in 2023
Ladbrokes Pay Out On 5th Place
Betfred Pay Out On 5th Place
Paddy Power Pay Out On 5th Place
Unibet Pay Out On 5th Place
Boylesports Pay Out On 5th Place
Tips to Spot the Best Deals
How can you identify the best bookies offering 5-place payouts? There's more to consider than just the number of places paid out and what's the profit. Keep an eye on the odds, the reputation of the sportsbook, and the flexibility of their betting terms.
Here are our tips for finding the best deals.
Examine the odds
The odds are the first thing you should look at. Bookies with competitive odds are more likely to provide good deals. The odds offered by a bookie can significantly affect your potential profit. So, ensure you're dealing with a bookmaker who offers fair odds that align with the betting market. You can use odds comparison sites to compare and contrast various bookies.
Evaluate the reputation
It's essential to choose a bookie with a good reputation. How long have they been in business? What do other customers say about them? High-reputation bookies are more likely to offer the best deals, as they focus on customer satisfaction and quality service. On MrBetting.co.uk you can find the most trusted bookmakers in the industry.
Consider the payout places
The number of places a bookie pays out can affect the chances of winning. Some bookies offer 5-place payouts or even more, which can increase your chances of getting a return on your bet.
Look at the special offers and promotions
Good deals often come in the form of special offers or promotions. Bookies may offer enhanced odds, cash-back offers, free bets, and more. Regularly check their promotions page or sign up for their newsletters to stay updated.

How to make the most out of 5-Place Payouts
Making the most of 5-place payouts involves more than just placing your bet and hoping for the best. It requires developing a smart betting strategy. This involves studying the market, analyzing the odds, and understanding the rules of the bookie you're betting with.
Here are the tips to help you make the most out of bookies that not only offer each-way bets but pay enhanced places.
Get the Basics Down: You gotta know what you're getting into, right? So, first off, understand what a 5-place payout means. In simple terms, if your horse crosses the finish line in the top five, you're in for some winnings!
Play the Odds: All bets are not created equal, my friend. Check out the odds your bookie is offering and see what you stand to win. This will help you spot the most promising bets.
Do Your Homework: There's no substitute for good old research. Dig into the performance history of the horses, their health status, and even the track record of the jockey. All this info could give you an edge.
Spread the Risk: Here's where 5-place payouts really shine – they let you diversify your bets. Think about each-way bets, where you're betting on a horse to win AND to land in the top 5. That sounds like a good deal, right?
Keep an Eye on Trends: The betting market can be as changeable as the weather. Stay updated with the movement of odds and heed the advice of experts. It can guide you to those top 5 potential winners.
Budget is Key: Betting's meant to be fun, so don't let it burn a hole in your pocket. Decide on a budget that you're comfortable with, and more importantly, stick to it! It's always a wise idea to gamble responsibly.
Know the Rules: Each bookie might have their own twist on the 5-place payout rule. So, make sure you know their terms and conditions like the back of your hand to avoid any unwelcome surprises and still get your money.
Stay in the Loop: Things change all the time, be it the line-up, the weather, or even the odds. Keep yourself updated to make the best betting decisions.
Conclusion
5-places payouts are a great way to boost your winning potential on horse racing betting. But if you want to maximize your betting experience, you need to know which bookies offer this advantage. If you're eager to make things a lot more exciting but still increase your chances of a return on your bet, 5-places payouts are right for you.
As the industry continues to evolve, so too will the strategies and bookies who offer extra places. So, stay informed, bet smart, and enjoy the thrill of the game.
FAQ
What are 5-place payouts in sports betting?
5-place payouts mean that the bookie will pay out for the first 5 positions instead of the traditional first 3 or 4 in events such as horse racing or golf tournaments. This means that as a bettor, you have more opportunities to see returns from your bets.
Which bookmakers are known to offer 5-place payouts?
Several bookies are known to offer 5-place payouts, including Bet365, Paddy Power, William Hill, Coral, Betfair, Sky Bet, and 888 Sport.
What is the advantage of betting with a bookie that offers 5-place payouts?
Betting with a bookie that offers 5-place payouts increases your chances of getting a return on your bet. It can make the betting experience more exciting and potentially more profitable.
Which bookies are paying 6 places?
You can expect extra places on the handicaps from bookies like Ladbrokes, Betfred, William Hill, and Coral.