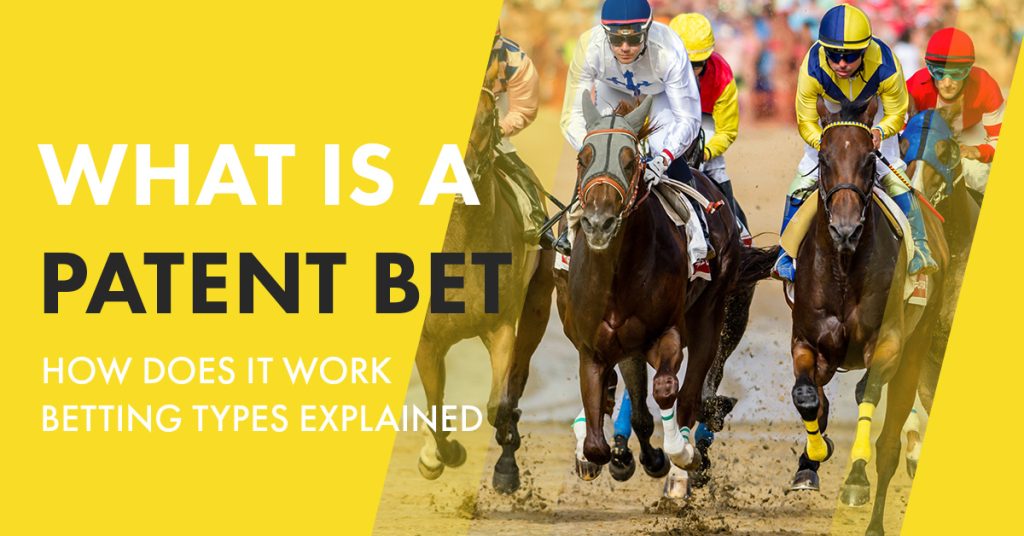 The Patent bet is a form of a multiple bet that involves placing seven bets on three different selections. Its primary purpose is to cover all potential outcomes and ensure a return, even if only one bet wins. Compared to the Trixie bet, which has four different bets, the Patent bet has three single bets, three doubles, and a treble.
While the Patent bet is available in all sports, it is mainly used in Horse Racing. It has gained popularity because you only need one winner from three selections to see a return on your investment.
How does a patent bet work?
A Patent bet consists of seven separate bets that are not reliant on each other, meaning that you will still receive a return even if a few of your selections do not win. This accumulator bet can be described as a combination of all possible singles, doubles, and trebles from your three selections.
If you put seven coins on a Patent bet, you essentially place one coin on each of the three singles, three doubles, and one treble. However, the availability of the Patent bet option allows for a much faster and easier betting process compared to inputting each potential combination into the slip after placing each wager.
Why should you make a Patent bet?
If you have selected three selections across various events and have confidence in each one winning, a Patent bet is a simple approach to incorporate multiples to achieve a substantial payout if two or three of your choices end up victorious. For example, if you plan to place wagers during the Grand National at Aintree on Saturday, April 15th, with several different races occurring, this could be an ideal bet.
How to place a Patent bet?
To place a Patent bet, follow the steps below:
Select the odds for three choices you want to bet on;
Proceed to the betting slip and locate the bottom section where all wagering options are displayed;
Choose Patent from the drop-down and enter the total amount you wish to stake for the system bet;
Confirm your Patent bet by clicking Place Bet.
After including three different selections, your slip should display a variety of possibilities, which may differ among bookmakers. Most of the best betting sites offer several options, including singles, doubles, acca (typically with three selections), Trixie, and Patent. Selecting the Patent alternative will inform you that the bet includes seven wagers. When you designate a stake here, it will be multiplied by seven, and this amount will be reflected in the total stake field at the base of the betting slip.
How to calculate a Patent bet?
To calculate your bet amount for each bet, you must divide your total stake by seven, as an equal amount will be placed on each potential combination. Then, to determine the potential profits, you must ascertain the odds for each of the seven bets. You can also use a Patent bet calculator to determine your potential winnings. For example:
Selection A: 17/20
Selection B: 6/5
Selection C: 15/8.
With a seven-coin bet and these three sets of odds as your selection, you're looking at the following bets and potential returns, including the bet:
Single A (17/20): 1.85
Single B (6/5): 2.20
Single C (15/8): 2.88
Double A+B (3.07/1): 4.07
Double A+C (4.32/1): 5.32
Double B+C (5.33/1): 6.33
Treble A+B+C (10.7/1): 11.70.
How Does an Each-Way Patent Work?
This type of bet involves placing an each-way bet for each selection, resulting in 14 bets in total. The stake for this bet type is twice that of a standard Patent bet.
Opting for this bet has great benefits, as it allows for payouts on horses that place and those that win. This is particularly useful for the Grand National, which often offers more places.
Selecting horses with place payouts equal to or greater than your original stake when placing an each-way Patent is wise.
Bookmakers typically pay out 1/5 of the win odds for the place portion of bets in horse racing betting. This means that a £2 each-way bet on a 5/1 horse would pay out even money if the horse places, resulting in a £1 profit and a return of the original £1 stake for the winning place bet.
Patent and a Trixie bet: What's the difference?
The concept of a Trixie bet is similar to that of a Patent, as both entail making three selections. However, the first one does not involve single bets and comprises four bets: three doubles and a treble bet. Using a Trixie instead of a Patent may be preferable if the three picks have low odds, as the profits from the single bets would be relatively minimal. In addition, by eliminating the need for the three single bets, a Trixie enables you to potentially increase your unit stake for the treble and the three doubles.
Drawbacks of a Patent Bet
The one complaint with a Patent is that you must use the same bet amount for all seven bets. Unfortunately, this means that you can't implement your own preferred betting strategy. For instance, you might want to put a more significant stake in the singles and doubles as they have better chances of winning but allocate a lower amount for the treble, which has greater odds.
What sports can you place a Paten bet on?
A patent bet can be placed on any sport with accessible betting markets, such as football, horse racing, ice hockey, and table tennis. In addition, it is possible to combine these selections for a patent bet.
However, there may be cases where certain markets cannot be mixed, making the patent option unavailable for three selections on the slip due to incompatibility.
Conclusion
A Patent is made from three different selections involving seven bets. It has three singles and doubles and one treble. This type of bet is popular among sports betting lovers due to its higher chance of providing a return by including singles, as opposed to standard accumulators.
While it may be tempting to place bets impulsively, staying within your knowledge area, avoiding unknown variables, and not recklessly chasing losses is advisable.
A patent bet is a multiple coverage bet built from three selections, so adding short-priced favorites into a patent might not be beneficial.
FAQ's
How Does a Patent Bet Work?
This type of bet works by covering three different selections, with a total of seven bets – three singles, three doubles, and one treble, meaning you effectively support your selections in every possible combination. So if only one of your selections wins, you will still get a return.
How Do I Place a Patent Bet?
You must select three different bets or outcomes. You must then choose the "patent" option on your slip and enter your stake. The cost of the stake will depend on the number of bets and individual bets you are making.
Is Patent Bet Worth It?
If you have picked selections in different events and you fancy each to win, this bet type is a straightforward way to include multiples that ensure a significant return if two or three of your selections win.
How Do I Calculate a Patent Bet?
You can use a patent bet calculator, which you can find online. Simply enter your selections and stake; the calculator will tell you the potential returns and profits.
Can I Place an Each-Way Patent Bet?
Yes. This means that you are effectively placing two patent bets. One is for your three selections to win, and the other is for your selections to place.