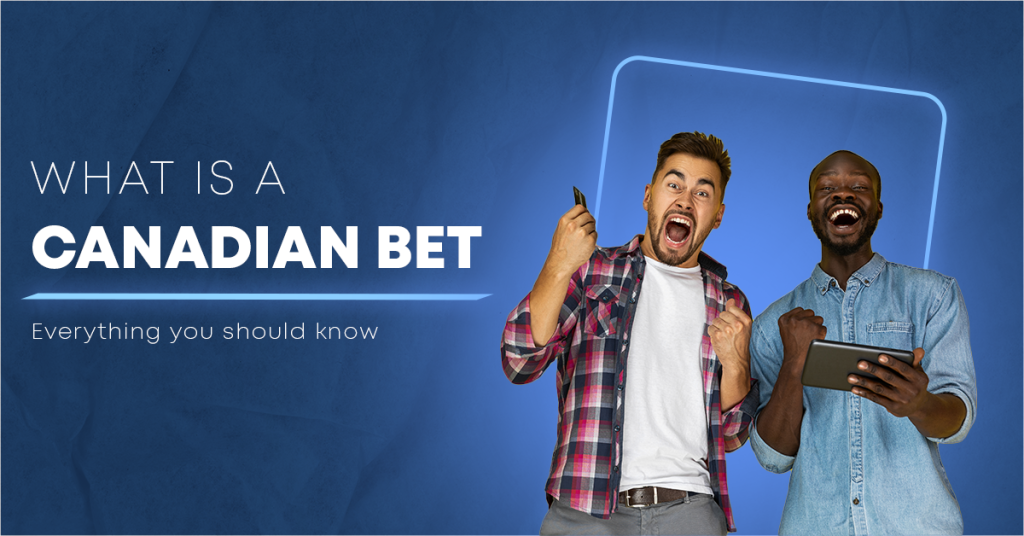 Canadian bet is a betting strategy also called a "super Yankee bet," which involves all runners having the same weight in determining the wager's return. It is similar to the Lucky 31 bet but differs in that it does not include the five single bets typically placed on each selection.
The Canadian bet can be challenging to predict due to its complexity, especially when factoring in the impact of a losing runner on returns. Nonetheless, a Canadian bet calculator can help you experiment with various outcomes. To understand how Canadian works, keep reading our betting guide. 
How does a Canadian bet work?
A Canadian is made up of 26 bets on five different events, which are made up of 10 double bets, 10 trebles, five four-fold accumulators bets, and 1 five-fold. To receive a payout, at least two selections must be successful. The combination of treble bets, four-folds, and five-folds means that if more than two are successful, the potential earnings can increase dramatically as more multiples come through. Typically, gamblers use the Canadian in horse racing.
Why should you place a Canadian bet?
A Canadian bet is better than an accumulator bet if you have five selections in different events that you think will win a Canadian. The Canadian bet type is best for gamblers who have made five picks across various events and anticipate success. Another positive with a Canadian is that it will still yield a return if only a portion of the chosen options is successful.
Furthermore, a Canadian can save you time and energy by creating the necessary multiples on their behalf once they have made their four choices and indicated that they wish to bet.
A common question with the Canadian wager is whether players can utilize their free bets by using a Canadian. Some betting sites have free bet offers that are finally suited to multiple betting. You just need to sign up with the betting platform, make your deposit and make your first bet following the terms and conditions.
How to calculate a Canadian bet? Canadian bet calculator explained.
To determine a Canadian bet, you must figure out the various combinations of doubles, trebles, four-folds, and five-folds from your chosen five selections. Fortunately, we have already taken care of that task for you. Below is a list of all the bets included in a Canadian bet, with each one allocated a letter designation.
Doubles (10): A-B, A-C, A-D, A-E, B-C, B-D, B-E, C-D, C-E, D-E
Trebles (10): A-B-C, A-B-D, A-B-E, A-C-D, A-C-E, A-D-E, B-C-D, B-C-E, B-D-E, C-D-E
Four-Folds (5): A-B-C-D, A-B-C-E, A-B-D-E, A-C-D-E, B-C-D-E
Five-Fold (1): A-B-C-D-E.
Understanding that each bet is considered distinct when explained as a Canadian bet is essential. A single wager will be entered on the bet slip, equally divided between all the accumulators. One selection losing won't result in the entire Canadian bet losing. Canadian sports betting involves making wagers on only four different bet types.
Similarly, every combination in the Canadian has its own set of odds. Once you pick your choices, the bet slip will display the potential returns if all are successful, but the payout will be reduced if one or more losses. To understand how a Canadian bet calculations work, you must determine the odds for each one and every accumulator in the bet. From there, you can calculate the potential return for any combination of accumulators if one, two, or three selections lose.
Win only Canadian
Let's see how to win only a Canadian for horse racing. Here's an example of a Canadian bet – in this case, you'll need to choose five suitable selections. A £1 win-only Canadian on these selections would cost you £26 in total. If all are potential winnings, you could receive a return shy of £30,000 with a £26 wager.
To get a return, it is necessary to have at minimum two winners. Even if only the first two horses are successful, the bet still has the potential to yield £135, offering odds greater than 4/1 on the original stake.
Multiple choice betting, such as the Canadian, provides excellent returns when betting on numerous options, with the possibility of securing a win even with only a few successful selections.
How does an each-way Canadian work?
When placing an each way Canadian bet, every selection is an each-way bet, resulting in 52 bets and a unit stake that is twice the amount of a regular Canadian. The advantage of this type of bet is that it gives you a payout for each of your picks that place, as well as each one that wins.
What is the difference between a Canadian bet and a Lucky 31?
The main difference between a Canadian and a Lucky 31 is that the latter contains five more singles. That way, the total number of bets from 26 different bets in a Canadian becomes 31.
When a bettor believes that the rewards for their chosen picks as single bets are valuable enough to support with a unit stake of 1x, they may prefer to choose a Lucky 31 instead of a Canadian.
Other types of multiple bets
Multiple choice betting comes in different forms, with the Canadian bet being one of them. Other complex forms of multiple types of bets include double, treble, Trixie, Patent bet, Yankee bet, and Lucky 15 bets. Doubles require two different picks to win to claim a payout, while trebles need three. 
Trixie bets consist of four bets from three selections featuring three double bets and one treble bet. Unlike multiple ones, a Trixie bet rewards the bettor with a return even if one of the selections doesn't win. For more expansive possibilities, bettors may opt for a patent, Yankee, or Lucky 15 bet. 
What sports can you make a Canadian bet?
The Canadian wager is not only for Canadian sports. While it can be applied to ice hockey, it is also suitable for a wide range of sports, such as horse racing and football, rugby, cricket, and American football. There are no limitations on the kind of sport suitable for a Canadian bet.
The crucial aspect is the sports markets that you're betting on. At times, combining markets or using particular markets to activate the Canadian betting option may not be possible. Yet, if one can form an accumulator from their five picks, they may be able to place a bet.
How to place a Canadian bet?
Placing the bet is simple.
Click on the odds for your five selections;
Open the bet slip;
Go down to the Multiples section and click on Canadian;
Input your total bet amount (which will be divided into 26 equal bets);
Press the green Place Bets button to secure your Canadian.
With the Canadian bet explained, you now know how to conveniently bet on multiple outcomes for what would have been a straight-up five-fold.
FAQ's
What is a Canadian Bet?
A Canadian Bet, also known as a Super Yankee Bet, is a multiple bet consisting of five selections that combine 26 bets over those picks. This bet comprises 10 doubles, 10 trebles, 5 four-fold accumulators, and 1 five-fold accumulator.
How do I make a Canadian Bet?
To do that, you must select five selections and let your betting site know that you want to place a bet. Once you have chosen your choices, they will be automatically entered into the calculator, and you will be able to see the potential winnings for your bet.
What is a Canadian Bet calculator?
A calculator is a tool that helps you calculate the winnings for your bet. To use the calculator, you need to enter your bet amount and the odds for each selection, and the calculator will work out your winnings based on the bets placed.
What is the difference between a Canadian and a Yankee Bet?
A Canadian and a Yankee involve five picks, but the main difference is in the number of bets made. A Yankee includes 11 bets, while a Canadian includes 26.
What is a Lucky 31 bet?
This bet is similar to a Canadian Bet but includes an extra selection. It comprises 31 bets, including five singles, 10 doubles, 10 trebles, and 5 four-fold.